Greetings Humanists! It's been another hot and muggy month, but we've been humming along here at the Humanist Society of Greater Phoenix. We have some huge news for you in this edition! Our long-time friends and patrons, Hal and Doreen, are getting a long overdue night of appreciation and celebration. Our Flying Spaghetti Monster Dinner is also right around the corner and we need your help to make it a success. We're also looking for board members for 2019 as well as your Humanist Stories to share with the world. Finally, but not lastly, we have a guest post from our very own Christina Hepler about free speech that will be part one of a series of guest posts running into early 2019.
Let's dive on in, shall we?
Hal & Doreen Saferstein Event
By Pam Heward,
HSGP is honored and excited to host a special gala to present the first ever:
EXTRAORDINARY HUMANIST AWARD
Please join us September 15th, 2018 as we honor to Hal & Doreen Saferstein!
As members of the Humanist Society of Greater Phoenix we enjoy so many benefits because we have a "Home" where we get to:
Host Guest Speakers

Build our community
Meet new friends and family

Conduct meetings such as:

Inquiring Minds

Philosophy under the Influence

Book Club

TED Talks

Let's Geography

Crocheting Sleeping Mats for the Homeless

…. not to mention all the events that other organizations that utilize the Center for their group events!
All this and more is possible because of the vision and generosity of Hal and Doreen Saferstein. Please join us and hear the stories and learn the History of the HSGP Center and the other organizations that have been the recipients of Hal and Doreen's generosity.
Some of the local and national organizations that will be in attendance to honor the Safersteins:
• American Humanist Association
• Secular Coalition for America
• Freedom from Religion Foundation
• Freethought Arizona
• Americans United for Separation of Church & State, Greater Phx
• Secular Coalition for Arizona
• Secular Communities for Arizona
Please make the time to come and honor these Extraordinary Humanist and get to know your fellow members and the rest of the community that mean so much to Hal and Doreen.
We are so fortunate to have their support and hearts.
Details of the evening Gala
Date:  Saturday, September 15, 2018
Location: The Scottsdale Plaza Resort
    7200 N Scottsdale Rd
Hours: 5:00 PM to 9:00 PM
How to find us: Go to main entrance and follow the signs.
Schedule of Events
Reception and cash bar 5:00 – 6:00 pm
Dinner and wine service 6:00 pm
Program and Award Presentation to follow
Master of Ceremonies: Chris Wojno, President, HSGP
Dress: Nice, but not formal
________________________________________


We truly hope to see you there! Please don't allow time, money or "stuff" get in the way of attending. As you will see when you click on the links we have several options for you to choose and participate.  Take a look and choose what fits you and your life the best.
If you have another idea that is not listed, you can call or email Pam or Jennifer
TO REGISTER AND PAY CLICK ON THIS LINK
https://hsgp.org/civicrm?page=CiviCRM&q=civicrm/event/register&id=2476&reset=1
Enter each participant you are registering, one at a time. You will be directed to PayPal to pay (you don't need to have a PayPal account).
HURRY! Please complete your registration and ticket purchase by September 10 to ensure you get a seat at the event!
WANT TO ATTEND BUT SHORT ON FUNDS?
We have some discounted seats available! Please contact Pam or Jennifer and we will hook you up.

CAN'T ATTEND BUT WANT TO DONATE? Go here: https://hsgp.org/civicrm?page=CiviCRM&q=civicrm/contribute/transact&reset=1&id=2
See you there!
It's Coming: The Flying Spaghetti Monster Dinner
By Chris Wojno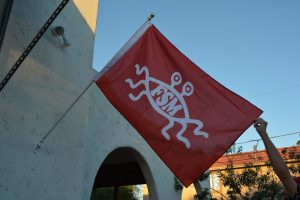 Yo-ho me hearties! Join yer fellow Humanists for an evening of good food, good fun, and good grog at this year's Flying Spaghetti Monster Dinner. Put on yer best pirate costume or board as a land-lubber. May you be touched by a noodly appendage!
Schedule
6 PM – Hoisting the flag + Dinner & Happy Hour
Bring your own adult beverage to share (alcohol, soda, etc.). Lemonade, juice, milk and water will be provided. Dinner will consist of Spaghetti, Meatballs, Sauces, Bread (Vegan and gluten-free options available) and dessert. Appetizers and a salad bar will be available for noshing.
Children's activities will be ongoing throughout the evening: join us for crafts and treasure hunts!
7 PM – A Noodley Story & more swashbuckling
Attend a re-creation of the story of the birth of the Flying Spaghetti Monster as performed by our children's group.
After, continue making new friends, catching up with old ones, and practicing your pirate-speak! Share your FSM-inspired poetry if you have some.
7:30 PM – Sirens of the Flying Spaghetti Monster
Join us for singing and merriment with songs written and conducted by Bruce Ratcliff specially for this year's Flying Spaghetti Monster Dinner!
8 PM: Prizes:  Raffle, games, and prizes for best contest and pirate accents!
Pricing (Suggested Donation)
$25 – Adults

$15 – Full Time Students and Seniors (Students eat free if they commit to 1 or more hours helping with the event.)

$10 – Children 6 to 13

Free – Children under 6
Pirate wear or other costumes encouraged, but not required. Dress up and put on your best accent for a chance to win a prize!
Click here to learn the lore of Flying Spaghetti Monster.
Sauce be upon you, but not on the floor, ya scurvy bilge rat!!! See you there.
Like and share this event. Tag your friends to join the fun!
When
October 13th, 2018 6:00 PM   through 9:00 PM
Location
627 W RIO SALADO PKWY
MESA, AZ 85201-4009
United States
Contact
Phone: (480) 844-5044
Volunteers Needed!
This is a huge event and we Volunteering: Boatswains, Booty Collectors, Galley Grunts, Scullery Maids, Deck Swabbers, Tiny Pirate supervisors (child care) and other assorted Tars are needed. Volunteers, please assemble at 3PM the day of the event. Thanks!
We need your help to build something amazing
By Chris Wojno
As President of The Humanist Society of Greater Phoenix, I've watched as our organization has grown using our digital presence, community outreach, and community-building objectives. We've been to several events in the Phoenix area and hosted guest speakers with podcasts from all over the country and hosted many social and educational functions throughout the year.
To me, Humanism isn't just a philosophy, but a basis on which to build friendships and make real change in this world. I firmly belive that Humanism is needed in this world now more than ever. Our schools are in shambles, truth and facts aren't truth any more, children are being separated from their parents in violation of international law, and many other examples of anti-Humanist sentiment.
However, in order to help change hearts and minds toward rationality, compassion, and equality, we need you. Our board of directors is the driving force behind many projects and policies that enable our group to strive toward accomplishing our mission. We have two seats that will be available on the board next year, but you can run for any seat, taken or not.
If you share in our mission, have been a member for at least a year, have a passion for doing ungodly good, and a few hours a week to help turn our collective passions into real change, please join our board for 2019!
Here are the currently open seats for 2019:
We're not just looking for anyone, we're looking for someone just like you. A nominations committee will be assembled soon, but if you'd like to run for any of our board positions, please let me know in the meantime by emailing me at president@hsgp.org.
Build a better world: share your Humanist stories
By Chris Wojno
Have you read our "Why I became a Humanist" page on your site yet? You should really check it out. We have just 3 stories so far and we'd love to have more written stories by you, our members, fans, and guests!
Lights, camera, you!
We're planning on having short videos produced with our members to share why they are humanists or why they love The Humanist Society of Greater Phoenix. We've got the gear, we've got the venue. Now we need you! Here are a few ideas to get your brain-juices moving:
What does Humanism mean to you?

What do you get out of being a Humanist?

Why did you join and stay with The Humanist Society of Greater Phoenix?

How do you think Humanism can improve the world?

What attracted you to Humanism?

If you have children, in what ways can they benefit from Humanism?
If you're ready for your close-up to help spread what Humanism means to you and how you believe it can be a positive influence in our world, sign up today! If you'd rather not be filmed, that's OK, too. Sign up anyway and mark that you don't want to be on camera. We still need your written stories for our site.
You can make a difference in this world, and it certainly needs your help, by sharing the best parts of Humanism from a more–human–perspective. Thank you for your help!
Can you help us with lighting? How about makeup? Can you produce video? We need your talents for this very important project! Email me at president@hsgp.org.
30 Years of the Fatwa
By Christina F. Hepler
Part 1: A 30 Year Anniversary
This coming Valentine's Day isn't just a day to celebrate love! It marks the 30th year anniversary of freedom of speech, being threatened. It's the 30th year anniversary of a Fatwa ( a legal Islamic opinion) , being issued against the writer Salman Rushdie and his book "The Satanic Verses".
I was 3, but looking back I can see that the more things change, the more they stay the same. But before I get to that point, I'd like to recap the history around this breathtaking event. There are many aspects, forgotten or just not known about. Maybe by having an accurate record, we can avoid the mistakes of the past. Two other things I need to say before getting into the article; 1) this article is going to span multiple issues of the newsletter. 2) A big thanks to Mo, an ex-Muslim friend of mine, who is helped me understand the Muslim side of things.
Hello Old Friend Controversy
Six months before, Rushdie was at the pinnacle of his career. Winner of several literary awards, he had it all. A glamorous wife, a great career, and an amazing social life. At the time he was working on his fourth novel.
He had hoped to repeat the success of his 2nd, "Midnight's Children" & his 3rd "Shame". With both sets of work he had already upset the proverbial apple cart. "Midnight's Children", along with its success, came with a libel suit from Indira Gandhi. "Shame" ended up being banned in Pakistan by the military dictator Zia Ul Haq. Both books were best-sellers. However Rushdie could never imagine the backlash, that, his fourth novel would stir up.
Become a Humanist Hero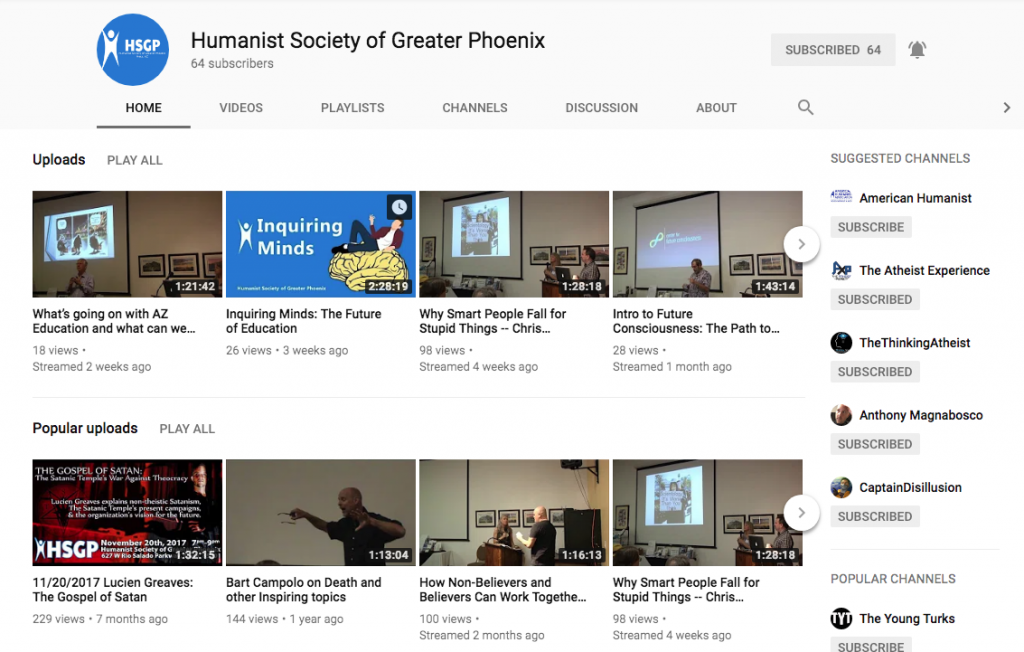 Like what we do? Want to see more and ensure a safe and fertile place for all minds to grow? Please consider becoming our Patreon by clicking here! We have a brand-new Patreon page where you can set up a monthly payment to ensure our long-term future and the growth of Humanistic ideas.
Did you miss a Sunday Speaker event? Don't fret! We've got you covered. Check out our YouTube Channel, Humanist Society of Greater Phoenix to catch past and live Sunday Speaker events! Yes, you can watch along with us and even ask questions via the comments! We're also experimenting with other event types, so stay tuned for those as well.