One of our core values as Humanists is supporting our community and the surrounding communities. Here are some of the things we do or are involved with:
Member Support Team
Leader: Vici Duarte
We love our members and, as a Secular Humanist community, we feel obligated to assist our members who may be having personal hardships. If you or someone you know is having a personal hardship and needs a friend to sit with them at the hospital or needs assistance with yard work or could use a home-cooked meal or something else, please let us know. We're here for our members.
To join the team or request assistance, please go to our Member Support Team page.
The membership task force is led by Vici Duarte. The times and types of activities vary due to the case-by-case nature of the hardships and requests.
Crochet sleeping mats for people experiencing homelessness
Leader: Anita Romanowski
Inspired by YouTube videos making plarn (plastic yarn) and mats for the homeless, Anita and her crocheting crew were inspired to help the homeless of Phoenix beat the heat of the summer pavement with mats made out of recycled plastic grocery bags. It's a lot of fun to make the plarn and mats. It's a great way to meet new people and socialize as well! Don't know how to make plarn? We'll teach you, it's easy! Just cut and tie. Don't know how to crochet? We can teach you how to do that as well!
We get together every month to make plarn and crochet the mats. Anita Romanowski is the coordinator for this event. Please join us for a fun and productive time.
St. Mary's Food Bank
Leader:
St. Mary's is widely known as the first food bank. They collect and distribute a huge amount of food to those in need around the state of Arizona. Even though the name is religious in origin, they're a completely secular organization. Their primary product is the Emergency Food Boxes (EFB) which contain a mix of the key components for nutrition for families.
We volunteer with them every couple of months and perform a variety of tasks, including sorting and packing EFBs. Gwen Gentry is the coordinator for this event.
Tumbleweed

When we think of homelessness, we tend to think only of adults. However, the there are a significant number of homeless youth, often invisible to the general public. But you can make a difference.
Tumbleweed is an amazing organization that offers shelter, food, and education to homeless youth from 12-24 in the Phoenix area. They offer crisis shelter in the event of emergencies or sudden homelessness. They could always use basic supplies, so please donate if you can.
HSGP has a box at the rear of the great hall that is marked for Tumbleweed. If you have some of the items in their wishlist, please feel free to drop them off inside that box. That little bit can go a long way.
Blood Drives
Leader:  Athena Gibbons

Every day, blood donors help patients of all ages: accident and  burn victims, heart surgery and organ transplant patients, and those battling cancer.  Every two seconds, someone in the U.S. needs blood and there's no substitute for it.  When a patient receives blood, it is because a generous donor gave it in advance.  If you would like to be that generous donor, we host blood drives for the American Red Cross every three months in January, April, July, and October.  Here is a list of our upcoming blood drives.  Did we mention that you get free cookies and other tasty snacks and drinks after you donate? Yes!  You Do!  All you want!
Protein Folding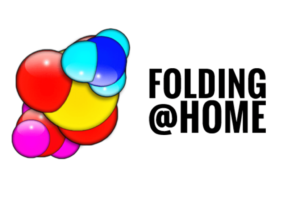 Do you want to help others, but you are short on time?  Do you have a computer with an internet connection?  Then please consider donating your unused computer processing power to help cure diseases!  Most home computers use only around 10% or less of their computing power on a continuous basis.  Folding@home (FAH or F@h) is a distributed computing project designed to help scientists develop new therapeutics for a variety of diseases by simulating protein dynamics, protein folding, and the movements of proteins via running simulations on volunteers' personal computers.  These simulations run in the background at low priority so that they do not interfere with your regular use.  While you are going about your everyday activities, your computer will be working to help us find cures for diseases like cancer, ALS, Parkinson's, Huntington's, influenza and many others (including COVID-19).  Many members of Folding@home also join teams.  After you install the app, you can join the "Humanists, Atheists and Freethinkers" team if you'd like.  Please enter team number 10571 in the Configure option of the app to join the team.  Folding@home runs on Windows, macOS, Debian, Mint, Ubuntu, Redhat, Centos, Fedora, ARM Linux, & Raspberry Pi!  Yes! If you have a Raspberry Pi lying around that you haven't found a use for, you can use it to fight disease!  HSGP is not affiliated with Folding@home, but several of our members contribute computer processing power and you can too!
Little Free Library
Do you like to read books?  Do you have books that you enjoyed and want to pass on to others to enjoy?  Then come and see our Little Free Library!  Little Free Library is a nonprofit organization based in Hudson, Wisconsin.  Its mission is to be a catalyst for building community, inspiring readers, and expanding book access for all, through a global network of volunteer-led Little Free Libraries.  We believe in that mission so we've added a Little Free Library in front of our community center that is easily accessible 24 hours a day seven days a week!  Everyone is free to take a book or leave a book.
Little Free Pantry
We offer free food and water to anyone who needs it.  We have a Little Free Pantry on our front porch that is available to all 24/7.  In it we have bottled water and various food items.  The Little Free Pantry movement is a grassroots, crowdsourced solution to immediate and local need. Whether a need for food or a need to give, mini pantries help feed neighbors, nourishing neighborhoods.
Donations page for HSGP's Little Free Pantry:  LFP Donations
Other Ways to Give:
HSGP members are encouraged to join the team that keeps the Little Free Pantry stocked with food and water, checks the suggestion box for requests from neighbors, and safeguards the property from littering and vandalism. Please contact our Service and Participation Director at volunteer@hsgp.org for more ways to get involved.
Want more?
Don't see an event you like or do you have an event in mind you'd like to see at HSGP? Let us know!