President's Message
By Chris Wojno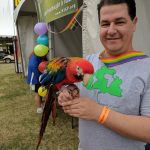 Happy belated Vernal Equinox my fellow Humanists! Spring has sprung and the weather has been comfortable and pleasant. As gorgeous as it has been lately, I have a small confession to make. I'm exhausted. I haven't even been cycling as much as I should lately. We had so much going on at our Humanist Community Center in March and we have so much more to look forward to in April!
Death and Other Interesting Topics
For our big Sunday Speaker, we invited USC's Humanist Chaplain, Bart Campolo to give us a talk about how we as Humanists are to deal with death and interactions with family related to death. I am personally inspired by his words and his attitude about life and interpersonal relationships. I hope that you are also inspired, too. In case you missed it, members are invited to ask our Librarian, Bruce Pettycrew for a copy of the video. I encourage everybody to check it out.
The leadership team here at HSGP took advantage of Bart's visit and spoke with him at length about community building and understanding the support and community structures that churches and other religions provide. We have some exciting new ideas that we'd like to implement to help build up our relationships within and without the Humanist Community Center. I feel like our team has a renewed energy and we hope that you'll be excited for what we're starting soon, too.
If you were also inspired by Bart and want to help him with his new Humanist Chaplaincy over at the University of Southern California, you can donate and ensure that secular students have someone to go to that won't tell them to seek out God to help them get through loss, stress, pain, and anguish. If you want to hear more inspiring talks and dialogs from Bart, checkout his podcast, Humanize Me. He's had well-known and respected guests talk to him about deep and important subjects. Check it out!.
Stand up, Stand Proud @ Phoenix Pride 2017
Speaking of inspired, we as Humanists are excited and proud to not only to have tabled at this year's Phoenix Pride Festival, but also to have marched in the parade again to show our support for our LGBTQ+ brothers and sisters.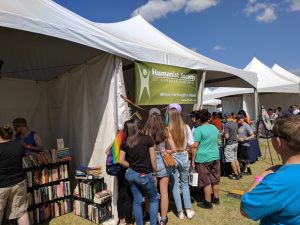 Our tabling teams had real conversations with over 200 people about Humanism and introduced them to our community and our community center. Alex Zygmunt and I were delightfully inspired by the number of people who had not only heard of Humanism, but had also heard of HSGP! If you see a face that you do not recognize, please say hello and welcome them into our community with smiles and open arms.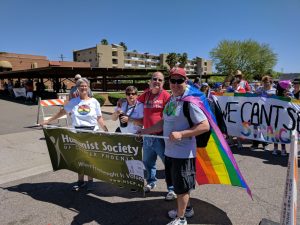 If you've never seen the pride parade, consider marching with us next year! I've never seen so much love and excitement for such a simple and noble cause: defending people's rights to be who they are and celebrating that individuality. Our team marched along 3rd Street on the morning of Sunday, April 2 with thousands of people actively participating and spectating. The announcers introduced our community twice as: "The Humanist Society of Greater Phoenix is a warm and welcoming community of humanists, atheists, agnostics, freethinkers, and non-theists of all types. The group aims to enrich the lives of any who join us through explorations in science, philosophy, history, and the arts." Please join us next year. It's a truly unique and invigorating experience!
Building Repairs
I have a quick update on the fire riser system at the Humanist Community Center. The back-check valves were repaired last month and the pressure sensor and alarm are fully connected as well. The city has inspected and signed off on our equipment and we're now fully compliant with all of the fire and safety codes! You may have also noticed our new occupancy signs. We've posted the official room capacities for each room, as required by the safety codes. Please join me in thanking Alex Zygmunt, Ann Marie Eisentraut, Henry Geist, and Kathy Pettycrew for getting this very large project completed!
Unfortunately, we still have the matter of the roof to contend with. Alex has also obtained 3 estimates for the repairs. In addition to the cost of the repairs, we'll also need to disconnect, relocate, and eventually reinstall our solar panel array over the main assembly hall. This will also add to the cost of this project. We've been receiving a few donations to help with this project. Thank you so much. This is our biggest expense this year and we did not want to cut our programs and support to our allied groups to cover this shortfall. We could still use a lot more help as we're still very far behind our fundraising goal for the roof. If you are able, please consider making a donation. We believe in this community.
Speaking of fundraising, the board has found and nominated a new member at large position for the fundraising duties! At the next Sunday Speaker meeting, we'll ask you to cast your vote to elect James Woods to the board as per our bylaws.
Marching for Science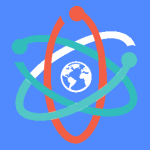 As we all know, science is under attack. Policies are being proposed and pass that will significantly cut the funding and prevent the free exploration and distribution of facts about reality. We as Humanists must make our voices heard. Join us, on Saturday, April 22 in downtown Phoenix to be counted and heard. As Humanists, we are dedicated to free and open inquiry using rationality and integrity to understand this reality in which we live. We must stand up and defend humanity's best method for achieving this: science. Join us as we stand among scientists and science enthusiasts on April 22!
 See you next time
Those were just the highlights of March my fellow Humanists! Get ready for a April because it's going to be jam-packed with goodness as well. If you missed any of our events and want to keep up on what we're doing, please sign up to our Facebook and Meetup pages. As always, be Humanistic by making someone's day better than yesterday.
Message from the Membership Director
By Anita Romanowski
HSGP's Board of Directors is currently experiencing a bit of a crisis situation.  At the end of 2016, we had several people leave the board of directors.  In order for our community center to run smoothly, efficiently and safely, we need motivated people to step up and become actively involved with organizational functioning.  I encourage anyone who is interested to attend our monthly board meetings.  Board meetings are held after the second regular Sunday meeting of each month, except December. You can direct questions or comments to Chris Wojno at president@hsgp.org.
On a lighter note, Chris Wojno, Alex Zygmunt, Alex's fiancee Carol, and I staffed the HSGP vendor booth at the Phoenix Pride Festival on Saturday, April 1.  It was wonderful how much interest we attracted.  People were coming up to us to inquire what we're all about.  We have in excess of six full pages of names with contact information.  Of course, now I have to enter all this info into our database and send invitation emails, but this outcome is well worth it.
Being the shy, introverted person that I am, I've included a couple of pictures of myself taken at the festival.
A woman was walking about with her pet macaw.  I just had to hold this beautiful bird.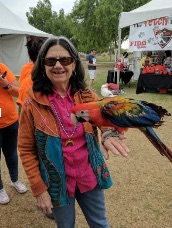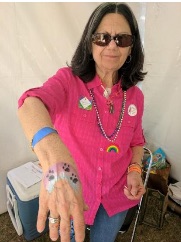 The booth next to ours was offering free body painting.  I wanted paws.  She added rainbow.
Continuing Sleeping Mats Workshop:
My next workshop will be held on April 8.  Keep watching Meetup for my monthly announcements.  Any questions can be sent to my email address located below my signature here.  PLEASE DON'T BRING BAGS, the community center has a basement full of them.  Don't know how to crochet?  No problem.  You actually don't have to crochet; you can just make "plarn".  However, I would like more people to crochet so we can get more mats completed. I or some of the "old-timers" will teach anyone who wants to learn.  For those who want to crochet, you'll need to bring a 10mm or size N crochet hook.  I also have some 10mm hooks available for $5.00.
Welcome New Members:
Martin Braun
Tracy Guss
Kay Mule
Bill Oliphant
Katie Paetz
THE USUAL SPIEL
Prior to every meeting and event a volunteer request is emailed and/or posted on Meetup with a link to SignUp Genius where you can schedule your volunteer choice and time.
If something comes up and you can't commit to your volunteer choice, please let us know so we will know to compensate for the gap.  We so appreciate your willingness to volunteer.
If you need help accessing the link, contact Chris Wojno at president@hsgp.org
Your Participation is Welcome:
This column is for the members.  I'd like it to also be about and by the members by encouraging all of you to send me announcements of life events, questions about HSGP, contribute a piece for this column or suggestions of subjects you'd like to see posted here.
Please contact me if you need any membership information or have a change of address, phone number, or email.
Anita Romanowski
Membership Director
Service Outreach
Saturday April 8, St. Mary's Food Bank Alliance
See the listing under Events on this website and RSVP on Meetup at https://www.meetup.com/Humanist-Society-of-Greater-Phoenix/events/236836466/
Children's Programs
The HSGP-sponsored Girl Scout group is an all ages group.  For more information contact ann.eisentraut@gmail.com
Please note that the Sunday Speaker meetings now have a children's program. For more information see the Meetup event for the Sunday date at https://www.meetup.com/Humanist-Society-of-Greater-Phoenix/events/ 
HSGP & Social Media
by Jennifer White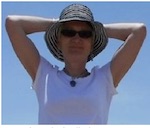 Social Media plays a vital role in keeping up with and taking part in the issues that Humanists care about.
What do Humanists care about and what are Humanist values?
HSGP's motto: "To foster the secular humanist community and advocate for humanist values in Greater Phoenix."
About Humanism (from the American Humanist Association):
"Humanism is a progressive philosophy of life that, without theism and other supernatural beliefs, affirms our ability and responsibility to lead ethical lives of personal fulfillment that aspire to the greater good of humanity."
We are responsible for leading ethical lives, and for aspiring to the greater good of humanity. How we do that is personal to each of us. Social Media is central to how we are able to express ourselves and organize to the extent that we are ready to be active, championing the causes that we deem important to making the world a better place.
Humanism is politically non-partisan. However, it is a progressive philosophy. That means we champion causes that promote for all people: equality, government representation of all, civil liberties, justice, dignity, environmental stewardship, sustainable and available energy, opportunity, peace, excellent public education, quality affordable medical care, sound science, freedom from hunger and homelessness, shelter from oppression and violence, protection of children, humane treatment of animals, and so many more.
Get active. However active you choose to be, social media is essential for:
* finding out
* staying informed
* showing your support
* getting out the word
* organizing
* finding like-minded people
* learning what the opposition is up to
* finding events to sign up for
* sharing events
* creating events
* expressing your opinions
* recruiting friends
* communicating with political leaders/legislators
Use Social Media to follow HSGP:
* Like and follow HSGP on Facebook. We have a page at
www.facebook.com/HumanistSocietyofGreaterPhoenix/ and a discussion
group at www.facebook.com/groups/HumanistSociety/
* You can find our events, all Humanist-related, on our HSGP website https://hsgp.org/
and on Meetup at  http://www.meetup.com/Humanist-Society- of-Greater-Phoenix/
* Twitter account @HSGP to be active again soon.
Learn more about Humanistic political actions you can take, both from the comfort of home and out in the community. Go to these Facebook pages for a great start:
Secular Coalition for Arizona www.facebook.com/secularaz/
Secular Coalition for America www.facebook.com/SecularCoalition/
ACLU of Arizona www.facebook.com/ACLUofArizona/
ACLU Nationwide www.facebook.com/aclu.nationwide
American Humanist Association www.facebook.com/americanhumanist/?fref=nf
Americans United for Separation of Church and State (national)  www.facebook.com/americansunited/
See you soon! I look forward to engaging with you at a meeting, letter-writing event, protest march, seminar, meet-your-legislator day, or any of the many events coming up in 2017!
Human Inspiration
"Here's the thing with me and the religious thing. This is the flat-out truth: I find the religiosity and philosophy in the music. I don't find it anywhere else."
…Bob Dylan
"Life is really simple, but we insist on making it complicated."
…attributed to Confucius
Quotes courtesy of www.brainyquote.com