President's Message
By Chris Wojno 
Hello to all of you happy Humanists out there. This short month was a bit wetter and warmer than normal, but we still packed in a lot of fun!
Darwin Day
I'll begin with our shared birthday wishes to the pioneer of the theory of evolution, Charles Darwin. Had he been alive today, he certainly would have enjoyed his 208th birthday with us on February 12 at our barbeque that we threw in his honor. Of course, we also celebrate all of those who contributed to our understanding and appreciation of the natural world, our scientists and researchers. Though busy on the BBQ cooking up fresh salmon, cod, and hot dogs, I must have seen over 100 people enjoy the lunch throughout the afternoon! We were even listed on the official Darwin Day website. Ann Marie and the kitchen crew made enough dinosaur meat (cough! chicken) and vegetables to feed an army while nearly everyone brought something tasty to share. Everything was delicious and there were many great conversations. We'll see you again next year but I hope that we take advantage of the very pleasant weather with another lunch again soon. Thank you to everyone who helped out and made it such a successful and fun afternoon.
The roof, the roof, the roof is on…
And now for some building updates! The riser valve should be repaired at this time. However, there remains a large amount of work to be done for alarms and reporting. The roof is also still an issue but we are progressing on getting estimates. More importantly we need you, Humanists! If you are able, please consider making a tax-deductible donation today so that we can get the roof and fire risers completely fixed up and signed off without sacrificing any of our beloved programs or speakers. If you can't or don't feel comfortable making a donation online, please consider making a donation the next time you join us for our meetings or activities. Thank you in advance for support!
Leadership Opportunities
Speaking of member support, if you're looking to get more involved and getting a say as to how HSGP is run, we're looking for you! As you know, we voted in February so that Ann Marie could re-join us as the Property Director. Thank you for your confidence in her! However, this was only a temporary measure as she is still planning to move in May of this year. Not only will we be losing our Property Director again, but I regret to inform you that, due to a personal hardship, our Fundraising Chair, Christine Walden has also resigned. That leaves us with two open board positions that we need to fill as soon as possible. Please email me today at president@hsgp.org if you're interested in filling either the Fundraising Chair or the Property Director positions. We're losing two women. I would love to have female candidates for these positions. It looks great on a resume and we'll help you at every step. It also helps with the next election as our members prefer experienced leaders so this is a great way to get easy experience points. I look forward to hearing from you! Thank you for stepping up.
Watch for these events
We have some really cool stuff happening in March and April. Here is a preview of our big events!
Andre Salais: Who Owns Your Brain: How Big Data is Used to Control Your Vote
This upcoming Sunday Andre Salais, the host of the Unbelievers Podcast, will share with us how "Big Data" from social networking sites like Facebook, Twitter, Instagram, and more tailor ads to you to change your mind about almost anything. Having briefly discussed this topic with him, this will be a fascinating and eye-opening discussion. Please join us this Sunday, March 5 at 10AM to learn who really owns your brain.
Secular Lobby Day!
While the Humanist Society of Greater Phoenix is not a lobbying organization, we do support secular values and those who defend our freedom to believe or not as we see fit. On Tuesday, March 21 from 9AM into the afternoon, please join us at our table at the Arizona Capitol, right here in Phoenix. Show your representatives and senators that you're here, you care and you matter. Say hello to your elected officials and make your voice heard. If you'd like to help at our table and tell others about Humanism and what we do at The Humanist Society of Greater Phoenix, please stop on by!
Bart Campolo Sunday Speaker!
Ladies and Gentleman, I'm proud to announce that Bart Campolo has agreed to come speak to us on March 19 at 10AM. Bart is a secular minister, speaker, and writer. He is also the Humanist Chaplain at the University of Southern California. He will be discussing a topic that is very hard for both believers and non-believers: how to deal with death. Please join us for what may be one of our largest events of the year.
Roy Zimmerman's ReZist Tour!
If you're looking for some jaw-droppingly hilarious musical satire, be sure you're at the Humanist Community Center on Friday, March 24 at 7PM. Seriously, check out some of his older work that he posts for free. If you like that, come hear his new stuff and get a chance to pick up his latest albums! Bring a friend or take your date on an unforgettable evening! Trust me, you won't see this coming.
HSGP Representing at Pride
Although this event is in April, it's the first 2 days of April, so I'm getting the word out now. Each year, we Humanists step up and step out to Pride. We're proud to support the rights of our LGBTQ+ friends and family. If you'd like to help staff our booth and show your support, please sign up to volunteer (coming soon!). Pride is a lot of fun! They have shows, exhibits, and events you'll love!
Your ideas
We're still looking for new group and activity ideas! We have a philosophy group and a science nite that are coming soon. We're in the planning and training stages for both of these right now. Thank you to Jim and Dennis for helping out and getting these rolling! I'm also, personally, seriously considering starting a cycling club while the weather holds. What are your ideas? Let us know by filling out the form! I'll get back to you very quickly so we can brainstorm on how to make your idea a reality.
That's a wrap
Wow! March is going to be super busy. We hope that you'll make it to every event. Keep sharing your Humanism. Be proud and live every day with reason, compassion, and building equality: the Humanist way.
When Life Gives You Lemons…..Make Doreen Saferstein's Recipe for Lemon Cookies
Ingredients:
1/2 c lemon juice
2 tsp lemon zest plus 1 1⁄2 tsp for coating (4-6 lemons: see Doreen if  you need lemons!)
2 sticks unsalted butter
2 1⁄2 c flour
1 tsp baking powder
1⁄2 tsp salt
1 C sugar plus 1/4 c more for coating
1 large egg
2 tsp vanilla
Preheat oven to 375
Put lemon juice in a glass measuring cup and microwave until reduced to 1/8 C
Add 1 stick butter to the lemon juice and stir until melted.
Mix together baking powder, salt and flour – set aside
Cream other stick of butter and sugar  Add egg and lemon butter. Mix until pale.
Mix in vanilla and 2 tsp zest.
Add flour mixture
Put 1⁄4 c sugar in a shallow dish
Roll dough into 1" balls, place on ungreased cookie sheets
Press each with the flat bottom of a glass dipped in sugar until 1⁄4" thick.
Sprinkle with zest – press lightly into cookies.
Bake until just browned on the edge, 10-11 minutes.
Transfer to wire racks to cool.
Eat one or more cookies.  See, doesn't that make you feel better already?
Message from the Membership Director
By Anita Romanowski 
Member Profile:  James Avery Fuchs
James Avery Fuchs is a transgender author, public speaker, spoken word poet and trans educator in Arizona.  He is also a podcaster, proofreader and artist.
He was elected as a precinct committee person in August 2016, is the Program Director for the Humanist Society of Greater Phoenix for 2017, and has been selected as a featured performer for Bisbee Pride, interviewed on KWSS 93.9 FM in Arizona and worked as a Field Manager for Freedom for All Americans Education Fund.  His events have been written about in a variety of online and print magazines.
A prolific writer, James has published seven books since January 2014 and is currently working on his third spoken word CD, his "A Queer Was Here" podcast, another poetry book, a children's book and a dystopian science fiction novel entitled "Crimson Class Rebel."
The five things he enjoys most are listening to music and podcasts, traveling, writing, archery and spending time with friends and family.  James performs poetry regularly at a variety of venues and festivals.
James first came to HSGP to attend an Inquiring Minds discussion in September, 2015 and joined the membership that November.  In January of this year, he was elected to the board as Program Director.  Thus far, he has booked some intriguing and informative speakers for our Sunday meetings, including himself.
He's always believed in the importance of doing the right thing, even if it's not the easiest thing, and has been an atheist since about the beginning of his teenage years. However, he didn't have community as an atheist, and struggled with maintaining a sense of greater purpose and dealing with the eventuality of death; so during a few rough patches in his childhood and young adulthood, he delved back into religion as an escape from the realities of life. Those explorations lasted a year at most, though, as the more familiar he became with various religious texts, the less comfortable he was with accepting the tenets, especially since any faith in a god or gods he had was tenuous at best.
It wasn't until 2015 that he learned of humanism, and the Humanist Society of Greater Phoenix, but as he delved further into both the organization and the tenets of the American Humanist Association (AHA) and the International Humanist and Ethical Union (IHEU), he felt like he had finally found a community and philosophy that spoke to him.
Continuing Sleeping Mats Workshop:
My next workshop will be held on March 11.  Keep watching Meetup for my monthly announcements.  Any questions can be sent to my email address located below my signature here.  Bring supermarket grocery bags if you have them. If you don't have any bags, not to worry, we currently have a good supply.  Don't know how to crochet?  No problem.  You actually don't have to crochet; you can just make "plarn".  However, I would like more people to crochet so we can get more mats completed. I or some of the "old-timers" will teach anyone who wants to learn.  For those who want to crochet, you'll need to bring a 10mm or size N crochet hook.  I also have some 10mm hooks available for $5.00.
Welcome New Members:
Kathy Cabanas
Lisa Busse
THE USUAL SPIEL
Prior to every meeting and event a volunteer request is emailed and/or posted on Meetup with a link to SignUp Genius where you can schedule your volunteer choice and time. .
If something comes up and you can't commit to your volunteer choice, please let us know so we will know to compensate for the gap.  We so appreciate your willingness to volunteer.
Your Participation is Welcome:
This column is for the members.  I'd like it to also be about and by the members by encouraging all of you to send me announcements of life events, questions about HSGP, contribute a piece for this column or suggestions of subjects you'd like to see posted here.
Please contact me if you need any membership information or have a change of address, phone number, or email.
Anita Romanowski, Membership Director
anita.romanowski@hsgp.org
HSGP & Social Media
by Jennifer White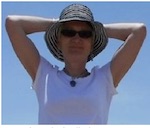 Social Media plays a vital role in keeping up with and taking part in the issues that Humanists care about.
What do Humanists care about and what are Humanist values?
HSGP's motto: "To foster the secular humanist community and advocate for humanist values in Greater Phoenix."
About Humanism (from the American Humanist Association):
"Humanism is a progressive philosophy of life that, without theism and other supernatural beliefs, affirms our ability and responsibility to lead ethical lives of personal fulfillment that aspire to the greater good of humanity."
We are responsible for leading ethical lives, and for aspiring to the greater good of humanity. How we do that is personal to each of us. Social Media is central to how we are able to express ourselves and organize to the extent that we are ready to be active, championing the causes that we deem important to making the world a better place.
Humanism is politically non-partisan. However, it is a progressive philosophy. That means we champion causes that promote for all people: equality, government representation of all, civil liberties, justice, dignity, environmental stewardship, sustainable and available energy, opportunity, peace, excellent public education, quality affordable medical care, sound science, freedom from hunger and homelessness, shelter from oppression and violence, protection of children, humane treatment of animals, and so many more.
Get active. However active you choose to be, social media is essential for:
* finding out
* staying informed
* showing your support
* getting out the word
* organizing
* finding like-minded people
* learning what the opposition is up to
* finding events to sign up for
* sharing events
* creating events
* expressing your opinions
* recruiting friends
* communicating with political leaders/legislators
Use Social Media to follow HSGP:
* Like and follow HSGP on Facebook. We have a page at
www.facebook.com/HumanistSocietyofGreaterPhoenix/ and a discussion
group at www.facebook.com/groups/HumanistSociety/
* You can find our events, all Humanist-related, on our HSGP website https://hsgp.org/
and on Meetup at  http://www.meetup.com/Humanist-Society- of-Greater-Phoenix/
* Twitter account @HSGP to be active again soon.
Learn more about Humanistic political actions you can take, both from the comfort of home and out in the community. Go to these Facebook pages for a great start:
Secular Coalition for Arizona www.facebook.com/secularaz/
Secular Coalition for America www.facebook.com/SecularCoalition/
ACLU of Arizona www.facebook.com/ACLUofArizona/
ACLU Nationwide www.facebook.com/aclu.nationwide
American Humanist Association www.facebook.com/americanhumanist/?fref=nf
Americans United for Separation of Church and State (national)  www.facebook.com/americansunited/
See you soon! I look forward to engaging with you at a meeting, letter-writing event, protest march, seminar, meet-your-legislator day, or any of the many events coming up in 2017!
Human Inspiration
"Fantasy is a necessary ingredient in living, it's a way of looking at life  through the wrong end of a telescope, and that enables you to laugh at life's realities."
… Dr. Seuss
"You can do everything you can to try to stop bad things from happening  to you, but eventually things will happen, so the best prevention is a positive attitude."
… Marie Osmond
Quotes courtesy of www.brainyquote.com