Winners to be announced today!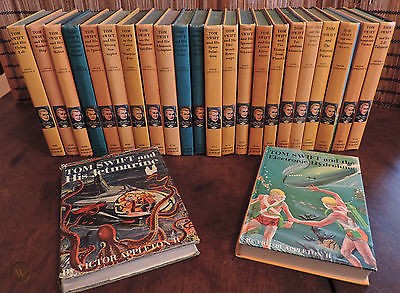 Winners Announced Today!

1st Prize:
2nd Prize:
3rd Prize:

Congratulations!

From the Webster's Dictionary Website:

The Tom Swifty form takes its name from the main character in a series of adventure books published by Edward Stratemeyer beginning in 1910. The books were all credited to "Victor Appleton," a pseudonym, the books were actually written by several different authors. In the series, which had titles that included Tom Swift in the City of Gold, Tom Swift and His Wizard Camera, and Tom Swift and His Great Searchlight, the authors used an abundance of adverbs, in order to add color and variety to the narration.

Sometimes the puns are simple:
"Let's gather up the rope," said Tom coyly.
"Welcome to my tomb," said Tom cryptically.
"I can't find the oranges," said Tom fruitlessly.

Sometimes they require a little more thought:
"Don't you love sleeping outdoors," Tom said intently.
"Let's trap that sick bird," Tom said illegally.
"I lost my trousers," said Tom expansively.

But the all-time best Tom Swiftys are the ones that accurately describe the subject's state of mind as well as the action such as:
"I just dropped the toothpaste," said Tom crestfallen.
You get the idea, here are a few more of my own devising that might inspire you:
"I expected a bigger bouquet," she said morosely."
"I just got my triple by-pass," he said wholeheartedly.
"I've had a lobotomy," he said absentmindedly.
"P-p-put on your gl-gl-gloves," he stuttered intermittently.

They're fun and they'll help keep your mind sharp, particularly now that most of us are housebound.

NOW THE RULES:
1. Submit up to ten of your best efforts to: zenaido@aol.com by April
26th. (There are lots online, but make up your own!)
2. Jennifer and I will pick the best ten of all the submissions and send
them to every participant by April 30th.
3. The participants will rank them 1-10 with #1 being best and return
the ranked list to zenaido@aol.com by May 3rd.
4. The top 3 will win prizes to be announced after the top ten are
picked. Winners will be announced on May 8th!

Good luck and have fun!

Questions? Email Zenaido for answers.
Your HSGP Humanities Project Committee.
When
May 8th, 2020 12:00 PM through 7:00 PM
Location
ONLINE




Mesa

,

AZ

85211




United States