Next Live Online Sunday Speaker: our friend Will Humble, Executive Director AZPHA will give us a overview of Covid-19 - What You Need to Know.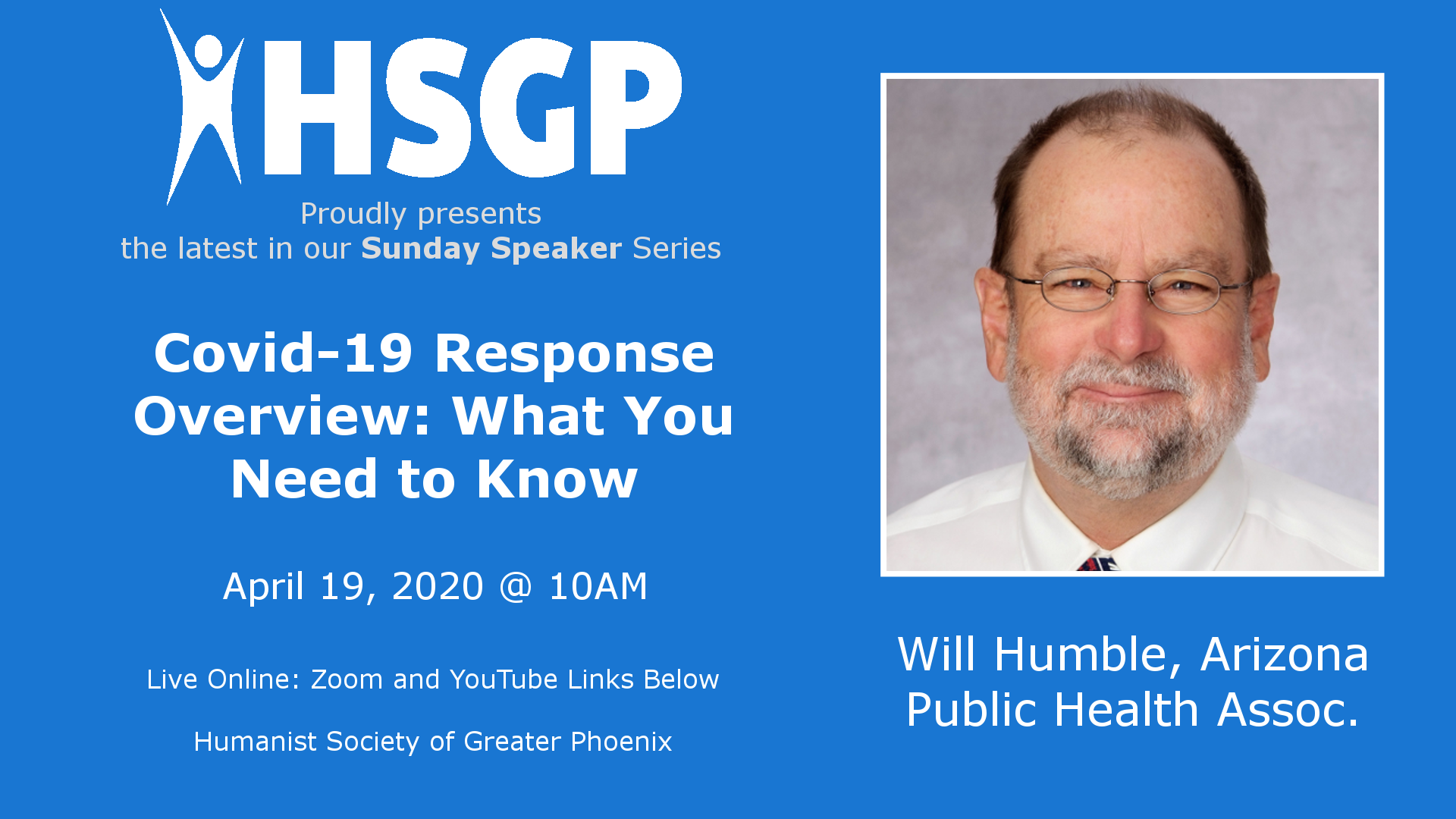 COVID-19 Response Overview

Join us in a live online discussion with Will Humble, Executive Director, Arizona Public Health Association (azpha.org) and an update on COVID-19, including hospital capacity, communications, surveillance, testing, distancing, and overall health implications.

INSTRUCTIONS FOR JOINING THE MEETING LIVE

1) ZOOM: It's interactive. It's fun. You can talk with the speakers, type in questions, and we can see each other!

At a little before 10:00 AM on April 19, click on the Zoom link and follow the prompts:

Join Zoom Meeting:
https://zoom.us/j/535462070?pwd=UGJBOXRYcTF2SXJMb01RNTdvM2Y2QT09
Meeting ID: 535462070
Password: 4808445044
(Set up Zoom ahead of time. Program Director Ron Russell will gladly help you between now and April 18. You can contact him at ron.russell@hsgp.org.)

2) YOUTUBE: Don't want to bother with Zoom? You can watch live (15 second delay), or you can watch later.
Here is the YouTube link: https://youtu.be/oY4mJLRY3Bo
Subscrib to our channel: https://www.youtube.com/channel/UCOw8Sl1yofrwRuGUYS_OOOA
Just go there at 10:00 AM on April 19 to watch live.

Need help? Email ron.russell@hsgp.org before Sunday, April 18.

The Humanist Society of Greater Phoenix presents its Sunday Speaker meetings twice a month on Sunday mornings.

Meetings are free and open to the public.

DONATE: If you can help HSGP with ongoing costs during this uncertain time, please go here to donate.
https://hsgp.org/civicrm?page=CiviCRM&q=civicrm/contribute/transact&reset=1&id=2

JOIN: We invite you to become a dues-paying member of HSGP. https://hsgp.org/civicrm?Page=CiviCRM&q=civicrm/contribute/transact&reset=1&id=1

THANK YOU! See you online!
When
April 19th, 2020 10:00 AM through 11:30 AM
Location
ONLINE




https://zoom.us/j/535462070?pwd=UGJBOXRYcTF2SXJMb01RNTdvM2Y2QT09




Mesa

,

AZ




United States