Meet Your New HSGP Board: Who They Are and Why They Are Humanists Presented by HSGP Board Members!
Members of our HSGP Board of Directors for 2009 each gave a brief profile of themselves, including their early years, education, employment, family and friends and their past and current worldview. They also discussed how and why they became Humanists, along with their expectations of Humanism for the future.
We hope that there will be future meetings in which our members will share a little about themselves, so we can get to know our members and their fascinating backgrounds!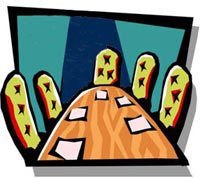 When
January 11th, 2009 7:00 AM through 9:00 AM