During this presentation we will learn all about Arizona's water supply system, how it's being managed in consideration of the effects of climate change, and what's in the future for our water supply.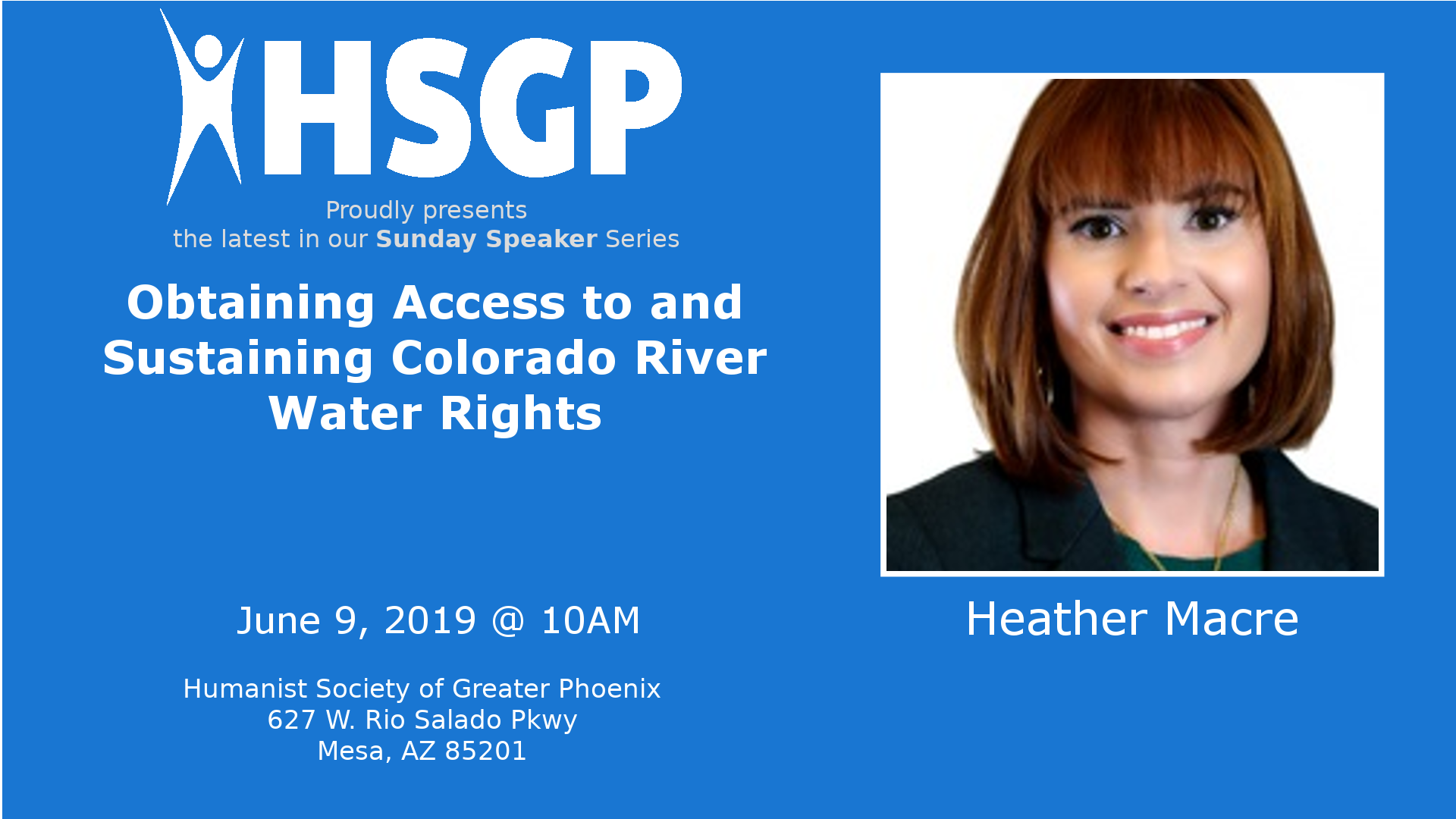 Join Central AZ Water Conservation District Board Member (CAWCD), Heather Macre, as she explains why the work of the CAWCD is so important, including such topics as the recently passed drought contingency plan, water management, climate change adaptation, and what's next for Arizona's water supply.

The CAWCD operates a system of canals throughout Arizona that run from the Colorado River and supplies water to municipalities, agribusiness and industry. In fact, the CAWCD also supplies a large percentage of Arizona's drinking water.
Without the work of the CAWCD, and the service of the Central Arizona Project (CAP) canals, Arizona as we know it, and Maricopa County in particular, would not exist.

Development in Arizona was hampered until the state was able to enter into the 1944 Colorado River Compact. Even then Arizona had to fight all the way to the U.S. Supreme Court to secure its allotment of water from the Colorado River. Once this water supply was secured, Arizona was able to flourish and grow, creating the oasis in the desert we call home. Without proper access to water, Arizona might have remained a dusty afterthought. 
The meeting is free and open to the public. Doors open at 9:00 am for socializing with an optional Continental breakfast available for a $5 donation. The meeting begins at 10:00 am.
A Children's Program is available during the Speaker Meeting. Please see the HSGP Meetup for the Children's Program at this meeting for more information and to RSVP with the number of children attending.
Need Accessibility Options? Send an email to president@hsgp.org with Accessibility Options in the subject line and let us know about your needs.
WE NEED HELP WITH FOOD PREP AND SET UP. PLEASE consider volunteering to help make this event possible. Click on the SignUp Genius button below for a list of volunteer opportunities.
When
June 9th, 2019 10:00 AM through 11:30 AM
Location
ONLINE




Mesa

,

AZ

85211




United States