The Right to a Death with Dignity: The Human Rights Issue of the 21st Century.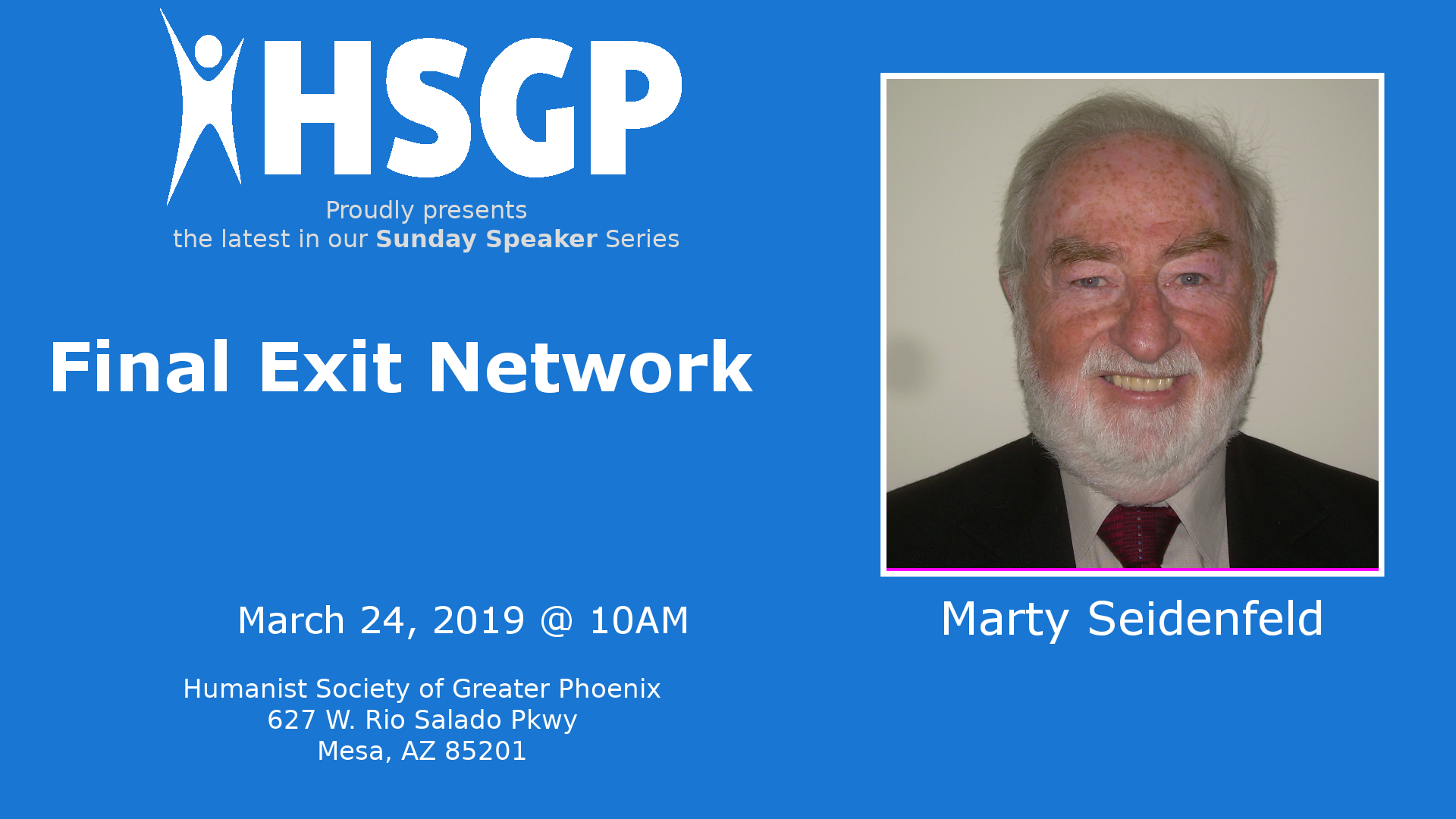 "Death is inevitable. While most people would choose to die at home, in fact, most die in medical facilities. This talk will describe how, through the Final Exit Network (FEN), people whose medical condition makes their lives unbearable may choose to achieve a painless, reliable, dignified self-deliverance when, where and in the company of those they choose. If a person's medical condition can only end in death, they have a choice about ending their suffering. We will discuss the ethical and moral responsibility of each person to make decisions about their own lives - and their own deaths.

We hold that any competent person unbearably suffering from an intractable medical condition should have the option to die legally and peacefully. FEN's mission is to educate those who qualify through our medical committee, regardless of the length of their prognosis, about how to achieve a practical, peaceful way to end their lives. We also offer a compassionate bedside presence.

FEN is an all-volunteer, non-profit organization, with our services available in all fifty states. There is never any charge to anyone using our guide service; we are 100% supported by membership dues, bequests and contributions. FEN is a member of the World Federation of Right to Die Societies. In this talk I will briefly describe the legal status of self-deliverance, in the Unites States and around the world. I will also describe how many groups, especially conservative religious groups, oppose our work."

The meeting is free and open to the public. Doors open at 9:00 am for socializing with an optional Continental breakfast available for a $5 donation. The meeting begins at 10:00 am.
A Children's Program is available during the Speaker Meeting. Please see the HSGP Meetup for the Children's Program at this meeting for more information and to RSVP with the number of children attending.
Need Accessibility Options? Send an email to president@hsgp.org with Accessibility Options in the subject line and let us know about your needs.
Please consider volunteering to help make this event possible. Click on the SignUp Genius button below for a list of volunteer opportunities.
March 24th, 2019 10:00 AM through 12:00 PM
627 W RIO SALADO PKWY




HUMANIST CENTER




MESA

,

AZ

85201-4009




United States