ReZist: Funny Songs about Peace and Justice Presented by Roy Zimmerman in concert
Roy Zimmerman' returns to HSGP with "ReZist", ninety minutes of hilarious, rhyme-intensive original songs.

"Sometimes I think satire is the most hopeful and heartfelt form of expression," says Roy, "because in calling out the world's absurdities and laughing in their face, I'm affirming the real possibility for change." .

Roy's songs have been heard on HBO and Showtime. He's shared stages with Bill Maher, Robin Williams, Ellen DeGeneres, John Oliver, Kate Clinton and George Carlin. He's been profiled on NPR's "All Things Considered," and he's a featured blogger for the Huffington Post. .

Watch Roy onYouTube:

Religious Freedom (To Burn Our Own Witches)

"To Be a Liberal"

"My Vote, My Voice, My Right"

Just a reminder that Roy makes his living by performing. Please consider making a donation of $10 per person so he can continue to give secularism a musical voice.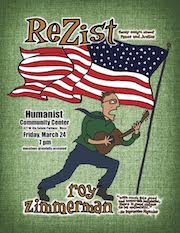 When
March 24th, 2017 7:00 PM through 9:00 PM