6th Annual Flying Spaghetti Monster Dinner Presented by Flying Spaghetti Monster Dinner
WWFSMD?
Join us for a rollicking good time celebrating the Flying Spaghetti Monster and Pirates all in one event!
May you be touched by a noodly appendage!
Approximate Schedule
(Pirates are not noted for adherence to timing and besides the crocodile swallowed the clock.)
5 PM - Happy Hour: Bring your own adult beverage to share (alcohol, soda, etc.). Lemonade, juice, milk and water provided. Appetizers and salad bar available for noshing.
Children's activities will be ongoing throughout the evening.
6 PM - Dinner: Spaghetti, Meatballs, Sauces, Bread (Vegan and gluten-free options available) and dessert
7 PM - Poetry and Prizes: Share your FSM inspired poetry. Raffle and door prize drawings
Pricing
(Suggested Donation)
$10 — Adults
$8 - Full Time Students and Seniors (Students eat free of charge if they commit to 1 hour of helping with the event.)
$4 - Children 6 to 13
Free - Children under 6
Prepay option: simply make a one time donation and note that it is for FSM dinner. Note that it is not tax deductible for the market value of the meal. Feel free to round up to the nearest thousand dollars: no one will stop you. Click this link to make the donation:
Support HSGP
Volunteering Opportunities:
Boatswains, Booty Collectors, Galley Grunts, Scullery Maids, Deck Swabbers and other assorted Tars are needed.
Click on the SignUp Genius button below for a list of volunteer opportunities. (Wait for it!)
Pirate wear or other costumes encouraged, but certainly not required.
Do you know your FSM history?
FSM History
Sauce be upon you, but not on the floor, ya scurvy bilge rat!!!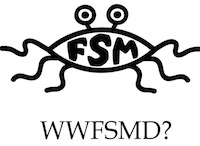 October 29th, 2016 5:00 PM through 7:00 PM