Tabling at Phoenix Pride Festival Saturday & Sunday Presented by Phoenix Pride Festival
Show your colors, share your love, and lend your support to the LGBTQ+ community here in Phoenix for this year's annual Pride Festival! Join us to enjoy the games, the music, the food, the drinks, and the camaraderie. Last year was a blast and it's going to be so much fun this year, too.
BOOTH LOCATION:
PURPLE: Booth P14. Map! http://phoenixpride.org/events/pride-festival/festival-map/
We need the booth covered with at least 2 volunteers at all times. Here are the 6 basic shifts:
- Sat, April 2 - 12:00-2:30 PM / 2:30-4:30 / 4:30-7:00 PM
- Sun, April 3 - 12:00-2:30 PM / 2:30-4:30 / 4:30-7:00 PM
Signup to volunteer here!
For more information about the festival, parade, and the run/walk go to the Phoenix Pride website for times and tickets. Get your tickets early! They're going fast!
- Chris Wojno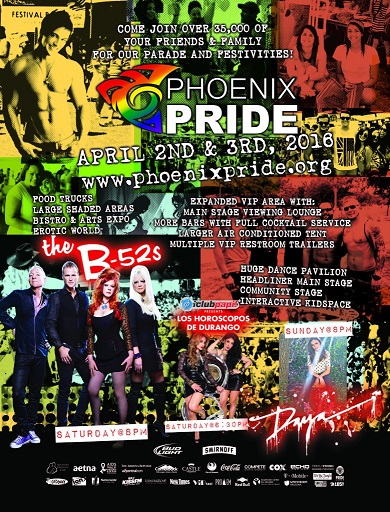 When
April 2nd, 2016 12:00 PM through 2:00 PM