Fundraising event: Jesus Camp Presented by Humanist Movie Night
We screened the controversial 2006 film,
Jesus Camp
, which received an Academy Award nomination for Best Documentary. The film centers around a \"charismatic Christian\" camp for children who spend their summers learning and practicing their \"prophetic gifts\" and being taught that they can \"take back America for Christ.\" Read more at http://jesuscampthemovie.com/. Be afraid. Be very afraid.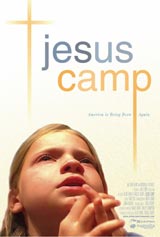 March 10th, 2007 4:00 PM through 6:00 PM