Volunteer Outing: St. Mary's Food Bank Alliance Presented by Service Outreach - St. Mary's
Due to Health codes and safety reasons, a required dress policy is in effect! Volunteers MUST wear Closed Toe Shoes, Shirts need to be short or long sleeved (No tank tops, spaghetti straps, etc.) and Shorts are okay. Please leave valuables, purses or backpacks in your vehicle for your safety and security! St. Mary's Food Bank is not responsible for lost and/or stolen items brought into our facilities! Stay alert at all times– Please DO NOT operate Cell Phones or IPods on the volunteer floor!
Please RSVP on Meetup so we have an accurate count.
Hosted by Gwyndolynn, who will be wearing a humanist/secular themed t-shirt. There will be a group of us gathered in the seating area.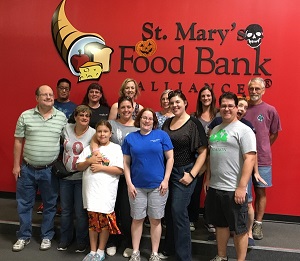 October 14th, 2017 12:00 PM through 2:00 PM