Free Lecture - ASU - The Future of Faith - Harvey Cox Presented by Humanities Project Outing: Lecture
Humanities Project Outing - Free Lecture
The Future of Faith - Harvey Cox
*RSVP to this Meetup and to ASU - see link below*
"For the last four decades, Harvey Cox has been the leading trend spotter in American religion."–Stephen Prothero, author of "Religious Literacy"
Harvey Cox's book "The Secular City," first published in 1965, is an international bestseller and widely regarded as one of the most influential books of Protestant theology of the last 50 years. His research and teaching interests focus on the interaction of religion, culture, and politics. Until his retirement in 2009 from Harvard University, Cox taught extensively on the intersection between Christianity and Islam and the rise of fundamentalism in both religions. In his book "The Future of Faith" (2009) he explored Christianity's history and its trajectory, discussing the rise of fundamentalism in our ever-changing world and why he thinks it will ultimately fail. He examines three major periods in Christianity and argues that the world has entered "the era of the Spirit." He discusses what it means to be "religious" today, revealing how doctrines and dogma are giving way to new grassroots movements based in community, social justice, and spiritual experience.
The lecture will be followed by a Q&A as well as a book sale and signing.
This event is free and open to the public, but RSVPs to ASU are required: CLICK HERE
"Harvey Cox is the most important liberal theologian of the last half century." –E.J. Dionne, Jr., author of "Souled Out" and columnist for The Washington Post
"Harvey Cox has been a voice of both reason and faith in our cynical times." –Deepak Chopra, author of "Jesus: A Story of Enlightenment"
West Hall Room 135, ASU Tempe Campus
Meet Art Felsinger right outside.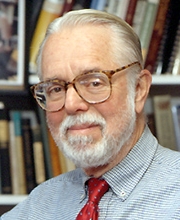 January 28th, 2016 4:00 PM through 6:00 PM