Into Thin Air by Jon Krakauer Presented by Book Club
Join us to discuss Jon Krakauer's "Into Thin Air: A Personal Account of the Mt. Everest Disaster".
from Amazon
A bank of clouds was assembling on the not-so-distant horizon, but journalist-mountaineer Jon Krakauer, standing on the summit of Mt. Everest, saw nothing that "suggested that a murderous storm was bearing down." He was wrong. The storm, which claimed five lives and left countless more--including Krakauer's--in guilt-ridden disarray, would also provide the impetus for Into Thin Air, Krakauer's epic account of the May 1996 disaster.
HSGP will benefit if you purchase this book through the Amazon Smile program. Click on the image below.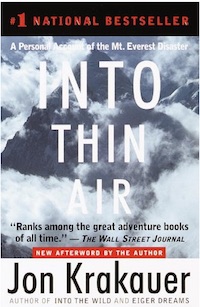 May 23rd, 2015 10:00 AM through 12:00 PM