You don't want to miss this event!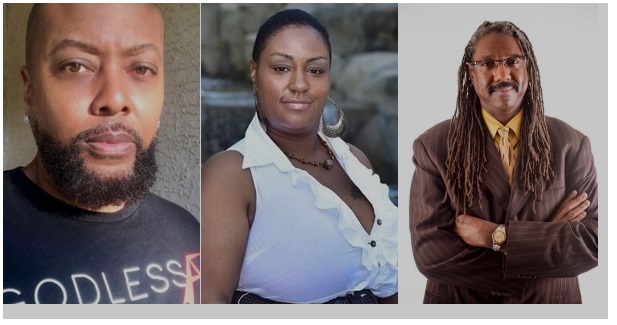 These amazing panelists will talk about how to grow diversity within the secular movement, a subject of great importance and interest to all of us. There will be a Q&A period.

After our Sunday Speaker meeting, featuring Mandisa Thomas, we will take a break and begin the panel discussion at 12:30.

The panelists are:

ROBERT PEOPLES (Moderator) is founder and Chair of Affinis Humanity Coalition (AHC); a nonprofit organization that normalizes Humanism one narrative at a time, and a Board Member of Secular Coalition for Arizona. He is a New Jersey native and currently resides in Tempe, Arizona. Prior to establishing the AHC, Robert operated a successful secular apparel line; making it to the semi-finals of "Phoenix Raw: natural born artists" fashion show. In the greater Phoenix area, he operated as a contract policy writer for the Department of Economic Security (DES). He also functioned as a corporate Diversity and Inclusion trainer for one of the largest behavioral health companies in Arizona. Through photography, video campaigns, and school presentations, he has reached national and international communities to bring awareness of the benefits of Humanism.

MANDISA THOMAS In 2011 she co-founded Black Nonbelievers of Atlanta, with "Atlanta" later dropped after a decision to expand the organization. In 2013 she was one of the principal organizers for the Blackout Secular Rally. As president of Black Nonbelievers Inc., Thomas urged people to "come out and stand strong with their nonbelief. ... The more we make our presence known, the better our chances of working together to turn around some of the disparities we face. We are not alone."

Thomas serves on the board for American Atheists and is board and for the American Humanist Association. She previously held board positions with the Foundation Beyond Belief, the Secular Coalition for America and the 2016 Reason Rally Coalition. She was named the Unitarian Universalist Humanist Association's 2018 Person of the Year and as a Freethought Heroine in 2019 by the Freedom From Religion Foundation. She regularly presents at conferences nationwide and has appeared on major media such as "CBS Sunday Morning" and CNN and has been featured in JET, Playboy and The Humanist magazines and other print and online media, including FFRF's "Freethought Matters."

NEAL A. LESTER, Ph.D. is Foundation Professor of English and Founding Director of Project Humanities at Arizona State University. He has been a Professor of English at Arizona State University since 1997, having taught previously at the University of Alabama (Tuscaloosa)—the first African American faculty member tenured in the Department of English--and at the University of Montevallo (AL). Dr. Lester earned his B.A. in English and was Valedictorian at the State University of West Georgia (Carrollton). He took his M.A. and Ph.D. in English at Vanderbilt University (Nashville, TN) and is the first African American to receive a doctorate degree in English at Vanderbilt. His areas of specialization are African American literature and cultural studies.

A popular public speaker, frequent radio guest, regular op-ed contributor, newspaper columnist and blogger, and discussion facilitator, Dr. Lester has an extensive record of lectures and keynote addresses, local and national media interviews, guest speaker events, scholarly consultations, conference presentations, and editorials. As well, he has received numerous teaching awards and recognitions.

Dr. Neal Lester has lectured internationally in China, Russia, Korea, Ghana, Italy, and Pakistan.
Free and open to the public.
When
December 8th, 2019 12:30 PM through 1:30 PM
Location
627 W RIO SALADO PKWY




HSGP


627 W 8th Street


MESA

,

AZ

85201-4009




United States