Rekha Nair, a first-generation immigrant who grew up in Mesa, Arizona, will discuss issues related to asylum seekers in Arizona that will include their reasons for fleeing to seek asylum in the United States and the systems that affect them once they arrive.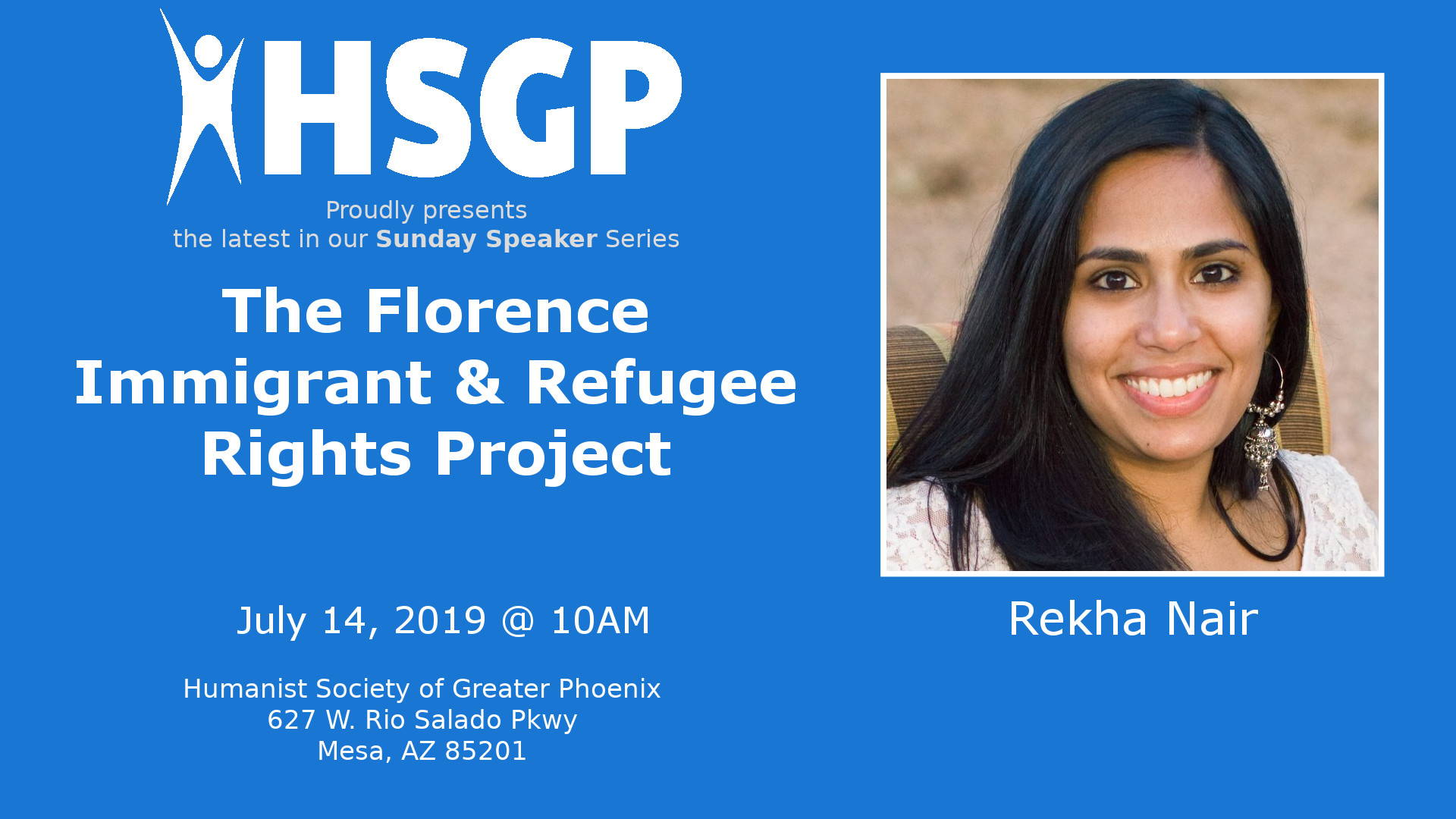 Because the government does not provide attorneys for people in immigration removal proceedings, an estimated 86 percent of the detained people go unrepresented due to poverty. Detained immigrants facing deportation in the U.S. do not have the right to a public defender. Without representation, many will lose their case and be sent back to the conditions they are fleeing. To some, this is a death sentence. It is the mission of the Florence Immigrant & Refugee Rights Project to provide free legal and social services to detained adults and unaccompanied children facing immigration removal proceedings in Arizona.

Join us as Rekha Nair, the Phoenix Legal Action Network Lead attorney at the Florence Immigrant & Refugee Rights Project, discusses the need for quality, free legal services for low-income, immigrants and refugees through stories about the journeys of asylum seekers.

You can visit the Florence Project's website for a documentary story project at this link: https://firrp.org/

You will also find some of their client stories here: https://firrp.org/client-stories/
* Please consider volunteering to help make this event possible. Click here for a list of volunteer opportunities. Click the SignupGenius button below.
* If you would like to donate to the Phoenix Legal Action Network, you may do so online at https://planphx.org/. Checks made out to Phoenix Legal Action Network or cash will also be accepted at the Humanist Center before or after Ms. Nair's presentation.

The Humanist Society of Greater Phoenix presents its Sunday Speaker meetings twice a month on Sunday mornings.

Meetings are free and open to the public.

A Children's Program is available during the Speaker Meeting. Please see the HSGP Meetup for the Children's Program at this meeting for more information and to RSVP with the number of children attending. Click the Meetup button below.

Need Accessibility Options? Send an email to president@hsgp.org with Accessibility Options in the subject line and let us know about your needs.

We invite you to become a dues-paying member of HSGP. For your convenience, the membership desk is immediately behind the welcome desk at each Sunday meeting.

Thank you! See you at the HSGP Community Center!
When
July 14th, 2019 7:00 AM through 12:00 PM
Location
ONLINE




Zoom: https://zoom.us/j/535462070?pwd=UGJBOXRYcTF2SXJMb01RNTdvM2Y2QT09


YOUTUBE: https://www.youtube.com/channel/UCOw8Sl1yofrwRuGUYS_OOOA


AZ




United States