TO BE RESCHEDULED - DUE TO COVID-19 EMERGENCY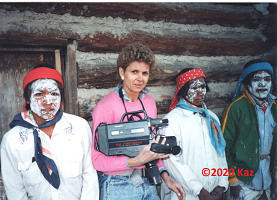 Have you been to "Copper Canyon" in the state of Chihuahua, Mexico and even on the Tarahumara train to see the "Tourist Indians"? You may have heard of their incredible running skills covering 400 miles without stopping and easily winning marathons across the globe. Then you will definitely want to come see a side of Tarahumara life you most likely have never seen before, nor ever will. Kaz Wilder has traveled extensively in Northern Mexico with her former business of buying and collecting artifacts from the Tarahumara Indians of Northern Mexico, the Canon del Cobre people (Copper Canyon).

Documenting them with photos, slides, and video, and her personal one-of-a-kind artifact collection, Kaz will present a comprehensive view of the tremendous territory where they live, their homes, food, lifestyle, work, and rituals; and explain their extensive social drinking parties, their many religious ceremonies and how they differ from Catholicism, and illustrate their primitive lifestyle through hundreds of slides and real artifacts. Laugh at some of her funny stories of personally interacting with them as she lived among them and purchased their handmade items of furniture, clothing, food, cookware, toys, and tools. What kind of "home security" do the remote Tarahumara homesteads employ to scare off thieves? Never in your wildest dreams would you name what attacked Kaz as she approached a homestead! See if you can guess it at the presentation!

Think this will be a typical "standard sitting" lecture? NO WAY! Kaz guarantees that this will be a FUN experience with break-out sessions to learn how to "shake hands" and say "Hello" in Raramuri, their unwritten language; have a person stand between two large drums as they are beaten and the "vibrational energy" literally re-aligns the molecules in the person; or play one of their handmade violins. Kaz will also touch upon how the Tarahumara are related to the White Mountain Apache Indians, who she taught school to in Cibecue, AZ., and what dress, food, and language they share.

Please join Kaz in this free presentation to dispel widespread myths and misperceptions of this historical tribe and their uncertain future, with an intimate glimpse into their true lifestyle.

About Kaz: Many years ago, Kaz owned and operated an international import business based on the Tarahumara Indians of Northern Mexico. Making more than 26 trips down and back from Phoenix over 6 years, Kaz specialized in collecting authentic used items that usually required driving over boulders and up creeks to get to remote areas. Then she and her guide had to hike in up to 3 miles to sparse homesteads to carry back anything they were willing to sell. Kaz won 1st Place for her booth in the International Division of an LA Gift Show, where she met the Bloomingdale's NY people who invited her to display her wares at their NYC flagship store. While there, the publisher of an American Indian educational book series met Kaz and procured her photos to comprise more than half the photos in their Tarahumara book.
More recently, Kaz owned and was cultural guide of the Art Explorers Meetup group until she retired this past summer. She is in the process of photographing her rare private collection for publishing, and working on a limited edition series of etchings of her select photographs. Kaz was also an award-winning professional photographer in the White Mountains, and taught 6-8th grade and art in Cibecue, AZ on the White Mtn Apache reservation, documenting their lifestyle and ceremonies. Her local photojournalism articles were published in Arizona magazines.

BYOB. SNACKS TO SHARE ALWAYS APPRECIATED.
LEAVE A CASH TIP TO HELP PAY FOR THE HUMANIST CENTER. THANKS!

The HSGP Humanities Project holds free and open meetings on the 2nd Friday of each month at 7pm at HCC.
BYOB and snacks to share always welcome.
The HSGP Humanities Project holds free and open meetings on the 2nd Friday of each month at 7pm at HCC. The majority of the evening is given over to one or more of our HSGP members or guests, to share with us some aspect of arts & humanities that they are passionate about!
We are committed to bringing outstanding people from the world of humanities to present to HSGP at least once per year at the Sunday Speaker Meetings.
Your HSGP Humanities Project Committee.
When
April 10th, 2020 7:00 PM through 9:00 PM
Location
ONLINE




Zoom: https://zoom.us/j/535462070?pwd=UGJBOXRYcTF2SXJMb01RNTdvM2Y2QT09


YOUTUBE: https://www.youtube.com/channel/UCOw8Sl1yofrwRuGUYS_OOOA


AZ




United States