Arizona is 50th in teacher pay. Second-largest median class size. Near bottom in per-pupil spending. Why?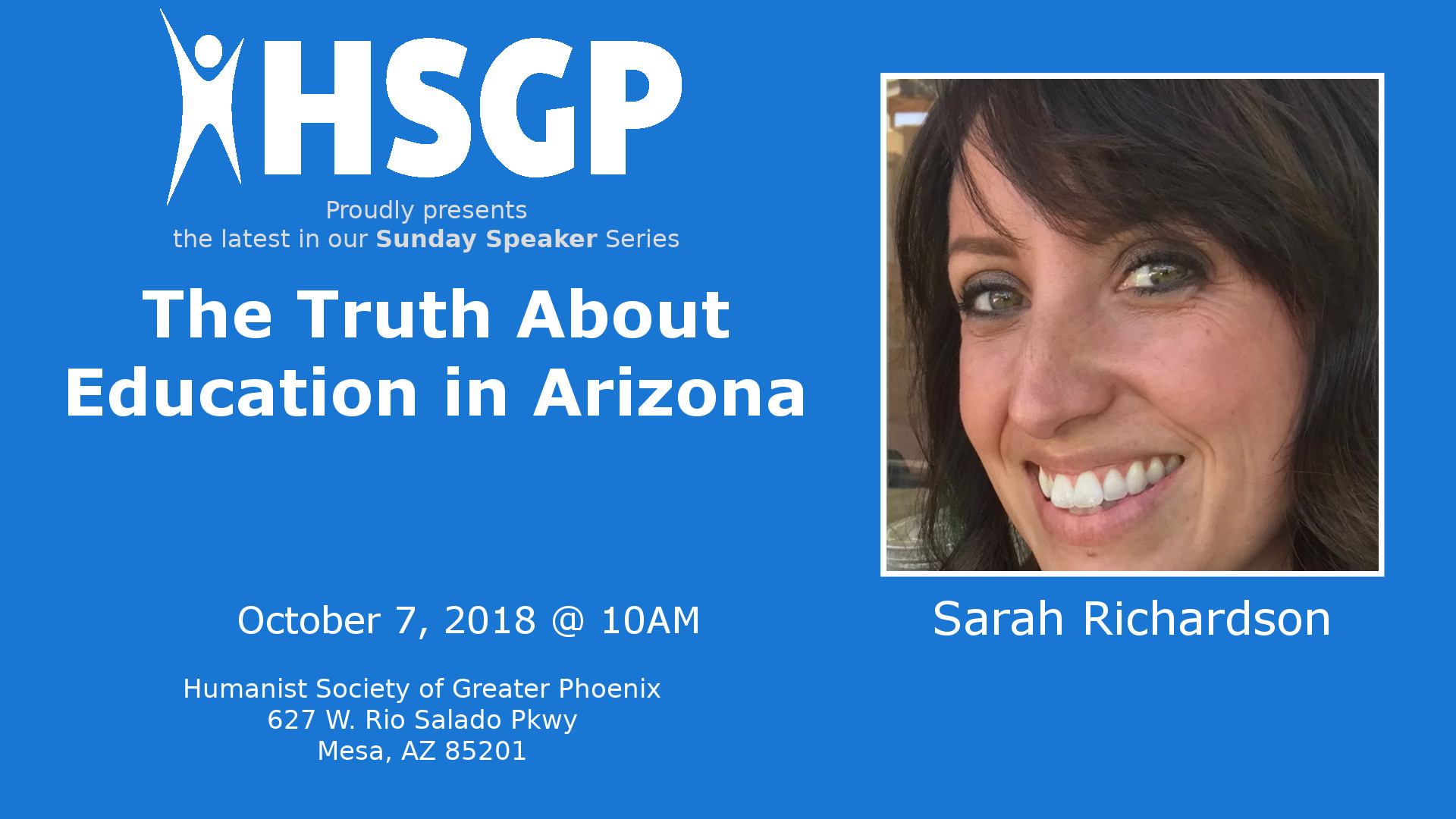 Sarah Richardson will share with us what is happening in Arizona Education now and how it used to be. AZED101 is a non-partisan volunteer group of parents committed to improving education funding in Arizona.
AZED101 began with a question: Why?
Why, we asked, are our schools so underfunded?
Why, we demanded, are our teachers working second and third jobs to supplement their living expenses?
We wanted more funding for our schools, our teachers, and our students.
We realized that to change the status quo, we had to understand the situation. Soon, we had a presentation to share with friends and neighbors who were shocked to find out how our schools are funded. You will be, too. We've taken our presentation on the road and hope to bring it to you and your community soon.
AZED101 remains volunteer-driven. Our lead presenters are teachers, students, and parents with children in both traditional and charter public schools, as well as private schools. We are committed to raising awareness about why our schools are underfunded and are dedicated to improving funding for public education in Arizona.
The Presentation
Our presentation on public education funding in Arizona is factual and non-partisan. We recognize there are many ways to play with the numbers to fit a certain political agenda—As Mark Twain said, there are three kind of lies: lies, damned lies, and statistics—and so we use raw data from credible sources and cite every source in our presentation.
AZED101 on the Road
We have presented throughout metro Phoenix, as well as Flagstaff, Show Low, Kingman, Sierra Vista, Yuma, and Tucson—in public libraries, public schools, and in retirement communities; statewide via video conference and in-person in private homes. We've taken the presentation to gatherings of teachers, congregations and their clergy, and leaders of community organizations. We have presented at precinct committee meetings, legislative district meetings, as well as statewide conventions.

BIO:
Sarah Richardson was born and raised in Arizona, where she attended public schools in Tempe and Chandler and graduated twice from Arizona State University. Sarah has a bachelors in business administration with a minor in French and a certificate of international business. She also has a Master's degree in education. Sarah is married to Mark Richardson, the Executive Director of The Arizona Academy of the Performing Arts, and has three children ages 9, 7, and 5. Sarah currently is an adjunct business professor for Northern Arizona University and the State Education Outreach Director for Save Our Schools Arizona. She volunteers as a lead presenter with AZED101 to fulfill her passion for education advocacy.

The meeting is free and open to the public. Doors open at 9:00 am for socializing with an optional Continental breakfast available for a $5 donation. The meeting begins at 10:00 am.
A Children's Program is available during the Speaker Meeting. Please see the HSGP Meetup for the Children's Program at this meeting for more information and to RSVP with the number of children attending.
Need Accessibility Options? Send an email to president@hsgp.org with Accessibility Options in the subject line and let us know about your needs.
Please consider volunteering to help make this event possible. Click on the SignUp Genius button below for a list of volunteer opportunities.
When
October 7th, 2018 10:00 AM through 12:00 PM
Location
ONLINE




https://zoom.us/j/535462070?pwd=UGJBOXRYcTF2SXJMb01RNTdvM2Y2QT09




Mesa

,

AZ




United States