Professor of Psychological Sciences William Douglas Woody will discuss the history and contemporary practice of police interrogation in the United States. He will examine causes and consequences of confessions, including false confessions, racial and other biases in interrogation and the larger criminal justice system, and recommendations for reform.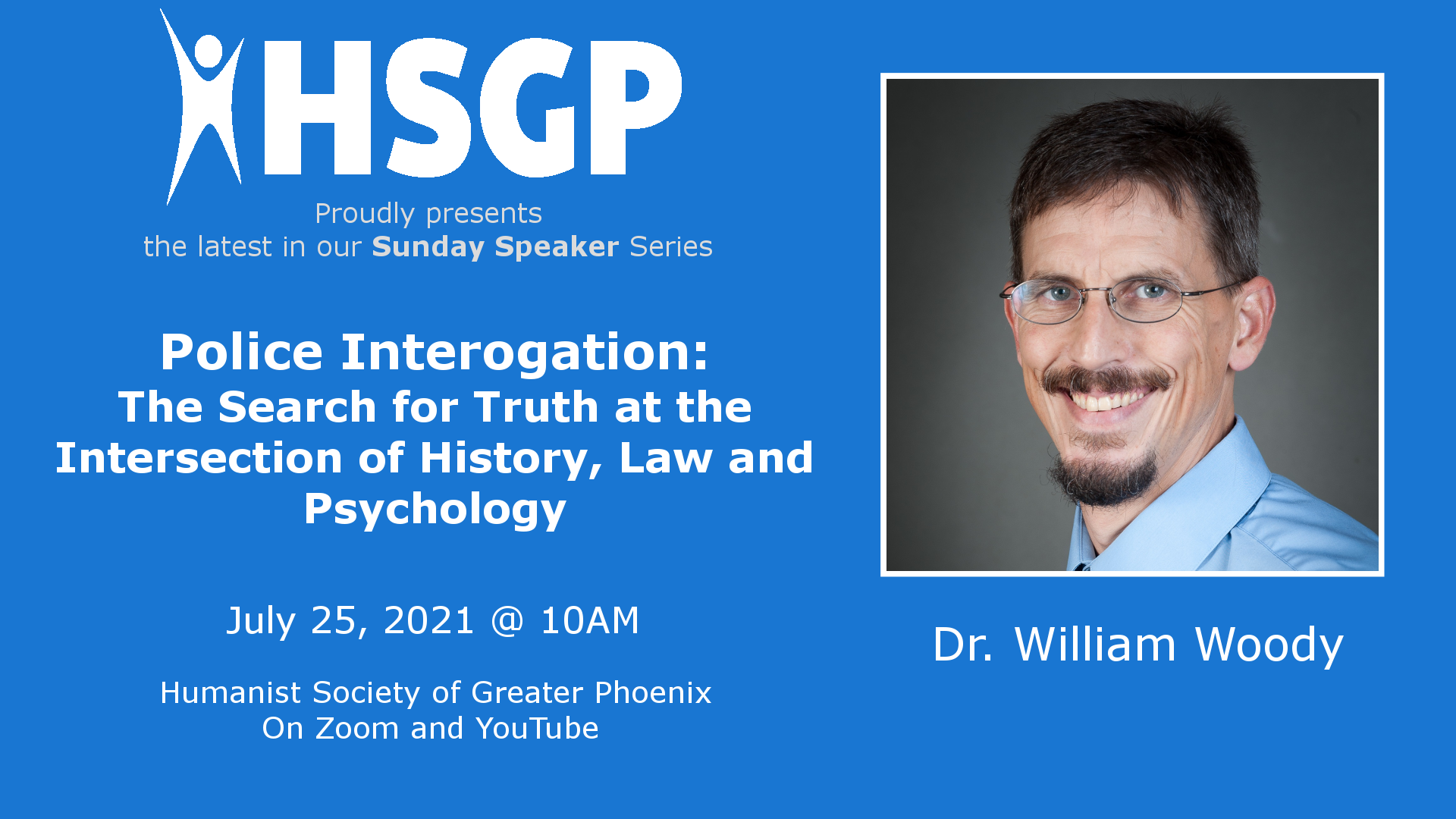 Police Interrogation: The Search for Truth at the Intersection of History, Law, and Psychology 
Dr. Woody will open this talk with a discussion of the history of civilian policing in the United States. In particular, he will emphasize early 20th century civilian policing and police interrogation tactics, which included physical coercion alongside legal abuses and other tactics. He will explore the reforms to policing and to police interrogation in specific, particularly those from the 1930s through the early 1970s. The talk will then examine current police interrogation practices, including deceptive practices and their consequences.

Dr. Woody will then examine the types, causes, and consequences of false confession. Why would people confess to a crime they did not commit, particularly given the overwhelmingly negative consequences that come with conviction? He will review general categories of factors associated with false confession, interactions among these factors, and the totality of the circumstances that courts evaluate when judges and jurors make trial decisions about confession evidence. Additionally, he will review the impacts of confession, which shapes every aspect of a case, including eyewitness reports, evaluations by forensic experts, decisions of prosecutors and defense attorneys, the larger criminal justice system, and of course defendants themselves.

Throughout these conversations, the talk will include discussion of racial, immigration, and other inequities in the criminal justice system, which reflect biases in the larger culture. Dr. Woody will discuss the ways that the social and cognitive aspects of prejudice shape the cognitions and behaviors of police interrogators, suspects, attorneys, jurors, and judges. The talk will conclude with current changes to interrogation law and practice as well as recommendations for reforms to police interrogation in the United States. He looks forward to questions and discussion.

William Douglas Woody, Ph.D. is Professor of Psychological Sciences at the University of Northern Colorado, where teaches and conducts research on psychology and law, the history of psychology, and the teaching of psychology. He has co-authored and co-edited numerous books, peer-reviewed journal articles, and invited chapters. His scholarship centers on the experimental and historical study of the psychology of interrogation and confession. He is married and a father to two children, ages 13 and 9, and he thrives in his family's organic garden and compost.

Please join us on Zoom or YouTube:

1) Zoom Meeting:
https://zoom.us/j/535462070?pwd=UGJBOXRYcTF2SXJMb01RNTdvM2Y2QT09

2) YOUTUBE: You can watch live (15 second delay), or you can watch later. Here is the YouTube link: https://www.youtube.com/channel/UCOw8Sl1yofrwRuGUYS_OOOA

Need help? Email ron.russell@hsgp.org before the day of this meeting.

The Humanist Society of Greater Phoenix presents its Sunday Speaker meetings twice a month on Sunday mornings. For now our meetings are on Zoom and YouTube. We look forward to seeing you at the Humanist Community Center when it's safe to meet in person!

Meetings are free and open to the public.

Go to our YouTube channel to see past meetings, presentations and and interviews: https://www.youtube.com/channel/UCOw8Sl1yofrwRuGUYS_OOOA

We invite you to become a dues-paying member of HSGP. To become a member or make a donation, go to www.hsgp.org

Thank you!
When
July 25th, 2021 10:00 AM through 11:30 AM
Location
ONLINE




Mesa

,

AZ

85211




United States