Arizona Near Space Research promotes science, technology, engineering, and mathematics (STEM) education through Amateur Radio and High-Altitude Ballooning.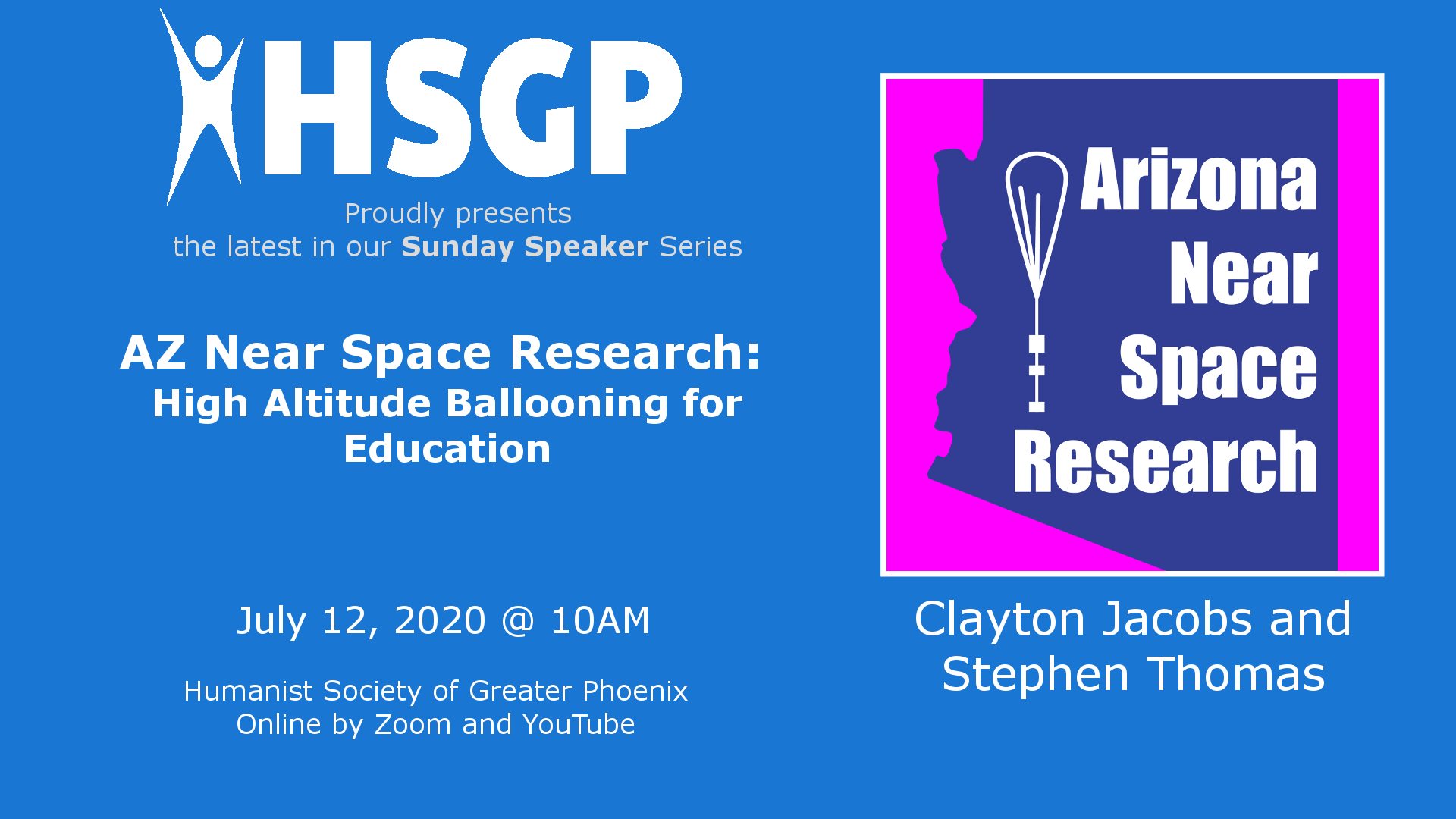 Arizona Near Space Research is a 501c3 nonprofit organization whose mission is to promote science, technology, engineering, and mathematics (STEM) education through Amateur Radio and High-Altitude Ballooning. With nearly 20 years of launches and over 100 student missions launched, ANSR continues to promote its activities with organizations around the state, in an effort to spread awareness and find new volunteers looking to join their team. Their goal is to educate us about their programs and encourage us to get involved.

Following a video introduction, which presents the activities and timeline of a typical flight, we will discuss the variety of services that ANSR provides to our partners and how this contributes to a successful launch; one where the students launch and recover their experiments and have collected data for further analysis, all in the same day. Our discussion includes the science behind high altitude ballooning, flight prediction and planning, technical details of payload equipment, highlights from previous achievements, and finally a plug for volunteers' involvement and how to contribute to the organization.

Clayton Jacobs, President of ANSR, is an electrical engineer working in the aerospace and defense industry for the last four years since receiving his degree. His time is spent balancing work and volunteer commitments along with some outdoor activities and home improvement.

Stephen Thomas, Vice President of ANSR, has worked for the University of Phoenix for the past 13 years maintaining their datacenter and online systems. His hobbies include ham radio operating, offroading, and of course, ballooning.

Please join us on Zoom or YouTube:

1) Zoom Meeting: https://zoom.us/j/535462070?pwd=UGJBOXRYcTF2SXJMb01RNTdvM2Y2QT09

2) YOUTUBE: You can watch live (15 second delay), or you can watch later. Here is the YouTube link: https://www.youtube.com/channel/UCOw8Sl1yofrwRuGUYS_OOOA

Need help? Email ron.russell@hsgp.org before Sunday, July 12th.

The Humanist Society of Greater Phoenix presents its Sunday Speaker meetings twice a month on Sunday mornings.

Meetings are free and open to the public.

Interested in sharing a HUMANIST MINUTE before the presentation? We would love it - any subject that is humanistic, just 1-2 minutes long. Email ron.russell@hsgp.org.

PLEASE CONSIDER BECOMING A DUES-PAYING MEMBER OF HSGP AND/OR MAKE A DONATION TO SUPPORT US AT HSGP.org.
THANK YOU!

See you online!
When
July 12th, 2020 10:00 AM through 11:30 AM
Location
ONLINE




Zoom: https://zoom.us/j/535462070?pwd=UGJBOXRYcTF2SXJMb01RNTdvM2Y2QT09


YOUTUBE: https://www.youtube.com/channel/UCOw8Sl1yofrwRuGUYS_OOOA


AZ




United States