Did you know that the Humanist Community Center opened in December of 2010? Our first event was our Winter Solstice Celebration 10 years ago! Also, The Humanist Society of Greater Phoenix was founded in 1970, making 2020 HSGP's 50th year of existence!*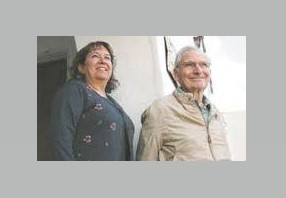 In the spirit of acknowledging and celebrating HSGP's 50th anniversary and the Humanist Community Center's 10th anniversary, let's have a fun chat with two of the pillars of the Humanist Society of Greater Phoenix: Susan Sackett and Hal Saferstein! We will get to know them, HSGP history, and Humanism better.

Zenaido and Jennifer will interview Hal and Susan, and we will learn more about their very interesting lives, how they became Humanists, and how their love of, and commitment to, HSGP has shaped who we are today.

They have a lot to say, but if there's time, we'll have Q&A.

Sorry we won't be able to have breakfast together--we can't wait until we can safely meet in our community center again!

Until then, please join us on Zoom or YouTube:

1) Zoom Meeting: https://zoom.us/j/535462070?pwd=UGJBOXRYcTF2SXJMb01RNTdvM2Y2QT09

2) YOUTUBE: You can watch live (15 second delay), or you can watch later. Here is the YouTube link: https://www.youtube.com/channel/UCOw8Sl1yofrwRuGUYS_OOOA

Need help? Email ron.russell@hsgp.org before Sunday, July 26th.
Interested in sharing a HUMANIST MINUTE before the presentation? We would love it - any subject that is humanistic, just 1-2 minutes long. Email ron.russell@hsgp.org.

PLEASE CONSIDER BECOMING A DUES-PAYING MEMBER OF HSGP AND/OR MAKE A DONATION TO SUPPORT US AT HSGP.org.
THANK YOU!

Photo: Susan Sackett and Hal Saferstein after purchase of the building that became the Humanist Community Center.

*The group went through a couple of name changes in the first couple of decades. If anyone knows what the other names were, please let us know!

The Humanist Society of Greater Phoenix presents its Sunday Speaker meetings twice a month on Sunday mornings, which are free and open to the public.

See you online!
When
August 23rd, 2020 10:00 AM through 11:30 AM
Location
ONLINE




Mesa

,

AZ

85211




United States