Join Izzy Oldfield, paralegal for the American Humanist Association, to learn more about the state of church-state separation litigation in today's political climate.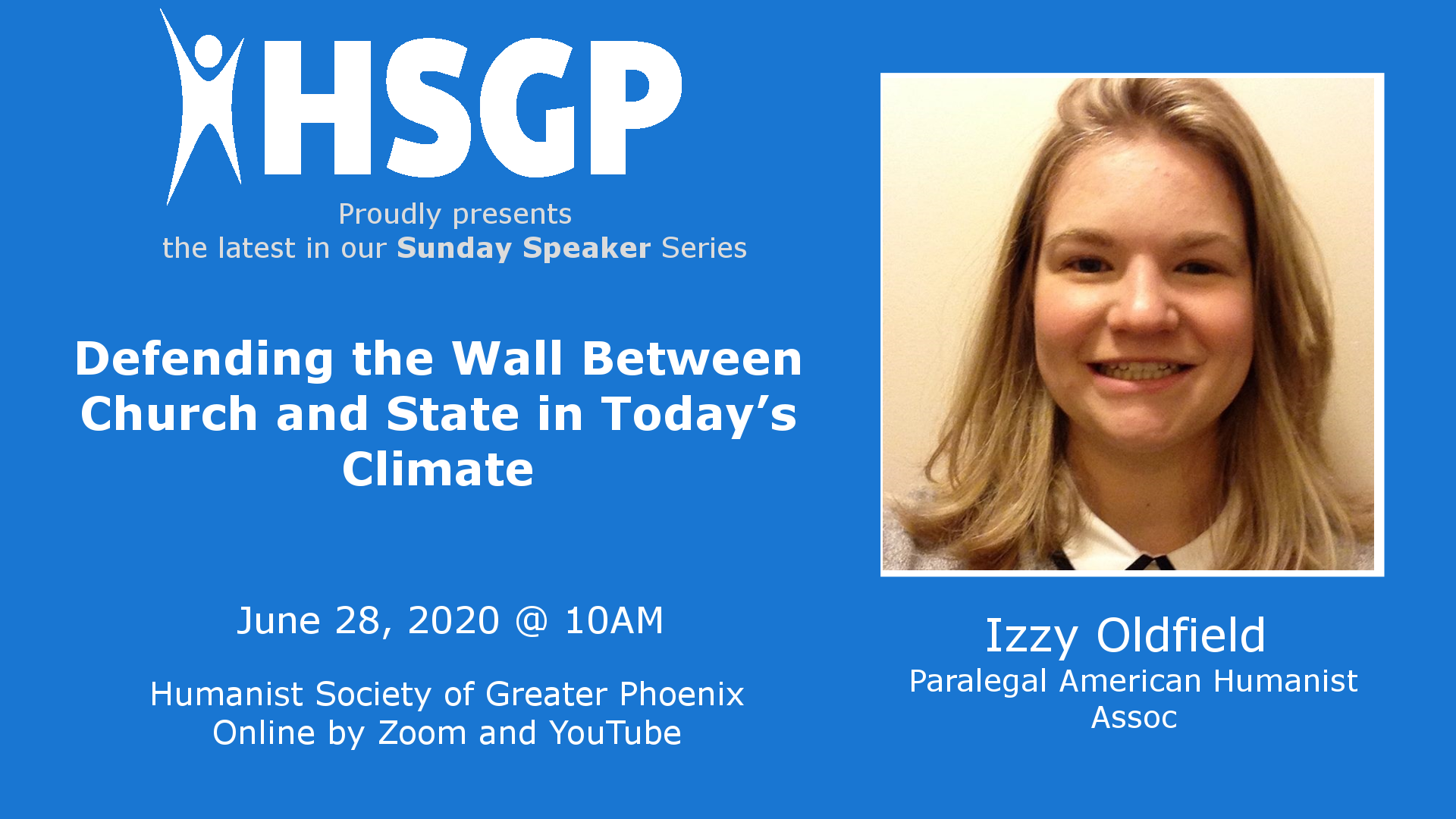 President Trump has transformed our federal judiciary with lifetime appointments of conservative judges - a transformation that will have adverse impacts on church-state separation for decades to come. As of May 2020, Trump has seated two Supreme Court justices, fifty-one court of appeals judges, and 141 district court judges. Trump has appointed more circuit judges by this point in his presidency than any other president in recent history. More than one out of every four active judges on the United States Courts of Appeals are Trump appointees. Facing an uphill climb, learn how the AHA's secular attorneys are working to defend the constitutional rights of humanists. What can we do? Is there a winning strategy given today's climate? What does Trump's impact mean for the separation of church and state? Izzy Oldfield is the paralegal at the American Humanist Association's Appignani Humanist Legal Center. She has assisted the AHA's attorneys with several federal cases, most notably the Supreme Court case, American Legion v. American Humanist Association. Izzy will address the advocacy efforts of the AHA's legal team and be available for questions at the end of her presentation.
Please join us on Zoom or YouTube:

1) Zoom Meeting
https://zoom.us/j/535462070?pwd=UGJBOXRYcTF2SXJMb01RNTdvM2Y2QT09

2) YOUTUBE: You can watch live (15 second delay), or you can watch later. Here is the YouTube link: https://www.youtube.com/channel/UCOw8Sl1yofrwRuGUYS_OOOA

Need help? Email ron.russell@hsgp.org before Sunday, June 28th.

The Humanist Society of Greater Phoenix presents its Sunday Speaker meetings twice a month on Sunday mornings.

Meetings are free and open to the public.

Interested in sharing a HUMANIST MINUTE before the presentation? We would love it - any subject that is humanistic, just 1-2 minutes long. Email ron.russell@hsgp.org.

PLEASE CONSIDER BECOMING A DUES-PAYING MEMBER OF HSGP AND/OR MAKE A DONATION TO SUPPORT US AT HSGP.org.
THANK YOU!

See you online!
When
June 28th, 2020 10:00 AM through 11:30 AM
Location
ONLINE




Zoom: https://zoom.us/j/535462070?pwd=UGJBOXRYcTF2SXJMb01RNTdvM2Y2QT09


YOUTUBE: https://www.youtube.com/channel/UCOw8Sl1yofrwRuGUYS_OOOA


AZ




United States