How microbes are creating zombies all around us. Are you prepared for the Apocalypse?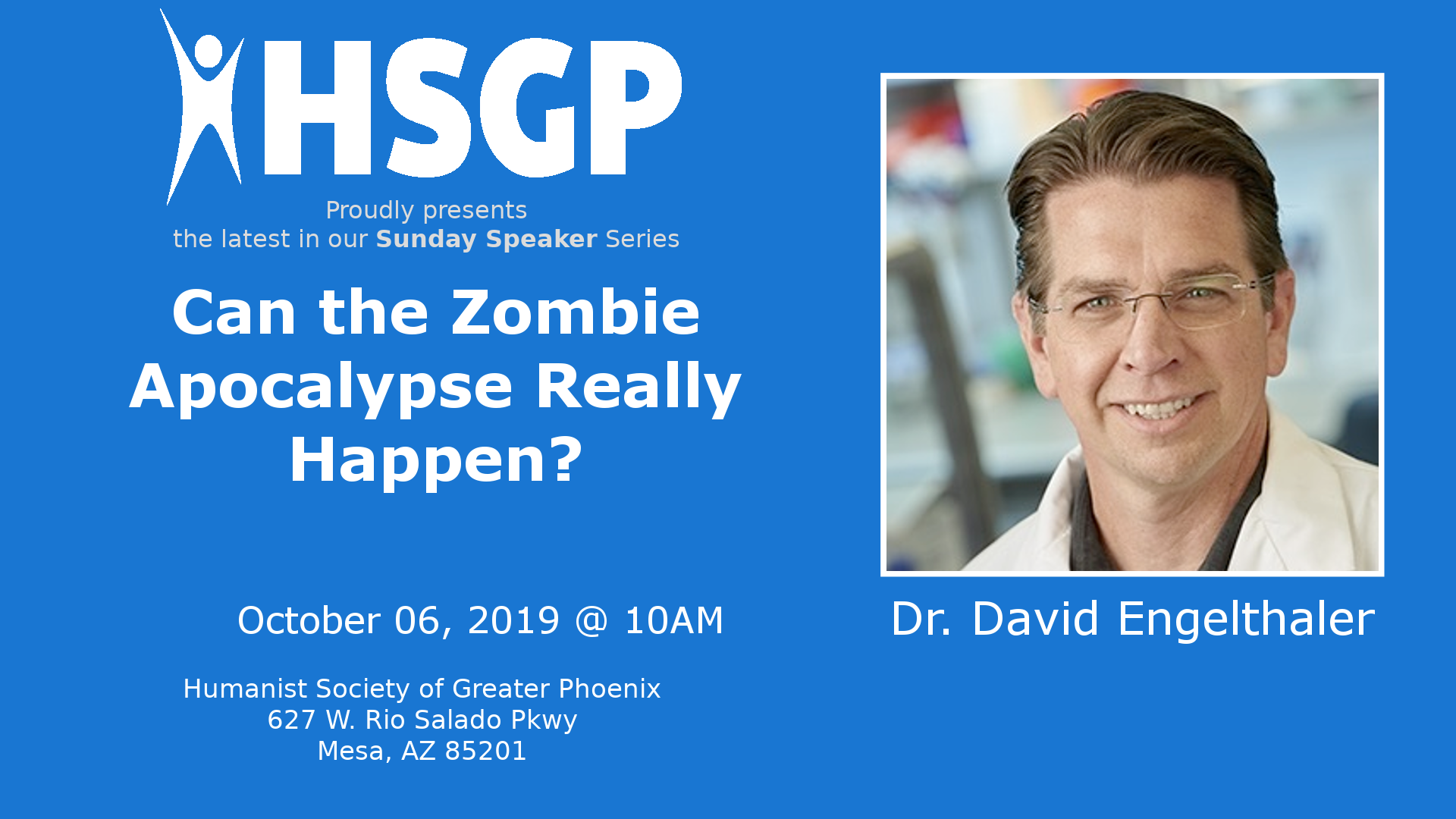 Bacteria, viruses, fungi and parasites are all around us - and most of them are harmless or even beneficial. But occasionally these microbes become pathogens and wage infectious disease battles on other living creatures. Often times these diseases look like colds and flus, but sometimes it's more insidious ... sometimes it looks exactly like a zombie apocalypse.

Dr. David Engelthaler is an Associate Professor and the Director of TGen North, the infectious disease arm of the non-profit Translational Genomics Research Institute. He oversees a number of research groups working on the development of analytical tools to detect and characterize infectious diseases such as tuberculosis, valley fever, MRSA, and others.

His team at TGen also provides genomic services to CDC and local health departments. He has published 115 scientific papers and chapters on epidemiology, disease ecology, genetics, and microbiology and he has two dozen patented inventions, including a Valley Fever molecular assay that just recently received FDA 510k clearance.

Dave received his Masters in Microbiology from Colorado State University and his PhD in Biology at Northern Arizona University. Dave was previously the Arizona State Epidemiologist and a biologist for CDC in Ft. Collins. Dave has worked in federal, state and local government, has started for-profit and non-profit businesses. Dave sits on a number of local and national Boards and recently he led the establishment of Flagstaff, AZ as "America's First STEM City".
The meeting is free and open to the public. Doors open at 9:00 am for socializing with an optional Continental breakfast available for a $5 donation. The meeting begins at 10:00 am.
A Children's Program is available during the Speaker Meeting. Please see the HSGP Meetup for the Children's Program at this meeting for more information and to RSVP with the number of children attending.
Need Accessibility Options? Send an email to president@hsgp.org with Accessibility Options in the subject line and let us know about your needs.
Please consider volunteering to help make this event possible. Click on the SignUp Genius button below for a list of volunteer opportunities.
When
October 6th, 2019 10:00 AM through 11:30 AM
Location
ONLINE




Mesa

,

AZ

85211




United States