We live in a period when the sheer volume, variety, and velocity of change, especially in our information environment, makes it difficult to adequately perceive and understand complex emergent behaviors such as generative AI.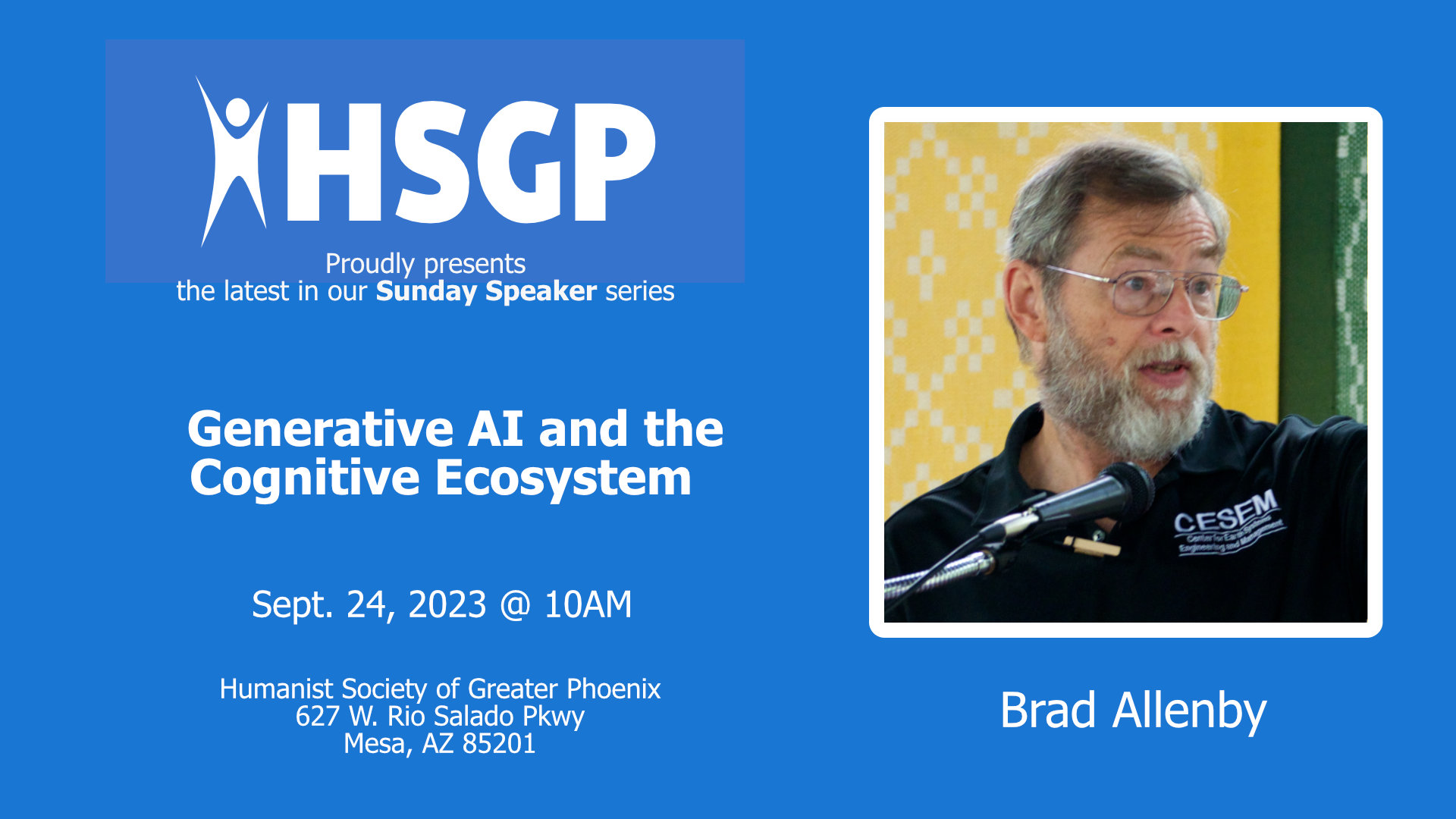 Topic:
Building the Mind of God: Generative AI and the Cognitive Ecosystem
Description and Bio:
The generative AI technology itself is amazing, but not difficult to understand; its applications as it diffuses across society are, however, nowhere near as clear cut. Moreover, generative AI is itself only a facet of a far deeper and more challenging meta-system, the cognitive ecosystem – an integrated operating system that combines everything from the Internet of Things and 5G to social media, modern civilizational conflict, and China's social credit system. We are in essence building the Mind of God from the inside out, and the world will never be the same.
Braden R. Allenby is President's Professor of Engineering, and Lincoln Professor of Engineering and Ethics at Arizona State University. He moved to ASU from his previous position as the Environment, Health and Safety Vice President for AT&T in 2004.
Dr. Allenby received his BA from Yale University, his JD and MA (economics) from the University of Virginia, and his MS and Ph.D. in Environmental Sciences from Rutgers University. He has served as President of the International Society for Industrial Ecology, Chair of the AAAS Committee on Science, Engineering, and Public Policy, and Chair of the IEEE Presidential Sustainability Initiative, and is an AAAS Fellow and a Fellow of the Royal Society for the Arts, Manufactures & Commerce.
From 1995 to 1997, he was Director for Energy and Environmental Systems at Lawrence Livermore National Laboratory, and from 1991 to 1992 he was the J. Herbert Holloman Fellow at the National Academy of Engineering in Washington, DC. In 2008-2009 he was the AT&T Industrial Ecology Fellow, and in 2009–2010 he was a U. S. Naval Academy Stockdale Fellow. In 2008 he was recognized as the Carnegie Foundation Arizona Professor of the Year. His areas of expertise include emerging technologies, especially in the military and security domains; Design for Environment; industrial ecology; telework and netcentric organizations; transhumanism; and earth systems engineering and management. Recent books include The Techno-Human Condition (with Daniel Sarewitz, 2011), The Theory and Practice of Sustainable Engineering (2011), Future Conflict & Emerging Technologies (2016), The Applied Ethics of Emerging Military and Security Technologies (2016), and Infrastructure in the Anthropocene (with Mikhail Chester, 2021).
Doors open at 9:00 am for an optional buffet breakfast ($5 donation) and socializing. Presentation begins at 10:00 am.
If you can help with set-up, clean-up, and/or by bringing a breakfast casserole, please go to SignUpGenius HERE
A Children's Program is available during the Speaker Meeting. Go to a separate Meetup to RSVP for your kids HERE.
Prefer to join us remotely?
Zoom Link: HERE
YOUTUBE: You can watch live (15 second delay), or you can watch later. LINK HERE
Need help? Email humanist@hsgp.org before the day of this meeting.
The Humanist Society of Greater Phoenix presents its Sunday Speaker meetings twice a month on Sunday mornings. Meetings are free and open to the public.
**Go to our YouTube channel to see past meetings, presentations and and interviews. Please become a subscriber--it's free! LINK HERE
**We invite you to become a dues-paying member of HSGP. To become a member or make a donation, go to www.hsgp.org
Thank you!
When
September 24th, 2023 from 10:00 AM to 11:30 AM
Location
627 W RIO SALADO PKWY




HSGP HUMANIST CENTER




MESA

,

AZ

85201-4009




United States