Sami Al-Asady will share his story of growing up in an Iraqi-Bosnian household in Arizona with attention to how a unique cultural background and trying adversities fueled an ambition to not only imagine a better world—but to help build it himself.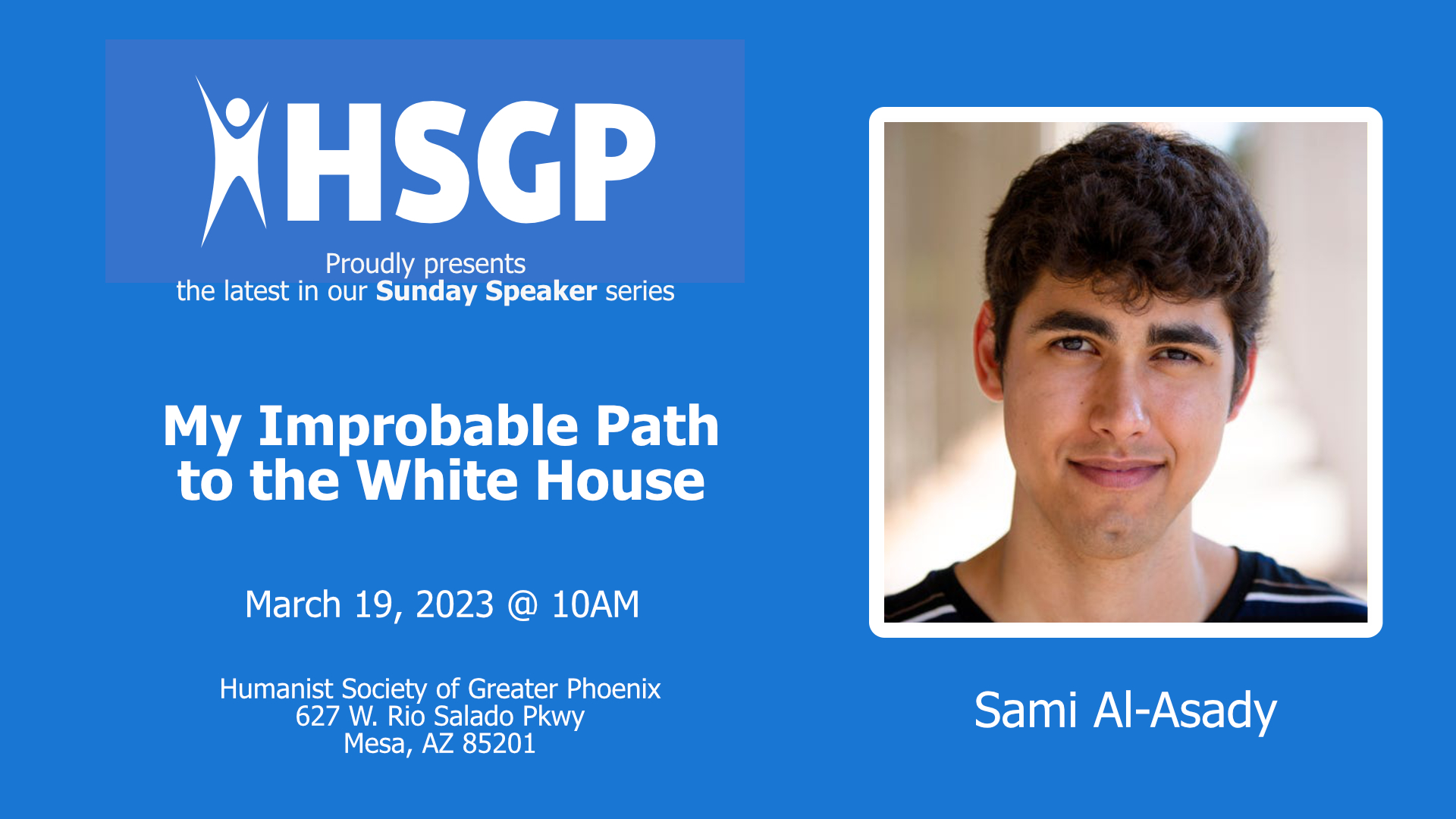 This Week's Topic: My Improbable Path to the White House: Lessons on Education, Ambition, and Public Service
Sami Al-Asady was raised in Glendale, Arizona by refugees of the Iraqi and Bosnian Wars. In these new American communities, Sami observed a dissatisfaction with how government operated. He engaged with people who actively grieve the social, poltical, and economic collapse of their countries as a direct result of bad foreign policy. These stories, held close and dear to him, ignited a burning passion for honorable public service. He navigated the public American education system as a first-generation student keen on understanding why the world functions as it does, and how to change it for the better. Despite the limitations of an underfunded high school, Sami leveraged his access to teachers who saw his potential and encouraged his growth. During Sami's senior year of high school, COVID-19 lockdowns interrupted formal education, which he supplemented with a self-designed book curriculum. Through reflections fostered by writers, poets, and philosophers, and acknowledgement of alarming Supreme Court decisions and the discord national politics, he wanted to get involved. Sami first reached out to Phillip Lentz, the former president of the Freedom From Religion Foundation Valley of the Sun Chapter, who provided a roadmap on how to make a difference in state politics. It was through this first exchange that set him on a path towards activism with an emphasis on secular issues and civil liberties. Since then, Sami has served on the board of Secular AZ, interned for Congressman Ruben Gallego, written for the Arizona Republic, Arizona Capitol Times, and OnlySky, spoken at the 2021 Freedom From Religion Foundation National Conference, and completed President Biden's first class of the White House Internship Program—the first paid one in its history. Through these experiences, Sami has harnessed insights on the topics of education, meaning, and ambition. He is thrilled to impart his perspective and foster dialogue with members of the Humanist Society of Greater Phoenix community.
Biography
Sami Al-Asady is a proud child of Bosnian and Iraqi war refugees studying political science and philosophy at Arizona State University's Barrett Honors College. He feels a debt of gratitude for the freedoms afforded by the United States Constitution and is eager to repay it through honorable contributions to public service. Sami has interned for Representative Ruben Gallego of Arizona's 7th Congressional District and served the Biden-Harris Administration in its first class of the White House Internship Program. In Arizona politics, Sami was a campaign volunteer for Representative Judy Schwiebert and has served on the board of Secular AZ since August of 2021. A prolific writer, Sami's opinions such as "Don't Texas My Arizona" and "Ban Assault Weapons Not Drag Queens" have been published by the Arizona Capitol Times and the Arizona Republic.
Doors open at 9:00 am for optional buffet breakfast ($5 donation) and socializing. Presentation begins at 10:00 am.
If you can help with set-up, clean-up, and/or by bringing a breakfast casserole, please go to SignUpGenius HERE
A Children's Program is available during the Speaker Meeting. Go to a separate Meetup to RSVP for your kids HERE.
Prefer to join us remotely?
Zoom Link: HERE
YOUTUBE: You can watch live (15 second delay), or you can watch later. LINK HERE
Need help? Email humanist@hsgp.org before the day of this meeting.
The Humanist Society of Greater Phoenix presents its Sunday Speaker meetings twice a month on Sunday mornings. Meetings are free and open to the public.
**Go to our YouTube channel to see past meetings, presentations and and interviews. Please become a subscriber--it's free! LINK HERE
**We invite you to become a dues-paying member of HSGP. To become a member or make a donation, go to www.hsgp.org
Thank you!
COVID-19 safety measures
Event will be indoors
The board has voted to resume all in person meetings at the Humanist Community Center, effective immediately, based on Covid Act Now recommendations, with the following requirements.
-Consider vulnerable populations
-Masking welcome where desired and appropriate
-Vaccinate as recommended
-Stay home if you are not feeling well
-Personal opinions and choices respected
The event host is instituting the above safety measures for this event. Meetup is not responsible for ensuring, and will not independently verify, that these precautions are followed.
When
March 19th, 2023 from 10:00 AM to 11:30 AM
Location
627 W RIO SALADO PKWY




HUMANIST CENTER




MESA

,

AZ

85201-4009




United States