Modern day legacy creation, what it looks like in Kiana's family, and why legacy matters.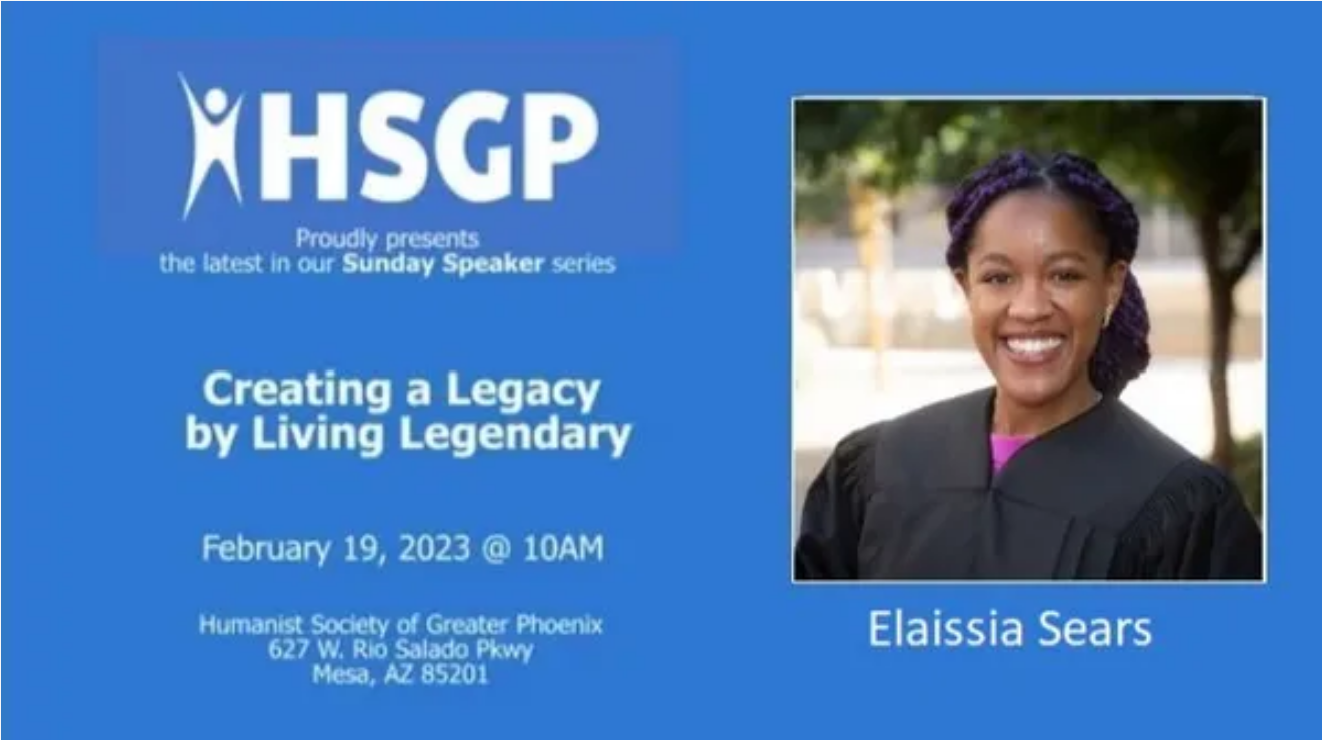 This Week's Topic: Creating a Legacy by Living Legendary
Elaissia Sears will be presenting on behalf of her mother Kiana Maria Sears.
Kiana Maria has often wondered and has discovered that many legends create an opportunity for their children to be successful. She has since analyzed this and realized that one of the best things is for children to watch legacy in the making.
Biography
Kiana Maria is an entrepreneur who owns Hand and Hand Business Consulting, LLC which specializes in educational policy, governmental relations, housing and small business startups. Kiana Maria is also an award-winning international speaker and co-author of "Empowering Women to Succeed by Turning Tragedy into Triumph".
Kiana Maria Sears serves in her second term as the first African American woman to be elected to the Mesa Public Schools Governing Board. In fact, she is the first minority elected to the board. Born to a Vietnam veteran father and a career civil servant mother who were natives of New Orleans, Kiana Maria has always been energized by public service. It has always been a way of life which was role modeled by her parents. Kiana Maria is extremely passionate about the field of public administration and has been a public servant for her entire adult career.
Civically, Kiana Maria devotes her time to social justice in all forms. She is currently serving a second term as the NAACP East Valley Branch president.
Her daughter, Elaissia Sears took office in January 2019 as Justice of the Peace for the West Mesa Justice Court. This covers all of West Mesa and the Salt River Pima Indian Community.
Judge Sears is an Arizona native and a proud product of Mesa Public Schools. She is an active member of her community, served as a mentor to international students, the Youth & Education Assistant for Phoenix Sister Cities, and as Arizona House of Representatives staff. She is a global professional who was privileged to represent Arizona as a student ambassador through Congress to Germany and was later selected for an internship with the U.S. State Department at the U.S. Embassy in Berlin.
A graduate of Arizona State University, Judge Sears holds a B.A. in Global Studies, a minor in German, and certificates in Political Entrepreneurship, Women and Gender Studies, and International Relations. As a strong advocate for education, Judge Sears taught English in rural communities in the Dominican Republic and South Korea as well as elementary education in the Mesa/Gilbert area. She is a social entrepreneur and non-profit founder who focused on issues of food insecurity and lack of education funding.
Doors open at 9:00 am for optional buffet breakfast ($5 donation) and socializing. Presentation begins at 10:00 am.
If you can help with set-up, clean-up, and/or by bringing a breakfast casserole, please click here to go to SignUpGenius.
A Children's Program is available during the Speaker Meeting. To RSVP for your kids, please click here to register for a separate MeetUp event.
Prefer to join us remotely?
Zoom Link: HERE
YOUTUBE: You can watch live (15 second delay), or you can watch later. LINK HERE
Need help? Email humanist@hsgp.org before the day of this meeting.
The Humanist Society of Greater Phoenix presents its Sunday Speaker meetings twice a month on Sunday mornings. Meetings are free and open to the public.
**Go to our YouTube channel to see past meetings, presentations and and interviews. Please become a subscriber--it's free! LINK HERE
**We invite you to become a dues-paying member of HSGP. To become a member or make a donation, go to www.hsgp.org
Thank you!
When
February 19th, 2023 from 10:00 AM to 11:30 AM
Location
627 W RIO SALADO PKWY




HSGP HUMANIST CENTER




MESA

,

AZ

85201-4009




United States