Thousands of migrants perish in the inhospitable wilderness areas north of the US/Mexico Border. A combat veteran describes the work he does to reunite their remains with their families.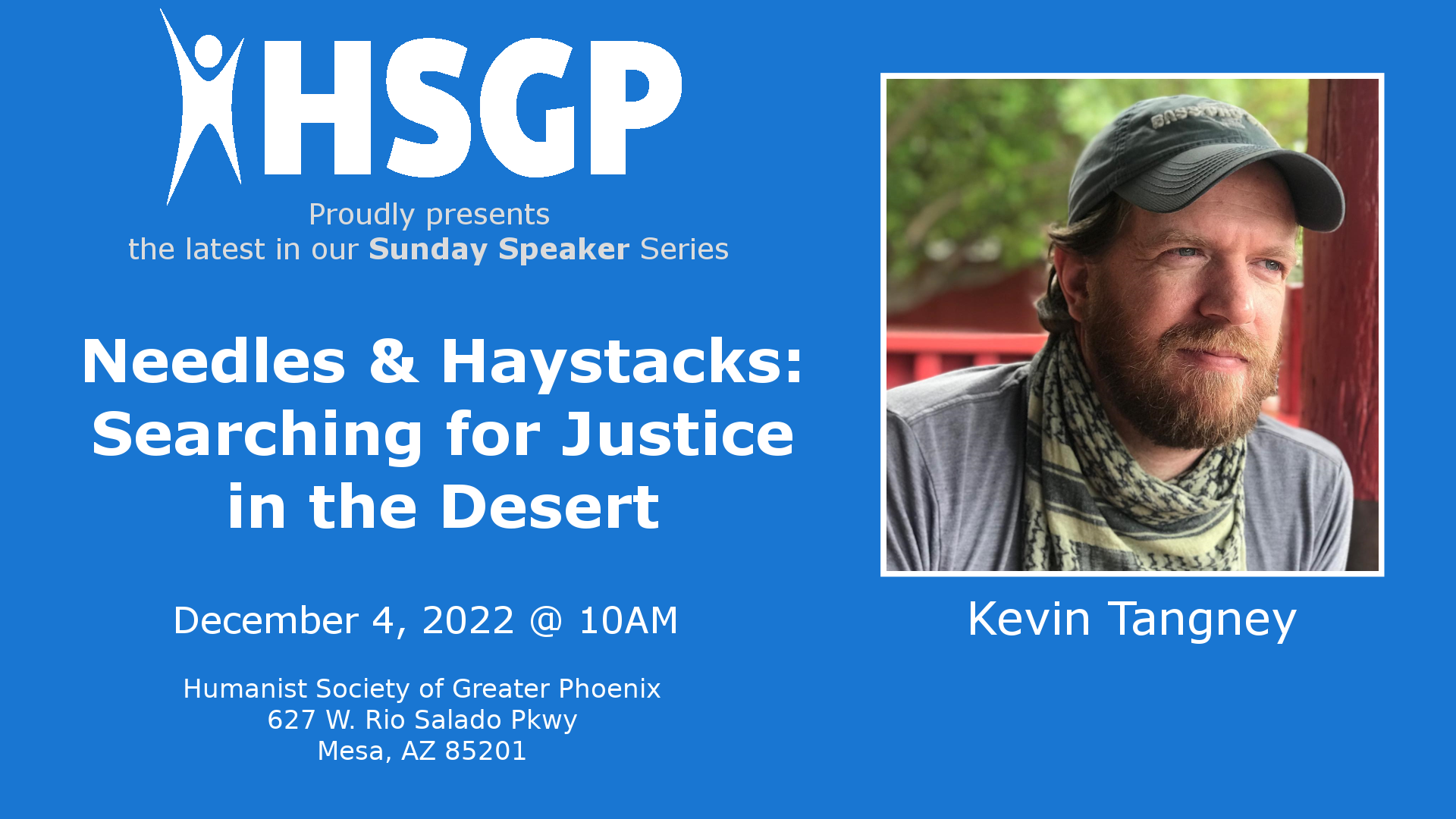 President Bill Clinton and his Border Patrol began Operation Gatekeeper in 1994, a "prevention through deterrence" policy with deliberate intent to push migrants crossing the US/Mexico border to more open and dangerous terrain where they could be spotted or perish. The policy has failed miserably, at the horrific cost of literally countless lives; there is no good data on how many migrants have died on their heroic journeys. Every president has doubled down on this militarization of the border, ramping up the pressure on migrants.
THE ABOLITIONISTS SEARCH AND RESCUE/RECOVERY is an all volunteer organization founded by Kevin Tangney. THE ABOLITIONISTS hike gallons of water and supplies for miles into the wilderness areas North of the US/Mexico border, and conduct searches for the remains of migrants who have perished in order to begin the repatriation process back to their loved ones.
During the talk, Kevin will discuss the work he does with THE ABOLITIONISTS, his journey into activism, and his thoughts on the humanitarian crisis.
Kevin Tangney is the founder of THE ABOLITIONISTS SEARCH AND RESCUE/RECOVERY, an all-volunteer humanitarian organization devoted to combating the border crisis through direct action. Kevin is a combat veteran (Operation Iraqi Freedom 04-05) and has been an activist since 2010. From 2010-2017, Kevin was a whitewater river, 4X4, and hiking guide in Canyonlands National Park. Since 2017, Kevin has been a freelance trumpet player, having performed with such acts as Gracie Jessop, Arturo Sandoval, Dennis Rowland, Kurt Elling, Lymbyc Systym, and Wu-Tang Clan. Kevin is also the founder of The New Guard Big Band, Phoenix's premiere 17-piece jazz orchestra. He has been adjunct faculty at Northern Arizona University and is currently adjunct faculty at Mesa Community College. When he's not out working in the desert or playing music, Kevin can be found hanging out with his girlfriend Alex, their cat Andy, and their dog Sophie.
Doors open at 9:00 am for optional buffet breakfast ($5 donation) and socializing. Presentation begins at 10:00 am.
If you can help with set-up, clean-up, and/or by bringing a breakfast casserole, please go to SignUpGenius HERE.
A Children's Program is available during the Speaker Meeting. Go to a separate Meetup to RSVP for your kids HERE
Prefer to join us remotely?
Zoom Link: HERE
YOUTUBE: You can watch live (15 second delay), or you can watch later. LINK HERE
Need help? Email humanist@hsgp.org before the day of this meeting.
The Humanist Society of Greater Phoenix presents its Sunday Speaker meetings twice a month on Sunday mornings. Meetings are free and open to the public.
**Go to our YouTube channel to see past meetings, presentations and and interviews. Please become a subscriber--it's free! LINK HERE
**We invite you to become a dues-paying member of HSGP. To become a member or make a donation, go to www.hsgp.org
Thank you!
COVID-19 safety measures
Event will be indoors
The board has voted to resume all in person meetings at the Humanist Community Center, effective immediately, based on Covid Act Now recommendations, with the following requirements.
-Consider vulnerable populations
-Masking welcome where desired and appropriate
-Vaccinate as recommended
-Stay home if you are not feeling well
-Personal opinions and choices respected
When
December 4th, 2022 from 10:00 AM to 11:30 AM
Location
627 W RIO SALADO PKWY




HSGP HUMANIST CENTER




MESA

,

AZ

85201-4009




United States