Even when we are having discussions that are seemingly going nowhere, there is so much to learn and so much to give.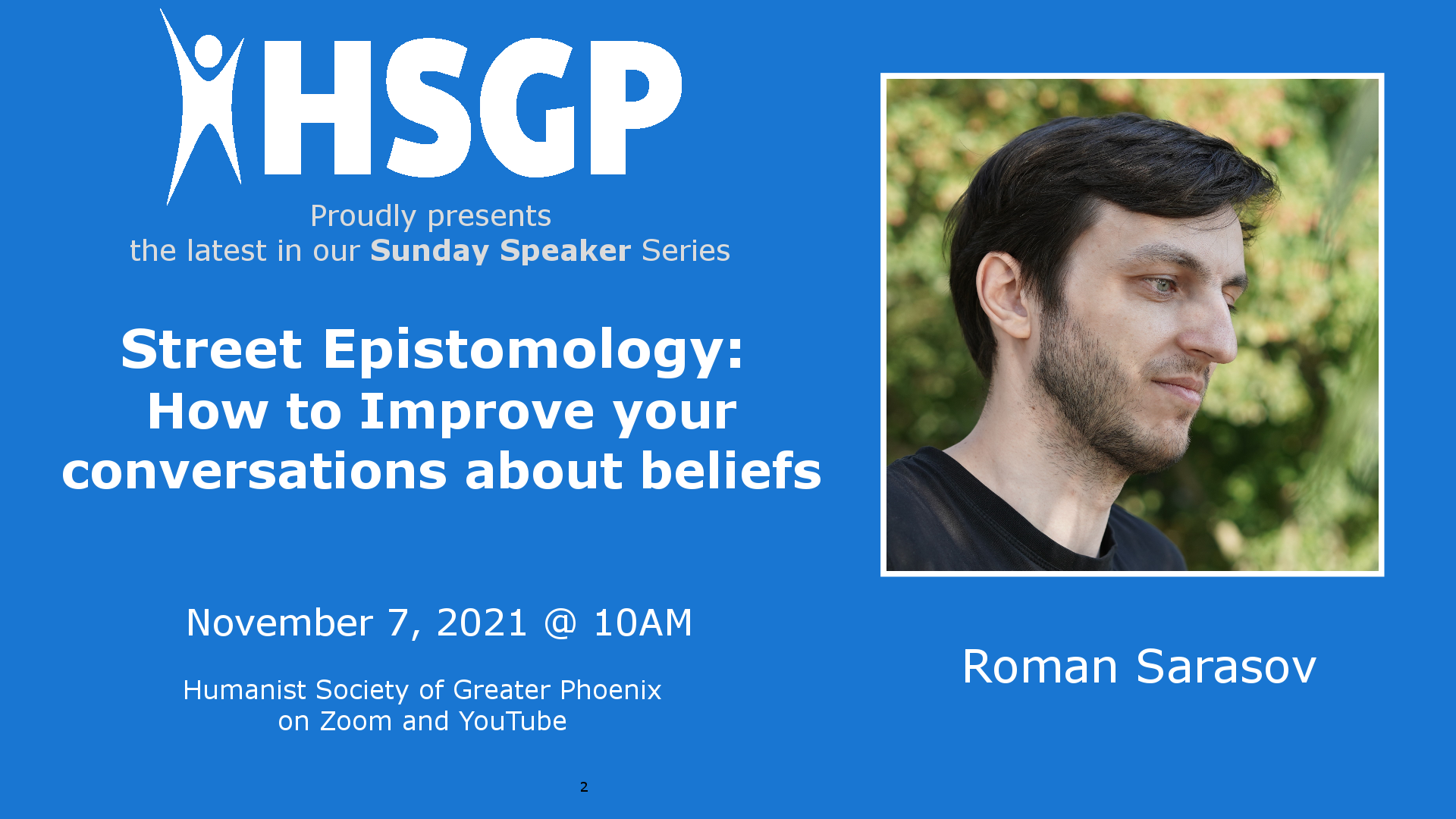 Roman Tarasov - Street Epistemology: How to Improve Your Conversations About Beliefs
Street Epistemology (SE) is a rapidly developing communication technique that allows us to have polite and productive discussions about anything, even the most triggering topics that people might disagree on. It combines ideas of the scientific method, modern psychological findings, and ancient Socratic questioning. Can we introduce a few tools into our daily interactions to make them deeper and more efficient? Can we empower each other with the possibility to change and adjust our beliefs, instead of trying to persuade each other with little to no effect? There is a strong case to answer 'yes' to both those questions, and we invite you to join the discussion about it.

Roman Tarasov is a math and physics high school teacher, critical thinking enthusiast and an active practitioner of SE. He is also a subject matter expert in the SE Course Development project, practice meetings host, and the manager of the Russian SE community.

Please join us on Zoom or YouTube:

1) Zoom Meeting:
https://zoom.us/j/535462070?pwd=UGJBOXRYcTF2SXJMb01RNTdvM2Y2QT09

2) YOUTUBE: You can watch live (15 second delay), or you can watch later. Here is the YouTube link: https://www.youtube.com/channel/UCOw8Sl1yofrwRuGUYS_OOOA

Need help? Email ron.russell@hsgp.org before the day of this meeting.

The Humanist Society of Greater Phoenix presents its Sunday Speaker meetings twice a month on Sunday mornings. For now our meetings are on Zoom and YouTube. We look forward to seeing you at the Humanist Community Center when it's safe to meet in person!

Meetings are free and open to the public.

Go to our YouTube channel to see past meetings, presentations and and interviews: https://www.youtube.com/channel/UCOw8Sl1yofrwRuGUYS_OOOA

We invite you to become a dues-paying member of HSGP. To become a member or make a donation, go to www.hsgp.org

Thank you!
When
November 7th, 2021 10:00 AM through 11:30 AM
Location
ONLINE




Mesa

,

AZ

85211




United States