Join Mark "CopperTop" Egidi he discusses the origins, goals, and successes of the HiDad Project, an organization taking a novel approach to supporting LGBTQ+ and otherwise under-served communities.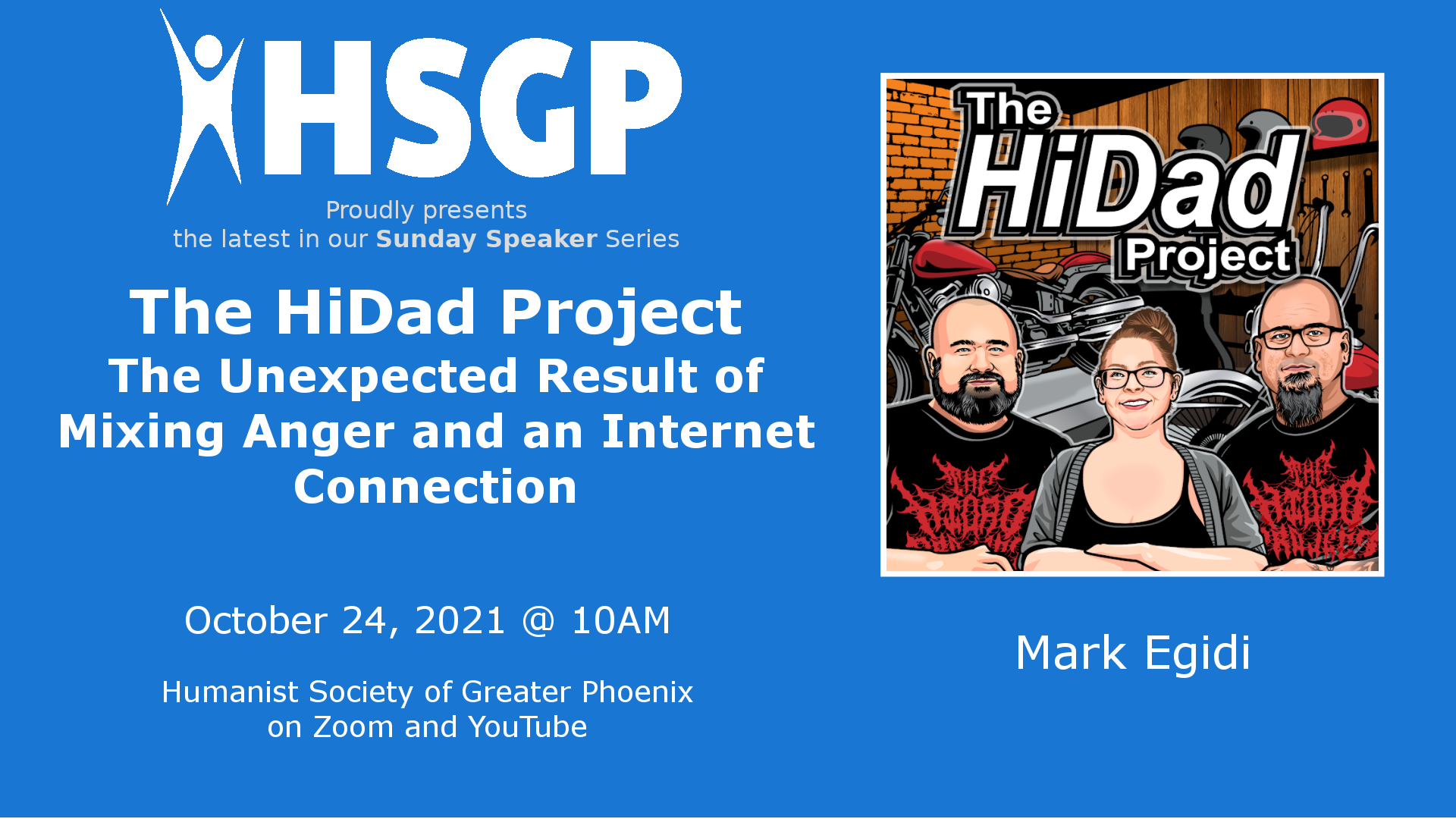 The HiDad Project was started after an all too short period of contemplation that resulted in a video response to a comment left on TikTok. What began with a video going viral  bloomed into a full blown, 501(c)3 pending, non-profit organization in the span of about four months. 

To date the HiDad Project has provided guidance and support to a globally diverse online community of 1,500 people of all ages, backgrounds, and gender identities. What started as a place for young adults to learn how to change a tire, evolved into a one-of-a-kind peer-to-peer wellness and mental health resource.

Operating on a shoe-string budget, funded solely by online merchandise sales and donations, with an all volunteer staff, the HiDad Project has managed to provide 24 hour a day, 7 day a week access to a self-supporting community that is moderated by volunteer staff for the safety of the participants. 
Mark will speak about the origins of the project, it's successes and challenges. We will discuss our approach to encouraging the wellness of the program's participants, our non-traditional public outreach strategies, and how we found value in these unconventional approaches. He will also discuss our funding milestones and plans to utilize these resources in the most responsible manner possible.
Come take this opportunity to learn about this life changing program and have the opportunity to ask questions of the founders, staff, and participants. 

Mark: Mark Egidi graduated from Arizona State University with a Bachelor's Degree in Biology and then received his Master's Degree in Public Health from the University of Arizona. He has a decade of experience in the healthcare field, working both in an acute-care setting and in a pre-hospital, emergency services environment. He and his wife, Brittany or "Mama", can usually be found on the HiDad Discord Server and other social media accounts engaging with the community and the volunteer staff, as well as managing the interventional side of the organization.

Zoom - https://us06web.zoom.us/j/535462070?pwd=UGJBOXRYcTF2SXJMb01RNTdvM2Y2QT09

Please join us on Zoom or YouTube:

1) Zoom Meeting:
https://zoom.us/j/535462070?pwd=UGJBOXRYcTF2SXJMb01RNTdvM2Y2QT09

2) YOUTUBE: You can watch live (15 second delay), or you can watch later. Here is the YouTube link: https://www.youtube.com/channel/UCOw8Sl1yofrwRuGUYS_OOOA

Need help? Email ron.russell@hsgp.org before the day of this meeting.

The Humanist Society of Greater Phoenix presents its Sunday Speaker meetings twice a month on Sunday mornings. For now our meetings are on Zoom and YouTube. We look forward to seeing you at the Humanist Community Center when it's safe to meet in person!

Meetings are free and open to the public.

Go to our YouTube channel to see past meetings, presentations and and interviews: https://www.youtube.com/channel/UCOw8Sl1yofrwRuGUYS_OOOA

We invite you to become a dues-paying member of HSGP. To become a member or make a donation, go to www.hsgp.org

Thank you!
When
October 24th, 2021 10:00 AM through 11:30 AM
Location
ONLINE




Mesa

,

AZ

85211




United States