Levels of Life by Julian Barnes Presented by Book Club
Please join us to discuss Levels of Life by Julian Barnes. This book was selected as an NPR Best Book of the Year.
from Amazon
In this elegant triptych of history, fiction, and memoir, Julian Barnes has written about ballooning and photography, love and grief; about putting two things, and two people, together, and tearing them apart; and enduring after the incomprehensible loss of a loved one. Powerfully rendered, exquisitely crafted in Barnes's erudite style, this searing work confirms the author as an unparalleled magus of the heart.
HSGP will benefit if you purchase this book through the Amazon Smile program. Click on the image below.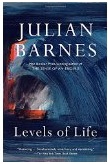 November 22nd, 2014 10:00 AM through 12:00 PM