Classical Revolution PHX at Tempe History Museum Presented by HSGP Humanities Project Excursion - Free Concert
In the same space as the 1800's freight wagon and a large photo of people waterskiing on the Salt River, a chamber music concert will take place. And nothing could make Dr. Joseph Kluesener and the team at Classical Revolution PHX (CRPHX) happier.
Classical Revolution PHX brings chamber music to unusual spaces, such as the Tempe History Museum, to make what is sometimes considered overly formal music more accessible to people. The concept started in San Francisco in 2006 with a group bringing classical music into coffee shops.
â€Å"We wanted to bring some of the same energy here to Phoenix," Kluesener said. â€Å"It's such a great concept and with so many classical music happenings in Phoenix, it just makes sense to take this music into the community – on public transportation, into pubs, open spaces, alternative venues, and beyond – and expose the art form to new audiences."
The Tempe History Museum has teamed up with CRPHX on several occasions. The museum has an excellent series of monthly concerts, ranging from Appalachian to Brazilian, from classical to classic rock. The shows are always free and often include Q&A with the musicians and the opportunity to explore the museum with its historians.
CRPHX and the Tempe History Museum team up on Thursday, June 13 at 7 p.m. The winners of the Arizona Centennial-themed Composition Competition will perform Bayer and Peterson, a concert of original scores for chamber ensembles and chamber orchestras with a vocal soloist. Woodwinds, brass, strings, harp, piano, electric guitar and digital playback all have a part in the performance.
Bayer and Peterson is named for its creators. Composer Elizabeth Kennedy Bayer resides in Phoenix. She received her Masters in Music Composition from Arizona State University in 2010. Composer and conductor Tom Peterson is also from Phoenix and a recent graduate of the Royal College of Music in London. He studied at ASU as well.
\"Because the ASU School of Music is here in Tempe, we are fortunate to have so many great musicians perform here at the Tempe History Museum,\" Dan Miller, exhibit coordinator, said. \"We appreciate their willingness to share their talents.\"
The concert is sponsored by the Tempe Historical Society and Wesley Green. Paletas Betty will sell ice cream treats at the concert.
About the Tempe History Museum
The Tempe History Museum explores Tempe's identity and builds connections between residents and their community. The museum comprehensively shares Tempe history through exhibits, activities, speakers, collections, research services, music and programs that captivate, connect with and delight audiences. The museum is located adjacent to the Tempe Public Library at 809 E. Southern Ave., just west of Rural Road. Admission is always free. www.tempe.gov/museum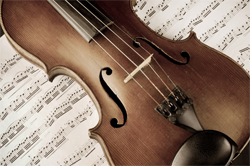 June 13th, 2013 4:00 PM through 6:00 PM