How do we as Humanists acknowledge and commemorate life cycles, holidays and other seasonal events? What does it mean to be thankful in a natural and ethical way?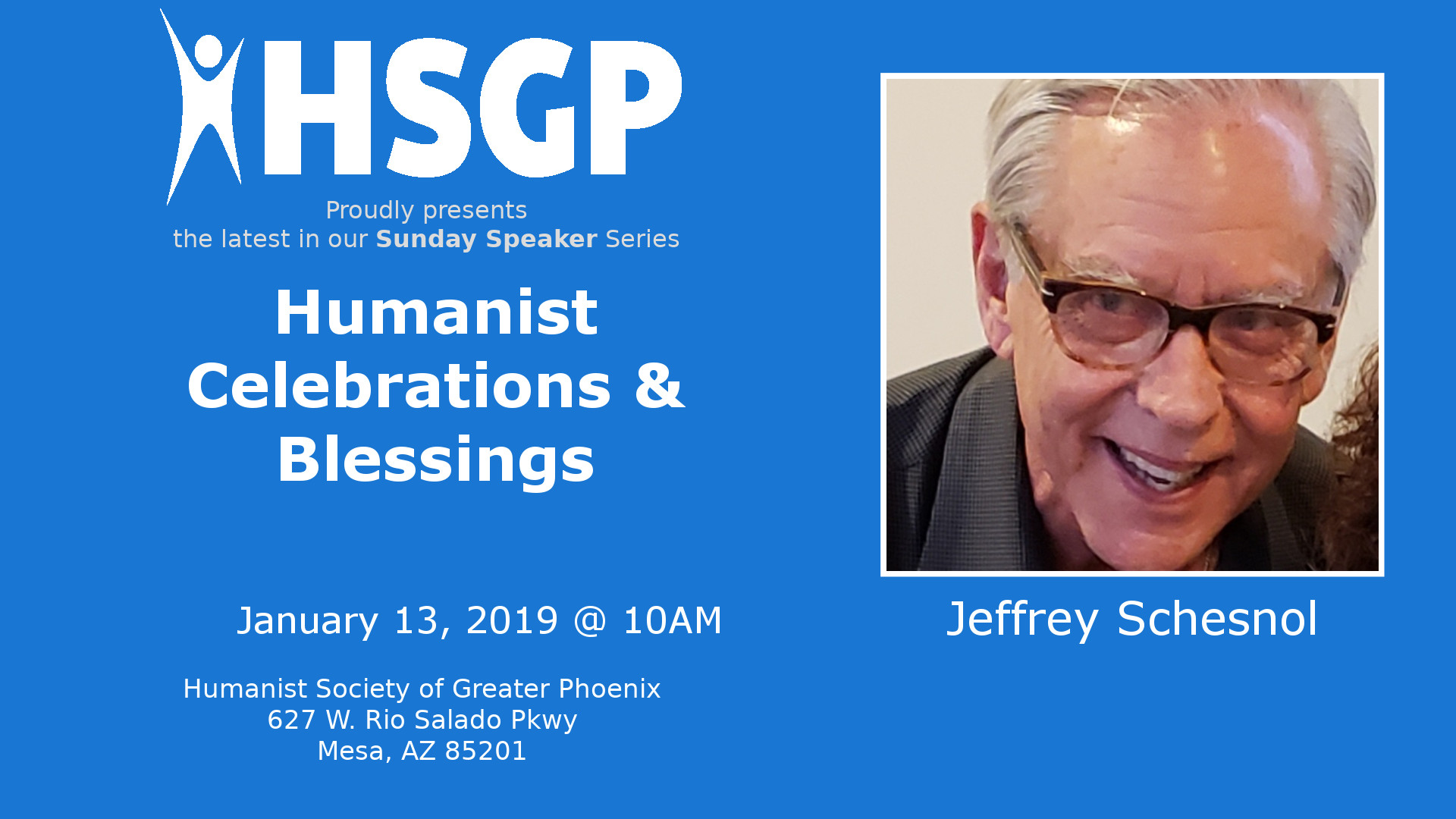 Jeffrey will share with us his take on being thankful and what we can think about as we ring in 2019. As the Spiritual leader of Or Adam congregation. Jeffrey seeks to understand the emotional challenges we face, the benefits of celebrations of life guided by reason, inspired by compassion, and informed by experience.

Despite the effort to generally avoid rigid rituals, the joy of holiday celebrations above and beyond the likes of Day of Reason, Darwin Day, HumanLight, there are opportunities to experience self-actualization and emotionally satisfying recognitions that fulfill the very human need for mindfulness, thankfulness and lifting our spirits.

Our lives revolve around the rhythms of nature, calendar time and order. Human beings are unique and therefore their needs, and the ways in which they choose to fulfill them are unique. Social activism, the study and perpetuation of important personalities and events of human history and culture and understanding and establishing our worldviews and the ethical standards by which we live our daily lives, are all important and meaningful in ways in which we can express our humanism and our appreciation of our blessings.

For humanists, the communal recognition of marking physical, emotional, and intellectual growth through non-theistic, non-sexist, and egalitarian celebrations of life cycle demarcations that articulate secular humanistic attitudes toward birth, growth, relationships, and death.

Together, let's examine opportunities to create meaningful secular humanistic celebrations and blessings consistent with our ethical, purposeful life goals.

Doors open at 9:00 am for optional buffet breakfast ($5 donation) and socializing. Presentation begins at 10:00 am.

The Humanist Society of Greater Phoenix presents its Sunday Speaker meetings twice a month on Sunday mornings.

Meetings are free and open to the public.

We invite you to become a dues-paying member of HSGP. For your convenience, the membership desk is immediately behind the welcome desk at each Sunday meeting.
The meeting is free and open to the public. Doors open at 9:00 am for socializing with an optional Continental breakfast available for a $5 donation. The meeting begins at 10:00 am.
A Children's Program is available during the Speaker Meeting. Please see the HSGP Meetup for the Children's Program at this meeting for more information and to RSVP with the number of children attending.
Need Accessibility Options? Send an email to president@hsgp.org with Accessibility Options in the subject line and let us know about your needs.
Please consider volunteering to help make this event possible. Click on the SignUp Genius button below for a list of volunteer opportunities.
Thank you! See you at the HSGP Community Center!
January 13th, 2019 10:00 AM through 5:00 AM
627 W RIO SALADO PKWY




MESA

,

AZ

85201-4009




United States