Automation is here! But is automation good for our world, communities, and Humanist cause?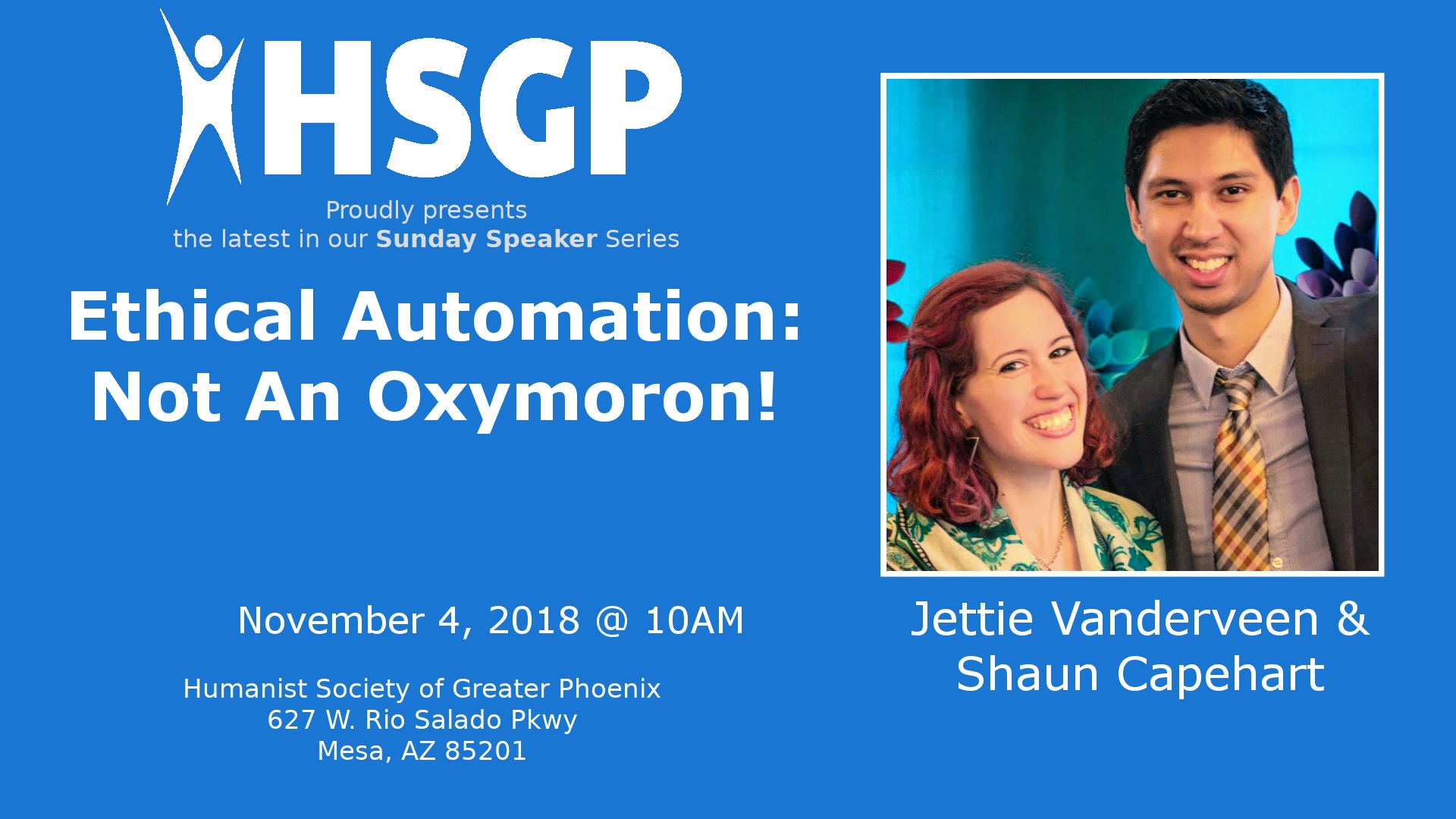 From self-driving cars to auto-composed text replies, as automation becomes increasingly present in our day-to-day lives there is a generation that is starting a movement to address its inevitable impact.

To begin preparing now for the prospect of a Post-Automation Economy, Shaun and Jettie propose that Ethical Automation — automation implemented with conscious consideration for those that automation may disenfranchise or displace — can provide a new sustainable path forward.

In service of this vision they have founded XEIA (/zey'yə/), an A.I.-driven organization that has committed profit generated from automation to developing a Basic Guaranteed Income.

Before sharing their vision for the future, Shaun and Jettie will share with us a brief history of automation from horses to automobiles and phones to smartphones, and discuss where automation has made life better and where it hasn't yet.

Once they've defined the scope of the challenges our human family must confront Shaun and Jettie will share their revolutionary ideas for running a business with transparency in areas such as: salary, profit, sustainability, licensing and more. It is a multipronged solution to a complex problem confronting our world today.

They will also introduce us to concepts such as Public-Benefit Corporations, Conscious Capitalism, and what steps we can begin taking now. There is hope in Automation!

Come ready to learn and to find out what you can do to impact your local and global communities.

Doors open at 9:00 am for optional buffet breakfast ($5 donation) and socializing. Presentation begins at 10:00 am.
The meeting is free and open to the public. Doors open at 9:00 am for socializing with an optional Continental breakfast available for a $5 donation. The meeting begins at 10:00 am.
A Children's Program is available during the Speaker Meeting. Please see the HSGP Meetup for the Children's Program at this meeting for more information and to RSVP with the number of children attending.
Need Accessibility Options? Send an email to president@hsgp.org with Accessibility Options in the subject line and let us know about your needs.
Please consider volunteering to help make this event possible. Click on the SignUp Genius button below for a list of volunteer opportunities.
November 4th, 2018 10:00 AM through 12:00 PM
627 W RIO SALADO PKWY




MESA

,

AZ

85201-4009




United States