Lawmakers to Enter Hot Seat in PHX Comicon Panel About Government's Shortcomings with Science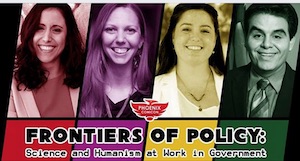 Moderator Chad Woodruff, a social neuroscientist at Northern Arizona University, will put a panel of Arizona politicians on the spot about why exactly lawmakers are so bad at considering established science in the policymaking process.
State Senator Juan Mendez, State Representative Athena Salman, Neuoscientist Dr. Chad Woodruff, along with other humanist political leaders from Arizona will participate in the panel discussion.
The science community worldwide is highlighting an alarming trend in the discreditation of scientific consensus for political purposes. Senator Juan Mendez, Representative Athena Salman, lobbyist Seráh Blain, and Osborn School Board President Katie Paetz are at the forefront of the Humanist political movement in Arizona, which advocates for data-driven, secular, ethical policy on all levels of government. The group will share their insiders' perspectives in an attempt to explain the phenomenon and press for a path forward.
Panelists will advocate for more humanistic and fact-based approaches in government and will address a wide range of political and ethical issues facing our species in the coming decades—including climate change, artificial intelligence, universal basic income, gender abolition, and more.
Attendance at this session requires at least a day pass to Comicon.
*** This is not an HSGP event ***
May 27th, 2017 6:00 PM through 7:00 PM
Phoenix Convention Center North 132BC




100 N. 3rd St. Phoenix

,

AZ

85004




United States