Humanists Prose Writer's Circle Presented by Organizational Meeting
We are pleased to announce the transfer of a prose writing group from the Sunset Library in Chandler to the HSGP Community Center in Mesa. Whether you are an aspiring or published writer and have a story running around in you head struggling to get out or perhaps have wanted to write a family memoir, an autobiography or just like to write join our prose writer's support group. We offer an atmosphere of gentle encouragement and constructive criticism where members share what they have written to help themselves and others improve their writing skills.
You will note the group has been identified as a prose writers' group; however, let it be known we are not opposed to writing verse, but our experience has shown mixing prose and verse in the same critique group simply does not work; therefore, those HSGP'ers who are inclined to verse are encouraged to start a separate group.
Current plans are to meet twice monthly on the first and third Tuesdays of each month with our first meeting planned for February 3, 2015 from 6:30 PM to roughly 8:30PM. This will be primarily for housekeeping, getting acquainted with other members, and setting a format for the critiques. Just to let you know ahead of time, our experience tells us because prose is written to be read silently each person attending is asked to bring a sample of their writing (no more than ten pages/double spaced) with enough copies for each person at the meeting--- (We will advise the number attending as soon as we know.)
To repeat myself, whether you are a beginner with a story running around in your head struggling to get out, a published author, a skilled editor who simply enjoys sharing your expertise, or are somewhere in-between, give us a try. We'll be glad you did.
Please RSVP via email to Jim and Rosalie Pearson at
pearsonroja2413@aol.com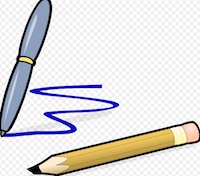 February 3rd, 2015 6:30 PM through 8:30 PM