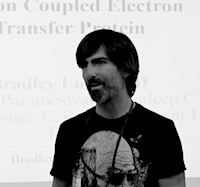 In 2016, Bradley Lusk embarked on a self-funded mission to bridge cultures through science and human discovery titled www.ScienceTheEarth.com.
For this mission, he is visiting innovators, entrepreneurs, and game changers around the world to tell a narrative of how logic and innovation unite our planet in a quest for knowledge. By sharing his research and the research of universities and industries- he hopes to inspire current and upcoming generations to participate in this narrative.
At this event, he will be divulging some interesting stories from the road- including visiting and lecturing at over 70 research institutions, universities, elementary schools, and public events located in countries from Pakistan, to Israel, to India, and all over the European Union. He will discuss his recent trip to over 30 United States including visits to Harvard, the Naval Research Laboratory, and the March for Science in Washington DC.
He will conclude with a discussion of his motivations and efforts for introducing science to a broad global audience and by emphasizing the importance of science as a driver for empathy and positive social action. Join him as we science one individual, one community, one Earth at a time.
Bradley Lusk is a research professional in the field of microbial electrochemistry and former small business owner. After earning his doctorate degree in Biological Design from Arizona State University in 2015, he embarked on a yearlong mission to tell a narrative of science as a force for collaborative global action through his blog www.ScienceTheEarth.com. To tell this narrative, he visited over 70 research institutions, businesses, and scientifically significant locations in greater than 30 countries. He is currently involved in a biotech start-up to remediate precious metals from contaminated water sources and hopes to use his passion for science to encourage others to join the narrative of science.
The meeting is free and open to the public. Doors open at 9:00 am for socializing with an optional Continental breakfast available for a $5 donation. The meeting begins at 10:00 am.
A Children's Program is available during the Speaker Meeting. Please see the HSGP Meetup for the Children's Program at this meeting for more information and to RSVP with the number of children attending.
Need Accessibility Options? Send an email to president@hsgp.org with Accessibility Options in the subject line and let us know about your needs.
Please consider volunteering to help make this event possible. Click on the SignUp Genius button below for a list of volunteer opportunities.