Odyssey of the Mind Regional Tournament Presented by Children's Program
The Odyssey of the Mind program ran concurrently with the Sunday Speaker program through the end of February, 2014. On March 8, the group will participate in a regional competition to be held at Scottsdale Community College.
The team will present their solutions to 2 problems:
Performance problem 8:40 am and Structural problem at 10:06 am
Awards ceremony about 4:00 pm
You can congratulate the team on Sunday. They will be meeting at HSGP during the Sunday Speaker meeting.
What is Odyssey of the Mind?
Odyssey of the Mind is an international educational program that provides creative problem-solving opportunities for students from kindergarten through college. Team members apply their creativity to solve problems that range from building mechanical devices to presenting their own interpretation of literary classics. They then bring their solutions to competition on the local, state, and World level. Thousands of teams from throughout the U.S. and from about 25 other countries participate in the program.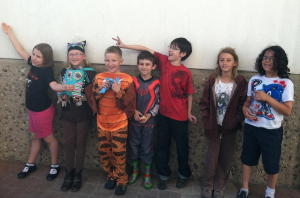 March 8th, 2014 8:30 AM through 10:30 AM
627 W RIO SALADO PKWY




MESA

,

AZ

85201-4009




United States