HSGP First Annual Holiday Bazaar November 23 and 24 Presented by First Annual Holiday Bazaar
HSGP is hosting its First-Ever Holiday Shopping Bazaar.
Come get a head start on holiday shopping.
Holiday Shopping Bazaar
November 23rd and 24th
10 am to 4 pm Both Days
4 ways that you can help:
1. Donate
• new or gently used items that would make a great gift ($15 value and up)
• Artisanal Food items (jams, jellies, cookie plates, breads, oils, candies, etc)
• Bake Sale items for the days of the fundraiser
2. Ask your favorite restaurants or businesses to donate:
• Gift cards and services or merchandise • We will provide you a 501c3 letter to provide to them for their donation
3. Volunteer:
We're looking for able bodies to help set up, manage the marketplace and clean up- Saturday or Sunday- or both!
Google Calendar sign-up coming soon!
4. Promote this event to your friends, family, coworkers and neighbors.
In order for it to be successful, we need lots of traffic!
Our Bistro
We'll host a Bistro for snacks and lunch, so we'd love to feature your favorite baked goods. Come by and join us for some shopping and a snack- or even stay for a light lunch!
We're looking for edible specialties as well!
We need to stock our Bistro with snacks and sweets to be sold and enjoyed during the Bazaar. We're also looking for any food items that are your specialty that would make great gifts.
Our photo studio
Professional photography duo Andy and Ariane are returning for to HSGP for their 2nd annual photo studio for individual, couple, family or group photos.Get a souvenir photo printed to take with you and request an electronic copy of your photo to use on social media, holiday correspondence and anything else.
Our Marketplace
We're looking for donations of gift items ($15 value and up) as well as artisanal food items that would be great for the holidays.
Have you received a gift that would be perfect for someone else but isn't quite right for you?
Did you purchase an item for yourself that you never ended up using?  
Donate it to our Marketplace!
Please be sure to label that it is a donation for the marketplace –you can give it to any HSGP board member or leave it in our Designated Donation Area under the front table (next to the piano) in the main hall of HCC. Let us know the suggested value. Provide your name and contact information in case we have questions for you.
We're looking for Vendors
Tables are available for $25 for 1 day or $40for both days (HSGP members receive a $10 discount)
Promote your business
Artists, Craftspeople and Direct Sales and anyone who has something to sell.
Invite your past customers to come see you again and along with the chance to check out others
If the timing doesn't work out and you are unable to participate, consider donating some items that HSGP can sell at the marketplace.
We also hope you'll consider donating a portion of your proceeds to our fundraiser.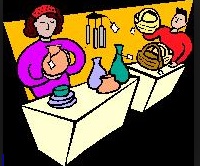 November 23rd, 2013 10:00 AM through 12:00 PM