Volunteer Outing: UMOM Presented by Service Outreach
Parking:
Park in the lot in at the family housing hub on the most western side of the property.
Volunteer Waiver Log and Age Limit:
Please complete the attached waiver and bring it with you to turn in to the dining room manager. (Gwyndolynn will email you the waiver after you RSVP!)
13 years old and older.
Dress Code
For your own safety, NO sandals, flip-flops, open-toe shoes, heels, tank tops, low-cut blouses or short-shorts
Duties:
Set up, serve and clean up following the meal and other kitchen tasks.
IF YOU ARE LATE: Check in at the front desk, let the staff know that you are serving a meal. They will direct you to the kitchen where staff will direct and support the group as needed.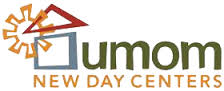 June 11th, 2016 9:30 AM through 11:30 AM