Serving Dinner to Homeless and/or Hungry Arizonans Presented by Service Outreach - Paz de Cristo
"We (HSGP) have been recognized as reaching Beyond Belief Network Level 3 (the highest level) with the Foundation Beyond Belief! Foundation Beyond Belief is a charitable foundation created to focus, encourage and demonstrate humanist generosity and compassion, and the Beyond Belief Network is a collective of over 110 freethought organizations putting compassionate humanism into action through community volunteering and charitable fundraising.
We have found a new place to help. John Fahrm (from the task force to help those experiencing homelessness) and I went to visit a local community center in Mesa. Paz De Cristo's mission is to feed, clothe and empower those in need. We were impressed by their openness, lack of religiosity, and variety of volunteer opportunities. They help their guests obtain identification, employment, clothing, showers, as well as providing a daily meal and food boxes for those who have housing but still not enough to eat."
- Gwyndolynn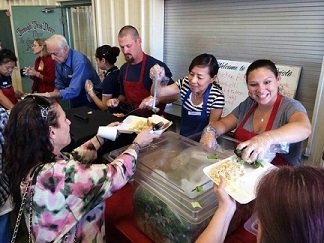 May 28th, 2016 4:00 PM through 6:00 PM