The Decline and Fall of Practically Everybody by Will Cuppy Presented by Book Club
Join us to enjoy of discussion of this humorous classic.
from Amazon
The Classic book from author and humorist Will Cuppy transforms well known figures from history into human beings, showing them to be foolish, fallible, and so much our very common ancestors. Included are profiles of such historical figures as Cleopatra, Alexander the Great, Lady Godiva plus many more.
If you purchase this book from Amazon through the Amazon Smile program, HSGP will benefit. Click on the link below.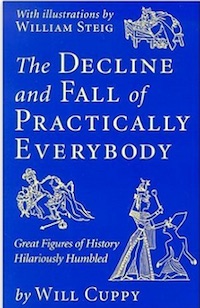 January 23rd, 2016 10:00 AM through 12:00 PM