Asteroids, Ion Propulsion, and NASA's Dawn Mission to Asteroid Vesta and Dwarf Planet Ceres Presented by Dr. David Williams
Join us to hear Dr. David Williams discuss "Asteroids, Ion Propulsion, and NASA's Dawn Mission to Asteroid Vesta and Dwarf Planet Ceres".
Dr. David A. Williams is an Associate Research Professor in the School of Earth and Space Exploration at Arizona State University, Tempe, Arizona. Dr. Williams is the Director of the Ronald Greeley Center for Planetary Studies, the NASA Regional Planetary Information Facility at ASU. He is also the Director of the NASA Planetary Aeolian Laboratory, which administers wind tunnels at ASU and the Ames Research Center in California.
David is currently performing research in volcanology and planetary geology, with a focus on planetary mapping, geochemical, and remote sensing studies. His research has included computer modeling of seismic wave propagation through planetary interiors, visible and near-infrared spectroscopy of the lunar surface, planetary geologic mapping of the satellites of Jupiter, the planet Mars, and the asteroid Vesta, computer modeling of the physical and geochemical evolution of lava flows in a variety of planetary environments, and petrologic study of lava samples from Mount St Helens. He was involved with NASA's Magellan Mission to Venus and Galileo Mission to Jupiter.
He is a Co-Investigator on the European Space Agency's Mars Express orbiter mission, and he is a Science Team Member on NASA's Dawn Mission to asteroid Vesta and dwarf planet Ceres. He is also a Co-Investigator on NASA's newly selected Psyche Mission. In 2014 David was elected a Fellow of the Geological Society of America, and asteroid 10,461 DAWILLIAMS was named in his honor.
A Children's Program is available during the Speaker Meeting.
Please see the HSGP Meetup for the Children's Program at this meeting for more information and to RSVP with the number of children attending.
The meeting is free and open to the public. Doors open at 9:00 am for socializing with an optional Continental breakfast available for a $5 donation. The meeting begins at 10:00 am.
Please consider volunteering to help make this event possible. Click on the SignUp Genius button below for a list of volunteer opportunities.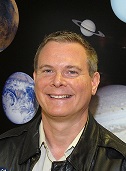 February 5th, 2017 10:00 AM through 12:00 PM
627 W RIO SALADO PKWY




MESA

,

AZ

85201-4009




United States