An Invitation to learn more about how 'We the People' of the United States of America have an opportunity to bridge the partisan divide in our country. At this time of crisis, we need more than civility, empathy, and goodwill. We need courage. And that courage begins with each of us as individual citizens.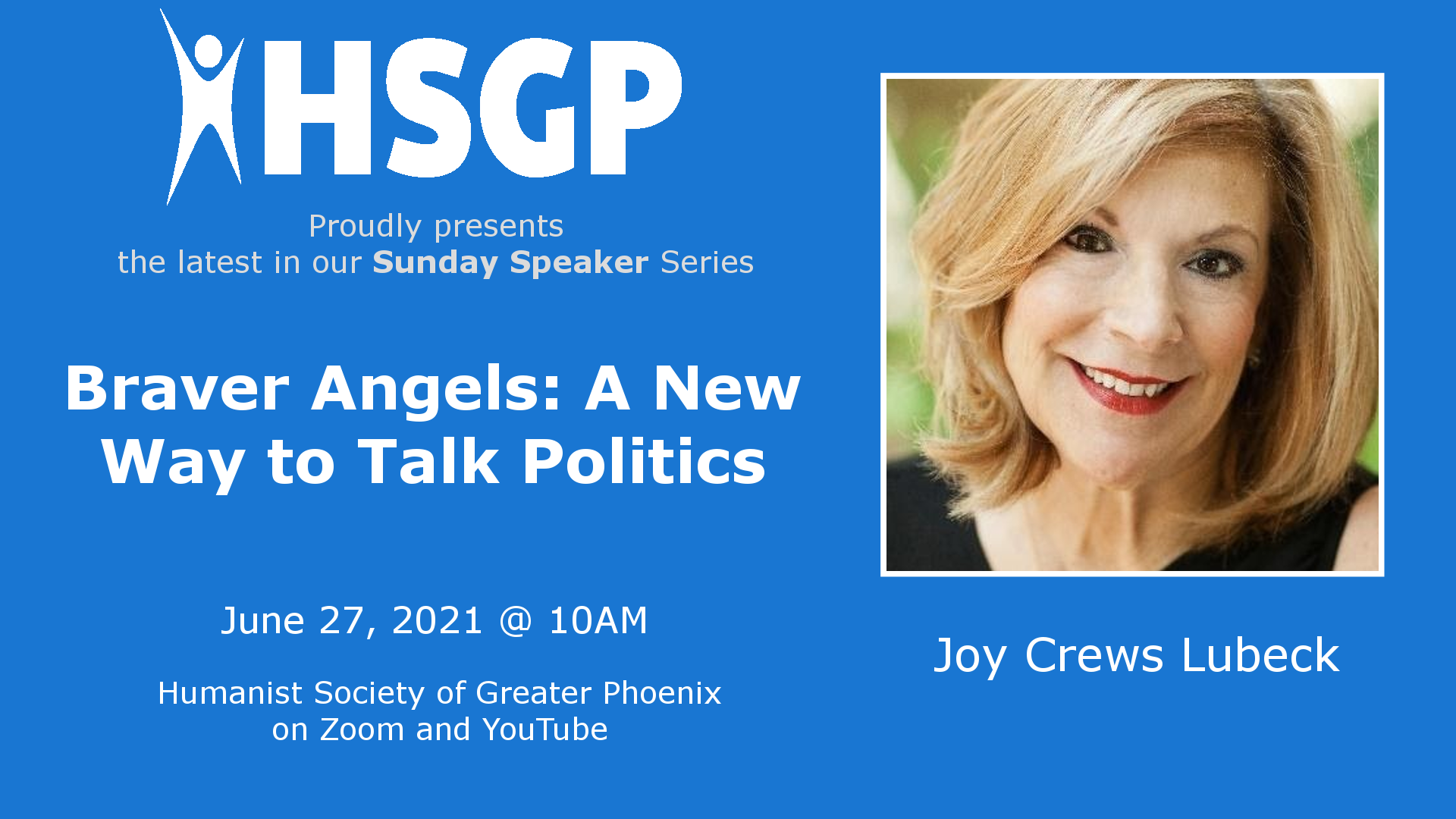 In our presentation, we plan to provide an overview of the Braver Angels mission and how this grass-roots organization got its start and why we as presenters became involved as volunteer leaders.

We will show a brief video and introduce you to opportunities to both take advantage of program offerings (currently virtual), as well as highlight how you might become involved with Braver Angels as time and interest permit.

We are NOT here to change your mind politically, but we do hope to expand your understanding of how you might think about the large number of your fellow Americans who differ from you politically and how each of us might shift our communication styles in order to find common ground through mutual respect and civil discourse.

How polarized are you? Some questions upon which to contemplate:

1. How often do I find myself thinking about "those people" on the other political side without much regard for the variation among them?

2. How often do I find myself assigning mainly self-serving or negative motives to the other group-- and mainly positive motives to my group?

3. How often do I find myself focusing on the most extreme or outrageous ideas and people on the other side, thereby making it hard to see how a reasonable person could remain in that group?

4. How often do I find myself comparing the worst people on the other side with the best people on my side?

5. How often do I feel a "rush" of pleasure with friends when we ridicule those crazies on the other political side?

Nirvair Khalsa is one of the state co-coordinators for Braver Angels in Arizona and has been active in Braver Angels since 2017. She has facilitated Braver Angels workshops in the Greater Phoenix and Tucson areas and is currently co-chair of the Tucson Braver Angels Alliance. She is also the founder and director of Khalsa Montessori School in Tucson, serving 350 children from infants to 8th grade

The Honorable (Ret) Ted B. Borek is a local Ambassador for Braver Angels who retired after nearly fourteen years on the Pima County Superior Court serving on the Civil, Criminal, and Juvenile Benches. He is a graduate of the University of Arizona College of Law (1972) who spent over twenty-four years in the Army, principally in the Judge Advocate General's Corps. He became interested in Braver Angels as a program to improve civil discourse. He believes the mediation model used in Braver Angels programs helps facilitate constructive discussion between persons with differing viewpoints. He is a member of the Tucson Presidio Rotary Club.

Joy Crews Lubeck is one of the Braver Angels co-coordinators for the state of Arizona. She has served in this role since May 2020, supporting the presentation and facilitation of various on-line offerings over the past year. Joy is also a professional Leadership Coach (Lead Fully) supporting the development of high potential global leaders in both for-profit and non-profit organizations. She is dedicated to driving sustainable change through the integration of leadership development, global business management and cross-cultural understanding.

Nirvair - https://drive.google.com/file/d/1QEuSnJcfc2lAX96XMdVTGRPxKM2C7Icb/view?usp=sharing

Ted - https://drive.google.com/file/d/1de0nsvDD0uov-pBtRdd_aGxPpUZhs6LG/view?usp=sharing

Please join us on Zoom or YouTube:

1) Zoom Meeting:
https://zoom.us/j/535462070?pwd=UGJBOXRYcTF2SXJMb01RNTdvM2Y2QT09

2) YOUTUBE: You can watch live (15 second delay), or later. Here is the YouTube link: https://www.youtube.com/channel/UCOw8Sl1yofrwRuGUYS_OOOA

Visit our YouTube channel: https://www.youtube.com/channel/UCOw8Sl1yofrwRuGUYS_OOOA

Thank you!
When
June 27th, 2021 10:00 AM through 11:30 AM
Location
ONLINE




Mesa

,

AZ

85211




United States