Richard will discuss how meditation can be explored and enjoyed by anyone looking to improve the quality of their life, with a solid scientific foundation.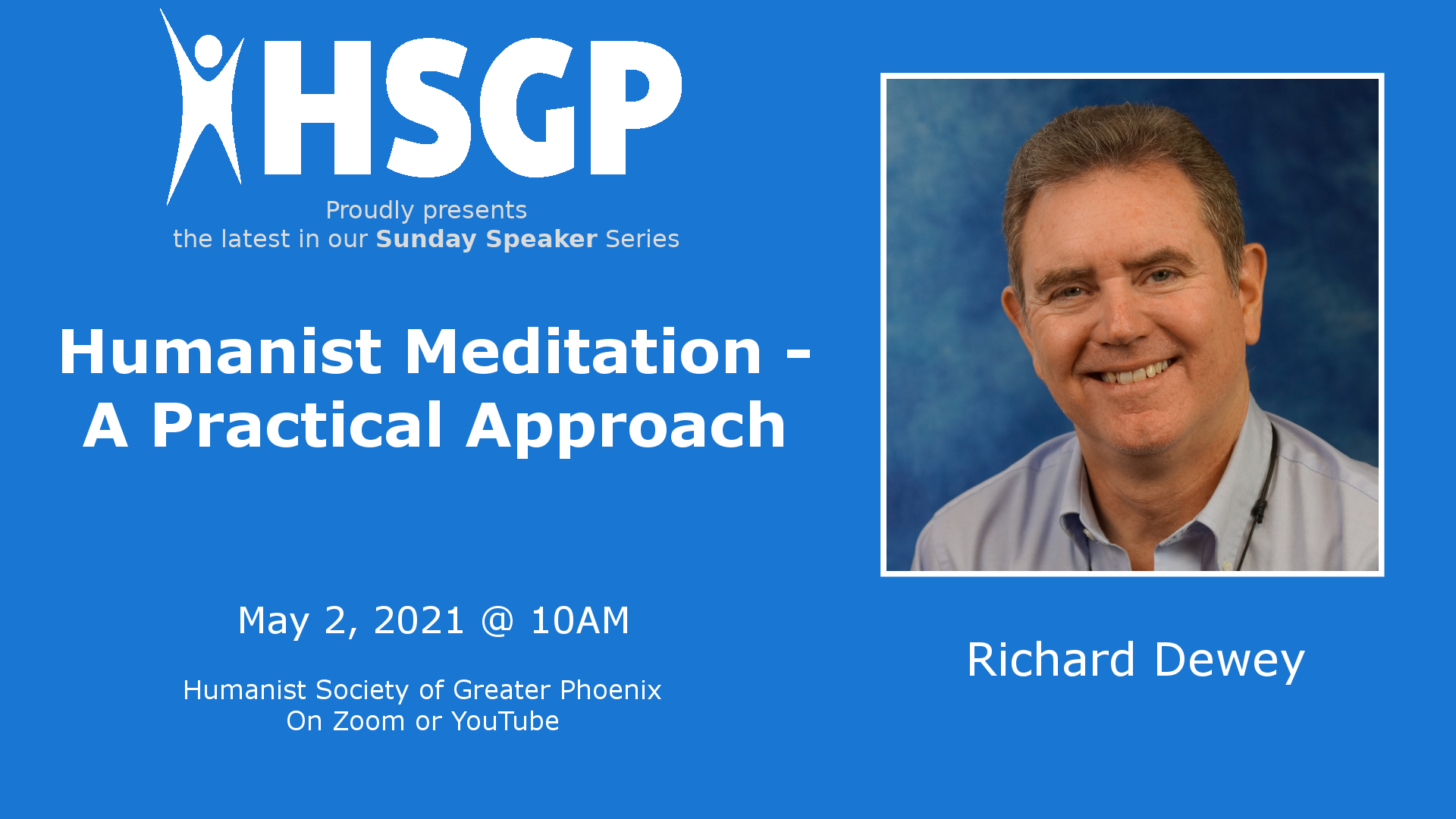 Humanist Meditation is the infusion of basic Humanist values into the practice of meditation. Richard will discuss the basics of meditation, some historical context, the current science that supports the practice and shows us what meditation is actually doing without any of the hype that is so prevalent in popular culture. The practice of meditation is seen in most all cultures throughout history in many different forms, including in modern day Humanist cultures. Richard will explain the progression of meditation into secular forms and discuss the potential for even the most skeptical practitioners to gain significant benefit from the practice. This will include a discussion of how Humanist values can be instilled in every meditation and why that is an important addition to the practice seldom taught by other instructors.

Richard will also discuss the ways in which meditation forms have been categorized and provide an overview of why that is. He will also discuss some of the basic forms that he teaches, explain what the goal of each form is and what the practitioner gains from each. There will be a short audience participation portion and discussion of tips and "how-tos" to optimize the practice. He will also describe how the Humanist Meditation classes are conducted along with an explanation of reasons for the approach.

The discussion will wrap up with an overview of to improve knowledge of both the science and variety of secular forms that are in common use today, followed by Q&A.

BIO -
Richard became interested in all matters of the mind back in high school with a keen interest in biofeedback as well as the science of how the mind works and what can be done outside of our usual mundane experiences. Among the many books that caught Richard's attention was a book entitled "The Relaxation Response", by Herbert Benson. This book, published in 1975, just after Richard graduated from high school, introduced concepts very similar to the current mindfulness meditation techniques known around the world for its effect on the stresses of everyday life. Reading this book began Richard's journey to meditation and incorporating a new way of looking at the mind and how to use it to improve many aspects of life.

As time progressed, Richard learned more about the brain, keeping up as much as possible with the scientific understanding of the time, and experimenting with basic meditation techniques to help grapple with personal issues and create a sense of calm. This continued with attending seminars, reading books, learning techniques from a prominent psychologist, reading online papers, and sharing concepts and techniques with anyone involved in meditation practices of any kind. All of this introduced Richard to new approaches to meditation that helped him reach deeper depths and more insight into his sense of self and to obtain a much better perspective on life. These experiences also taught Richard that meditation can be more than a mental exercise, as many people perceive it to be, but can also be fun and instructive. Richard went on to experiment with different meditation techniques, develop some of his own, and learn to view meditation with a passion.

Richard spent 35 years in electronics engineering during which he developed another passion, teaching and mentoring. Combining these passions is what drives Richard to teach meditation techniques to anyone who is interested. He also found a home with the Humanist Society of Greater Phoenix where he served as President for five years. Being an ardent Humanist himself, it is only natural that his teaching of meditation brings a philosophy of Humanism with it.

1) ZOOM:
https://zoom.us/j/535462070?pwd=UGJBOXRYcTF2SXJMb01RNTdvM2Y2QT09

Meeting ID: 535 462 070
Passcode: 4808445044

2) YOUTUBE:
You can watch live (15 second delay), or you can watch later.
https://www.youtube.com/channel/UCOw8Sl1yofrwRuGUYS_OOOA

Need help? Email ron.russell@hsgp.org before the day of this meeting.

The Humanist Society of Greater Phoenix presents its Sunday Speaker meetings twice a month on Sunday mornings. For now our meetings are on Zoom and YouTube. We look forward to seeing you at the Humanist Community Center when it's safe to meet in person!

Meetings are free and open to the public.

Go to our YouTube channel to see past meetings, presentations and and interviews: https://www.youtube.com/channel/UCOw8Sl1yofrwRuGUYS_OOOA

We invite you to become a dues-paying member of HSGP. To become a member or make a donation, go to www.hsgp.org

Thank you!
When
May 2nd, 2021 10:00 AM through 11:30 AM
Location
ONLINE




Mesa

,

AZ

85211




United States