A discussion of Arizona's response to the pandemic and how it impacted our community with a comparison to its impact on the communities of states whose responses were evidence-based.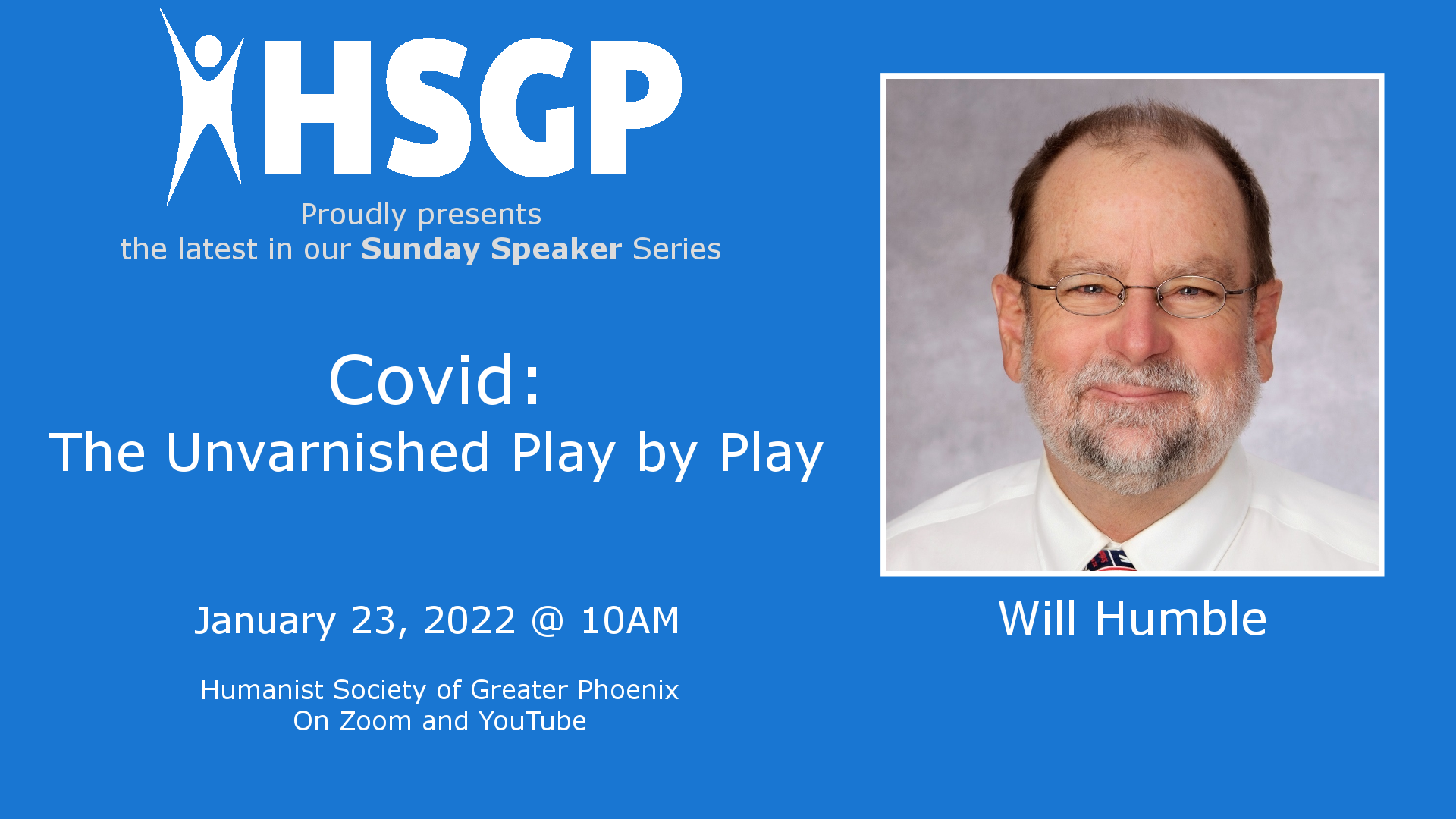 Our friend Will Humble returns to give us the real story.

Governors in many states used evidence-based decision-making to drive their COVID19 mitigation policy decisions and effectively used federal relief funds to cushion the economic impact from some of those interventions. When the vaccine became available in 2021, many governors successfully used motivational policy tools to improve vaccination rates in their states.

Our discussion will cover key elements of a successful response to the COVID19 pandemic and highlight areas where Arizona fell short, from failing to enforce mitigation measures in bars, restaurants and nightclubs, to not implementing universal indoor face covering requirements (and even prohibiting local jurisdictions and schools from doing so). We'll also cover the opportunities that Arizona missed to improve vaccination rates while reviewing the tremendous loss of life that resulted from the failures of Arizona's Executive Branch and compare Arizona's outcomes to states who used evidence to drive their public policy decisions.

A Question and Answer session will follow in which participants are invited to discuss behind-the-scenes action observed during the response.*

Please join us on Zoom or YouTube:

1) Zoom Meeting:
https://zoom.us/j/535462070?pwd=UGJBOXRYcTF2SXJMb01RNTdvM2Y2QT09

2) YOUTUBE: You can watch live (15 second delay), or you can watch later. Here is the YouTube link: https://www.youtube.com/channel/UCOw8Sl1yofrwRuGUYS_OOOA

Need help? Email ron.russell@hsgp.org before the day of this meeting.

The Humanist Society of Greater Phoenix presents its Sunday Speaker meetings twice a month on Sunday mornings. For now our meetings are on Zoom and YouTube. We look forward to seeing you at the Humanist Community Center when it's safe to meet in person!

Meetings are free and open to the public.

Go to our YouTube channel to see past meetings, presentations and and interviews: https://www.youtube.com/channel/UCOw8Sl1yofrwRuGUYS_OOOA

We invite you to become a dues-paying member of HSGP. To become a member or make a donation, go to www.hsgp.org

Thank you!
*If you're not yet a member of the Arizona Public Health Association, we'd love to add you to our collective voice! Our Individual Memberships are just $75/year. https://azpha.org/member-res ources/

You can also include AzPHA in your annual charity giving. They are a 501(c)(3) nonprofit corporation supported via our memberships, conferences, grants, and tax-deductible contributions from people like you! https://p7p.8e2.myftpupload.com/policy-advocacy/donate/
When
January 23rd, 2022 10:00 AM through 11:30 AM
Location
ONLINE




Mesa

,

AZ

85211




United States