Message from the Membership Director
Plans for the 2016 Solstice Celebration are well under way. We have accumulated a few very nice donations, and would welcome many more to make this a successful fundraiser.

The event is being held on December 17, from 5:00 p.m. to 10:00 p.m. at the Community Center. Please see the article in the left-hand column following the President's Message for the schedule.

We can use additional donations from artists, crafters and people who provide services, to donate their items or services for the auction. We need to have your generous donations as soon as possible. Also, please solicit local businesses asking them to donate items or services to our 501c3 organization. Contact Christine Walden by email at christine.walden@hsgp.org or by phone at 480-620-6325 for a copy of HSGP's solicitation letter with tax number.

We will be setting up on Friday, December 16, and absolutely need to have all donations before or on the 16th between 3-8 p.m. We cannot guarantee acceptance of non-food items after that date and time.

There will also be a bake sale. Dig out your favorite recipes and bake up a batch of goodies, such as home baked cookies, pastries, cakes, recipes in a jar, etc. Your bake sale items can be brought on the 17th.

We greatly appreciate your efforts in helping making this event successful. Let's make this the biggest fundraising event of the year!

Continuing Sleeping Mats Project: I will be resuming this monthly project beginning January 14. Keep watching Meetup for the monthly announcements. Any questions can be sent to my email address located below my signature. Bring supermarket grocery bags if you have them.

As of this writing, our supply of plastic grocery bags is getting low. You can bring bags with you any time you come to the Community Center and leave them by my card table against the wall.

Welcome New Member:

Genie Davis

THE USUAL SPIEL

Volunteer Opportunities

We are always in need of volunteers to supply breakfast casseroles, help set up before and clean up after meetings and events, serve on various committees. We have a brochure with a complete list of volunteer opportunities on the info table at the front of the meeting hall. Contact Volunteer Coordinator Matt Ferrin at volunteer@hsgp.org for additional information or questions.

To volunteer for a Sunday meeting opportunity or other event, click on this button and select the event for which you'd like to volunteer.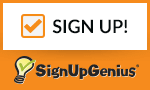 You can also find the SignUp Genius button on the home page of HSGP.org by scrolling down.



Your Participation is Welcome

This column is for the members. I'd like it to also be about and by the members by encouraging all of you to send me announcements of life events, questions about HSGP, contribute a piece for this column or suggestions of subjects you'd like to see posted here.

Please contact me if you need any membership information or have a change of address, phone number, or email. Anita Romanowski Membership Director
anita.romanowski@hsgp.org
HSGP Service Outreach Project


No volunteer activities are scheduled for November.

by Gwyndolynn Gentry

My email is gwyndolynn@gmail.com
Children's Programs
Keeping Up With HSGP
Social Media Matters
by Jennifer White
Overview and update of our social media/internet presence!

Meetup www.meetup.com/Humanist-Society-of-Greater-Phoenix/

I would say that Meetup has the biggest impact on HSGP's reach. More people say they found out about us there than anywhere else. We have 1,620 folks signed up on our Meetup group! Some of them join us at our Sunday Speaker meetings and/or other events like Game Night, Humanities Project, Inquiring Minds, Book Club, Ted Talks/Interesting Discussion, and various charity/volunteer opportunities.

Meetup is how we get great turnouts for special events like the Flying Spaghetti Monster Dinner, the Winter Solstice Celebration, the Darwin Day Luncheon, concerts, and visiting guest luminaries, resulting in income to help pay for our Community Center. A few of these folks even become dues-paying members of HSGP. Join us at Meetup now so you will always be abreast of what's happening next at the Humanist Center!

Facebook Discussion Group www.facebook.com/groups/HumanistSociety/

This is an open group on Facebook, where people share posts and participate in conversations. Anyone on Facebook can see the fascinating articles and discussions, but you must be a member of the group to post or comment. Just go there and request to become a member. Richard or I will approve you. You must have a Facebook account. We do our best to keep out spammers (trying to sell you stuff) and we don't allow abusive comments. As of today we have 811 members in our group!

Facebook Page www.facebook.com/HumanistSocietyofGreaterPhoenix/

A traditional Facebook page. Anyone can see it. You can react to and comment on the articles, events, and memes on the page. Only posts by authorized admins will appear on the wall. The public may post, but they will appear to the left of the wall. Stop by the page and check it out - then be sure to LIKE us!

Twitter @hsgp on twitter.com/

Yes, we do have a Twitter account and we are planning to start using it actively.

Website www.HSGP.org

Ok, so not exactly social media, but internet presence for sure. When people google Humanism in Arizona, what pops up is our welcoming, attractive, and informative website. It is our face on the internet, where one can learn about Humanism in general and HSGP in particular – everything one needs and wants to find out is on our site, including contact information to find out even more! One can see our upcoming events, read our newsletter (as you are doing now), click on links to HSGP on Meetup and Facebook, learn about the charities and causes we support, use links to find other interesting Humanist sites, and much more.

Questions or need help?

Grab me if you see me at the Humanist Center in Mesa,

Message me on Meetup or Facebook (use links above), * E-mail me at jennifer.white@hsgp.org Meanwhile, have fun on the social media!


HSGP Humanities Project Fundraiser
Books & Music Bookshelf
HSGP's Humanities Project has a Book & Music Bookshelf for your convenient shopping pleasure. Books, CDs and DVDs on the bookshelf are for sale at a great price. The deals are even better on the 2-for-a-dollar bottom shelf. The Bookshelf is located under the bulletin board near the entrance to the restrooms.
The prices on these items are so great that some folks are using it like a rental library: They buy a book for a super-cheap price, read it, and bring it back as a donation. The book goes up for sale again, and they "buy" another one! Cool!
Take a look at the Bookshelf next time you're at the Humanist Community Center and consider buying or donating to this fun new effort.
"Homo sapiens is the species that invents symbols in which to invest passion and authority, then forgets that symbols are inventions."
Attributed to Joyce Carol Oates.
"The good life is a process, not a state of being. It is a direction not a destination."
Attributed to Carl Rogers.
Quotes courtesy of http://www.brainyquote.com
If you shop at any of the Bashas' stores (Bashas', AJ's Fine Foods, Food City), your local Fry's Food Store, or your local Albertson's HSGP can receive a percentage of the money you spend. In addition, when you shop at Amazon.com using our HSGP link, we receive a percentage of the sale.
To activate any of these no-cost-to-you revenue streams for HSGP, go to the HSGP Supporting Businesses page Supporting Businesses and follow the instructions for the program you want to use.
If you shop at any of the local stores that participate in this program, please consider obtaining and using an HSGP community support card whenever you make purchases. When we support our local merchants, they support us!
Susan Sackett, Certified Humanist Celebrant, would like to remind you that she is available for all your life passage ceremonies, including weddings and commitment ceremonies, baby namings, coming-of-age celebrations, funerals/memorial services, and even divorce celebrations!
Special 10% discount for all HSGP members and their immediate families!
Humanist Celebrant
. Discounts for HSGP members! Contact her at
Susan Sackett
.