President's Message
Greetings fellow humanists! This being the first newsletter of the year, allow me the opportunity to wish you and yours a happy, safe and prosperous 2017. While the upcoming year will have its challenges, my fellow board members and I are ready to meet them head-on. Please, come up and say hello to your board members. We're here to help and provide our community with the highest quality of events and activities.

We have many ideas for the upcoming year, but we are also committed to the events that you already love and enjoy and will continue to support them. However, we'd like to offer more and more diverse events to serve you, the members of HSGP. But we cannot do this alone. Starting this year, we're creating an Activities Task Force that will help our members lead and grow sub-groups and activities of their own. Bring your imagination to life! HSGP has so much to offer and our members who, just like you, just need to be given the opportunity to shine. Please, sign up at Activities Task Force to lead an activity, even if you think it's a crazy idea. You may be surprised how many people would also like to participate. Some ideas the board or I would love to see happen at HSGP:
* Cycling
* Walking
* Hiking
* Sightseeing/Travelers
* Family and adult yoga
* Astronomy nights (telescope and a warm jacket under the stars!)
* Rocketry
* Dating
* Ski/Snow board trips
* Painting groups/classes
* Chorus and/or music
* Altruism and other volunteering

That's just a taste of what we have in mind, but we'd like to know what you'd like to see. Any event that fosters Humanism that you wish we had always had that will involve two or more people and you need a space to perform the activity in, sign up! We'd love to help you and our members succeed. If you'd like to suggest an idea or lead an activity, please fill out this form Activities Task Force We'll work with you to set up all of the details so that you can focus on planning and leading your activity. We're excited and ready to help your event succeed.

Finally, I have one more program that I'd like to introduce. HSGP is a democratic organization. We're run by our members, for our members. This year, we're starting a brand-new Leadership Program. When you join the Leadership Program, you will be paired with a current board member, learn how the organization functions and be able to get directly involved in the operations of the organization. This program will allow you to take a more hands-on approach to activities and operations at HSGP.

I'm excited to work with you and make this the best year HSGP has ever had. Together we can accomplish great things. Have a wonderful 2017!
Turn Business into Fundraising for HSGP
One easy way Humanists can raise funds for HSGP is by giving our business to businesses that return a percentage of the proceeds to HSGP. For example, Bashas'and Fry's grocery stores will return a percentage of the money our members spend at their store's. Amazon will also donate a percentage of sales that are made through the HSGP link. But first you need to enroll in the program(s) of your choice for this to happen. See article at lower right for more information.
HSGP member and Professional Realtor Vici Duarte has announced that she is offering a similar program. Vici will donate 10% of her net commission to HSGP. If you plan to buy or sell a home, speak to Vici at any HSGP event, or contact her by email at viciduarte@cox.net.
We are looking for other business people who might be interested in increasing their sales and then giving back to the Humanists. If you have an interest in a business, consider if you would like to offer a way to increase your business and support HSGP. Please contact our fundraising committee at hsgpfundraising@gmail.com about setting up a similar program.
Upcoming Meetings and Topics
The Humanist Society of Greater Phoenix is open to presentations on a variety of topics, many of which are controversial. Please note that the opinions expressed by our guest speakers do not necessarily reflect the viewpoint or philosophy of HSGP.
Message from the Membership Director
Napoleon Bonaparte said that "An army marches on its stomach". A wise phrase indicating that it takes fuel to run an organization. Every 501c3 organization is fueled by volunteerism. HSGP is no exception.

As is announced near the end of this newsletter article every month; posted on the website's home page, hsgp.org; and is included in the President's pre-meeting email, there is a link to the Sign-Up Genius volunteer site. Lately, there has been a glaring lull in people volunteering for help to set up, clean up, bring casseroles, etc. to the Sunday meetings. Thank you to the people who help with these requests without signing up. But, the Sign-Up Genius is an extremely helpful tool communicating to everyone what will be provided and what is still needed to make each meeting and event run smoothly.

Volunteering involves commitment. Before you volunteer to perform a task, please be prepared to follow through with that commitment. Unforeseen events happen; when you find that you can't make a particular volunteer commitment, please extend the courtesy of letting us know so we can find someone else to fill that position.

As with every other organization I've volunteered with, a small handful of people almost always end up doing the bulk of planning and work. This is so unfair to the dedicated people who are determined to make every event successful. With more people who are willing to help, burnout can be held to a minimum or become nonexistent.

It was recently pointed out to me that only one casserole was available at the last Sunday meeting and why are we asked to pay $5.00 for breakfast if there isn't enough food for everyone. If we are to continue providing a nice breakfast for the group, this is really not acceptable. For anyone bringing a casserole, pastry item or other breakfast item to share, the $5.00 fee is optional.

We do want to extend our appreciation to the people who consistently do help. You are invaluable assets.

HSGP is the shining star of the American Humanist Association; quite an accomplishment for a state such as Arizona. We owe it to ourselves and the secular community at large to provide a welcome, comforting refuge to all who seek a like-minded community. We are a family of sorts, sometimes a dysfunctional family, but a family nonetheless. Let's work together to make this the welcoming community we're striving so hard for.

Now, more than ever it is urgently imperative to expand the secular community. Let's all do our best to work towards that end.

Continuing Sleeping Mats Workshop:

I will be resuming this monthly project beginning January 14. Keep watching Meetup for the monthly announcements. Any questions can be sent to my email address located below my signature here. Bring supermarket grocery bags if you have them. Don't know how to crochet? No problem. You don't have to crochet; you can just make "plarn". I or some of the "old-timers" will teach anyone who wants to learn. I also have some 10mm hooks available for $5.00.

A new project is being added to this workshop. I had purchased a bolt of fleece fabric at Jo-Ann Fabric and Craft Store, then cut it up into blankets to hand out to homeless people. Diann Smith very graciously bought a significant amount of yardage at a thrift store. I will be bring Diann's donated fabric for us to cut into additional blankets. My plan is to deliver any finished items to a homeless community before the end of January.

As of this writing, our supply of plastic grocery bags is getting low. You can bring bags with you any time you come to the Community Center and leave them by my card table against the wall.

Welcome New Members:

Ian & Shelly Myers
Rosa McCurdy

THE USUAL SPIEL

Volunteer Opportunities

We are always in need of volunteers to supply breakfast casseroles, help set up before and clean up after meetings and events, serve on various committees. We have a brochure with a complete list of volunteer opportunities on the info table at the front of the meeting hall. Contact Volunteer Coordinator Matt Ferrin at volunteer@hsgp.org for additional information or questions.

To volunteer for a Sunday meeting opportunity or other event, click on this button and select the event for which you'd like to volunteer.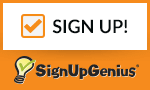 You can also find the SignUp Genius button on the home page of HSGP.org by scrolling down.



Your Participation is Welcome

This column is for the members. I'd like it to also be about and by the members by encouraging all of you to send me announcements of life events, questions about HSGP, contribute a piece for this column or suggestions of subjects you'd like to see posted here.

Please contact me if you need any membership information or have a change of address, phone number, or email. Anita Romanowski Membership Director
anita.romanowski@hsgp.org
HSGP Service Outreach Project


No volunteer activities are currently scheduled.

by Gwyndolynn Gentry

My email is gwyndolynn@gmail.com
Children's Programs
Keeping Up With HSGP
Social Media Matters
by Jennifer White
Overview and update of our social media/internet presence!

Meetup www.meetup.com/Humanist-Society-of-Greater-Phoenix/

I would say that Meetup has the biggest impact on HSGP's reach. More people say they found out about us there than anywhere else. We have 1,620 folks signed up on our Meetup group! Some of them join us at our Sunday Speaker meetings and/or other events like Game Night, Humanities Project, Inquiring Minds, Book Club, Ted Talks/Interesting Discussion, and various charity/volunteer opportunities.

Meetup is how we get great turnouts for special events like the Flying Spaghetti Monster Dinner, the Winter Solstice Celebration, the Darwin Day Luncheon, concerts, and visiting guest luminaries, resulting in income to help pay for our Community Center. A few of these folks even become dues-paying members of HSGP. Join us at Meetup now so you will always be abreast of what's happening next at the Humanist Center!

Facebook Discussion Group www.facebook.com/groups/HumanistSociety/

This is an open group on Facebook, where people share posts and participate in conversations. Anyone on Facebook can see the fascinating articles and discussions, but you must be a member of the group to post or comment. Just go there and request to become a member. Richard or I will approve you. You must have a Facebook account. We do our best to keep out spammers (trying to sell you stuff) and we don't allow abusive comments. As of today we have 811 members in our group!

Facebook Page www.facebook.com/HumanistSocietyofGreaterPhoenix/

A traditional Facebook page. Anyone can see it. You can react to and comment on the articles, events, and memes on the page. Only posts by authorized admins will appear on the wall. The public may post, but they will appear to the left of the wall. Stop by the page and check it out - then be sure to LIKE us!

Twitter @hsgp on twitter.com/

Yes, we do have a Twitter account and we are planning to start using it actively.

Website www.HSGP.org

Ok, so not exactly social media, but internet presence for sure. When people google Humanism in Arizona, what pops up is our welcoming, attractive, and informative website. It is our face on the internet, where one can learn about Humanism in general and HSGP in particular – everything one needs and wants to find out is on our site, including contact information to find out even more! One can see our upcoming events, read our newsletter (as you are doing now), click on links to HSGP on Meetup and Facebook, learn about the charities and causes we support, use links to find other interesting Humanist sites, and much more.

Questions or need help?

Grab me if you see me at the Humanist Center in Mesa,

Message me on Meetup or Facebook (use links above), * E-mail me at jennifer.white@hsgp.org Meanwhile, have fun on the social media!


HSGP Humanities Project Fundraiser
Books & Music Bookshelf
HSGP's Humanities Project has a Book & Music Bookshelf for your convenient shopping pleasure. Books, CDs and DVDs on the bookshelf are for sale at a great price. The deals are even better on the 2-for-a-dollar bottom shelf. The Bookshelf is located under the bulletin board near the entrance to the restrooms.
The prices on these items are so great that some folks are using it like a rental library: They buy a book for a super-cheap price, read it, and bring it back as a donation. The book goes up for sale again, and they "buy" another one! Cool!
Take a look at the Bookshelf next time you're at the Humanist Community Center and consider buying or donating to this fun new effort.
"People who think they know everything are a great annoyance to those of us who do. "

"The saddest aspect of life right now is that science gathers knowledge faster than society gathers wisdom."

Both quotes attributed to Isaac Asimov
Quotes courtesy of http://www.brainyquote.com
If you shop at any of the Bashas' stores (Bashas', AJ's Fine Foods, Food City) or your local Fry's Food Store HSGP can receive a percentage of the money you spend. In addition, when you shop at Amazon.com using our HSGP link, we receive a percentage of the sale.
To activate any of these no-cost-to-you revenue streams for HSGP, go to the HSGP Supporting Businesses page Supporting Businesses and follow the instructions for the program you want to use.
Susan Sackett, Certified Humanist Celebrant, would like to remind you that she is available for all your life passage ceremonies, including weddings and commitment ceremonies, baby namings, coming-of-age celebrations, funerals/memorial services, and even divorce celebrations!
Special 10% discount for all HSGP members and their immediate families!
Humanist Celebrant
. Contact her at
Susan Sackett
.