President's Message
Last month, I hinted that I might tackle a topic that often generates some heated conversations, sometime in the future. I'm thinking ... why wait? I'll see if I can stir things up a bit this month by discussing a topic that has caused a significant stir in the atheist, as well as the Humanist, community for about as long as I can remember. This topic has been a source of controversy and has been a major focal point of social change all of my life and, based on historical data, for much longer than that. I'm talking about "feminism" and all that that implies. Of course I'm not foolish enough to think that I'm any kind of an expert or authority on this topic. This article is just my thoughts and musings on the subject based on what I've learned since I've been a part of the Humanist community and become much more aware of the many different perspectives of so many people in our local community and in the larger non-theistic community here in Arizona and across the United States. Of course this is much bigger than the non-theistic community and I'll touch on some other examples as well.

My perspective on the feminist movement is that it's about women being treated with just as much respect and dignity as men in all areas of our society. It's about equal rights, equal pay, equal opportunities to achieve their highest potential, and just being treated as equals. On the surface, that sounds easy enough but in practice, it seems to be quite elusive. We see women not being represented as much in many areas of our society, not being paid as much for equal work as men, being endlessly harassed, having men making their health decisions for them (against their wishes), not being taken seriously when trying to bring charges against men who have assaulted and/or raped them, and largely being told by their peers not to make waves if a prominent male leader acts inappropriately, in order to avoid hurting the movement as a whole. These are just some of the reasons for the feminist movement still existing today. If you hold down or oppress any group of people long enough, you will eventually have a fight on your hands. It's human nature.

The instances of egregious misogyny in our social media, especially aimed at feminist writers/bloggers, is evidence that this problem still runs deep in our society, no matter how far we think we've come. The attacks have been so harsh in some cases, the victims have been diagnosed with PTSD and some have been forced to leave their own homes in fear for their safety. And some of these instances have occurred in the atheist community! Of course it's much easier to attack someone when you can remain anonymous, as with many social media accounts. But even some of our most prominent male leaders have made public statements that would seem to indicate that they don't value the role of women in our movement or that western feminism is not important. And those kinds of statements provoke a great deal of ire and controversy regardless of their actual intended meaning or the overall contributions of these leaders. So why is this still controversial in our society?

I'm no sociologist or psychologist but I do have some ideas on the subject. We all know about "indoctrination". When children are raised to believe that things are a certain way, and that they must behave in a certain way in order to get their needs met in their life, it tends to stick with them until something happens in their life to bring those ideas into doubt. For some, that never happens. Religious beliefs come to mind but that's not what we're talking about here. In our society, it would seem that there is still a tendency for parents to teach their daughters that they should be submissive and their sons that they should be dominant. Obviously, that's not always true, especially not in our community. But I contend that it's still true for the majority of people in our culture and is much more pronounced in other cultures around the world (more about that later). These paradigms help to define our roles in our society and tell us how to be accepted. It should be obvious that the desire to be accepted is a very strong force in our lives and bucking that can be quite a difficult challenge. Most don't even understand why they might want to. Some think that there may even be a biological basis for this. I'm certain that I'm not qualified to posit an opinion about that but the concept may well explain Sam Harris' comments about why he thinks there aren't more strong women leaders in the atheist movement. He seems to feel that women have a natural tendency to be nurturing and, hence, more interested in building strong loving communities (my interpretation of his comments). The atheist movement (not the Humanist movement) appears to be more about swinging a bloody ax at religious ideology/dogma and that's not very nurturing or community building and, therefore, isn't likely to attract as many women leaders. How much of that is accurate and how much is more about cultural indoctrination is not for me to say. That could be quite a lively discussion indeed.

Another conflict that arose within the last couple of years was the comments that Ayaan Hirsi Ali made about American feminism focusing on "trivial bullshit" and the resulting backlash followed by the rather sarcastic comments made by Richard Dawkins, also aimed at American/western feminists. This incident made me think even more about how culture defines our thoughts and behaviors. Ayaan clearly came from a culture that was much more oppressive against girls/women to the point of girls having acid thrown in their faces or being shot for just going to school, and women being mutilated to ensure chastity. Imagine growing up a woman in that kind of environment and then being confronted with the current western feminism. It's not hard to see where she might not quite understand that even here, we have a long way to go. She fights hard for the rights of women in areas of the world where things are so bad that we don't even want to imagine what that's like. So to me, there's no big surprise there. And as for Richard Dawkins, his comments in support of the message that Ayaan was trying to give were not very understanding. I hope that I don't offend anyone by noting that I perceive him as a crusty old British scientist and I'm not surprised at his lack of tact. Still, while I understand where they're coming from, I do believe that we have much work to do to bring about equality, even here in the west.

So here's the really hard part. What do we do from here? I recently watched a very inspirational video from Bart Campolo about building Humanist communities that are strong, form lasting bonds, and attract more people. To very briefly summarize his point, we will be much more successful leading by example than by arguing with people about why they're wrong. Our tendency, naturally, is to set to swinging that bloody ax at obvious injustice but we may be more successful in the long run by being more enlightened ourselves, understanding what the underlying causes are, and showing how it's done right. My two cents. Agree or disagree, email me at the address below and/or post on our Facebook group page and let's talk about it. I know that I just barely skimmed the surface of this topic so I'm sure that quite a few of you will want to pipe in. Feel free and I look forward to hearing from you.

LINKS
Here are links to some of our important webpages. Our Meetup page is at HSGP Meetup. Our Facebook page at HSGP Facebook Page. Our Facebook Group can be found at HSGP Facebook Group. And lastly, since you're reading this, you probably already know but our main website is at HSGP website.

CONTACT ME

You can email me at President@hsgp.org or look on the left side of this page to find out who your board members and committee chairs are to contact to them.

Richard Dewey
President, HSGP
HSGP at the 2016 Phoenix Pride Festival
Our new and improved info booth at the Phoenix Pride Festival on April 2nd and 3rd was a hit. Many interested people stopped by to ask questions, share their common views with us and sign up for our email list. A good time was had by all. Thanks to all who staffed our booth.
Turn Business into Fundraising for HSGP
One easy way Humanists can raise funds for HSGP is by giving our business to businesses that return a percentage of the proceeds to HSGP. For example, Bashas', Fry's and Albertson's grocery stores will return a percentage of the money our members spend at their store's. Amazon will also donate a percentage of sales that are made through the HSGP link. But first you need to enroll in the program(s) of your choice for this to happen. See article at lower right for more information.
HSGP member and Professional Realtor Vici Duarte has announced that she is offering a similar program. Vici will donate 10% of her net commission to HSGP. If you plan to buy or sell a home, speak to Vici at any HSGP event, or contact her by email at viciduarte@cox.net.
We are looking for other business people who might be interested in increasing their sales and then giving back to the Humanists. If you have an interest in a business, consider if you would like to offer a way to increase your business and support HSGP. Please contact our fundraising committee at hsgpfundraising@gmail.com about setting up a similar program.
Upcoming Meetings and Topics
The Humanist Society of Greater Phoenix is open to presentations on a variety of topics, many of which are controversial. Please note that the opinions expressed by our guest speakers do not necessarily reflect the viewpoint or philosophy of HSGP.
Message from the Membership Director
What do you do with an old board (that's board, not broad)? Well, if it's on your house or fence, there are some very good products you can apply, then cover with a coat of paint, and it's as good as new. Great!! However, what if it's a different kind of board? What if it is the Board of Directors at HSGP?

Many of us are not only aging (gracefully I might add) but have served long multiple terms and would like to attend to other interests. However, not a lot of people have indicated any interest in replacing these old board members.

We (the board) are looking at ways to reconstruct the whole process to make the transitions softer, maybe have half of the board replaced every year, so not as many applicants are required and we have more continuity and less "burnout". At this time, we are requesting those who have any interest at all in being a member of the HSGP Board of Directors to let us know. We can make the process less mysterious and more interesting.

These are the requirements:
1) You must have been a dues paying member for at least 12 months
2) You should be interested enough to attend HSGP meetings regularly
3) It is strongly suggested that you attend some of our monthly board meetings to become familiar with the process.

There are benefits to serving. For instance, you:
Will have celebrity status
Vote on matters that affect how HSGP operates on an on-going basis
Participate in deciding what direction HSGP should be headed in
Contribute to and take pride in what HSGP is doing for its members and the community at large.

Names of the current board members are listed along the left margin of this page. Feel free to contact any of them if you have more questions or an interest in becoming a member of the board of directors.

Reminder:

I will be holding another crocheted sleeping mats class on Saturday, April 9, from 10:00 a.m. to 1:00 p.m. Those interest in attending, please sign up on Meetup, www.meetup.com/Humanist-Society-of-Greater-Phoenix/events/229762186/

Carpooling: Anyone who needs a ride or would is willing to provide rides to and from HSGP's community center, please fill out the carpool form by going to CarPool Form

The carpool form can also be accessed under the FAQs section of the website.

Volunteer Opportunities

We are always in need of volunteers to supply breakfast casseroles, help set up before and clean up after meetings and events, serve on various committees. We have a brochure with a complete list of volunteer opportunities on the info table at the front of the meeting hall. Contact Volunteer Coordinator Matt Ferrin at volunteer@hsgp.org for additional information or questions.

To volunteer for a Sunday meeting opportunity or other event, click on this button and select the event for which you'd like to volunteer.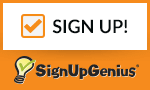 You can also find the SignUp Genius button on the home page of HSGP.org by scrolling down.

Welcome new members:

Barbara Fraboni
Fred and Ellen Hairston

Your Participation is Welcome

This column is for the members. I'd like it to also be about and by the members by encouraging all of you to send me announcements of life events, questions about HSGP, contribute a piece for this column or suggestions of subjects you'd like to see posted here.

Please contact me if you need any membership information or have a change of address, phone number, or email. Anita Romanowski Membership Director
anita.romanowski@hsgp.org
HSGP Service Outreach Project
by Gwyndolynn Gentry


We have exciting news to share from the Service Outreach Project!

* We are being recognized for our service

* We have identified a new resource for helping those experiencing homelessness

* We are actively pursuing new opportunities for our member-volunteers

We have been recognized as reaching Beyond Belief Network Level 3 (the highest level) with the Foundation Beyond Belief! Foundation Beyond Belief is a charitable foundation created to focus, encourage and demonstrate humanist generosity and compassion, and the Beyond Belief Network is a collective of over 110 freethought organizations putting compassionate humanism into action through community volunteering and charitable fundraising.

We have found a new place to help. John Fahrm (from the task force to help those experiencing homelessness) and I went to visit a local community center in Mesa. Paz De Cristo's mission is to feed, clothe and empower those in need. We were impressed by their openness, lack of religiosity, and variety of volunteer opportunities. They help their guests obtain identification, employment, clothing, showers, as well as providing a daily meal and food boxes for those who have housing but still not enough to eat. I will try to set up an outing soon for us to go as a group and either help with the food boxes or help with their empowerment program.

A few more places I've been working on include an Equestrian Therapy program in East Mesa, the Ronald McDonald House, and helping those who are pregnant while in their teens.

I am always happy to listen to your ideas of how we can show our compassion to our fellow humans and do some Good without God.

Planned Events:

June 11 UMOM - 9:30 am to 12:30pm - help prepare then serve lunch

October TBD – St. Mary's Food Bank


I can be reached at Gwyndolynn@gmail.com .
Keeping Up With HSGP
Social Media Matters
by Jennifer White
A BIG THANK YOU TO HSGP FOR SUPPORTING CAMP QUEST ARIZONA!
Photo: Some of the campers with their beloved Mythical Creatures. This is our original, award-winning and one of the most popular Camp Quest Arizona activities. The kids combine parts from different plush animals and give them names and stories.

Wouldn't you like to join us this summer as a volunteer? It's challenging and fun! The campers will always remember camp week and the volunteers who nurture them. And we cover your bed and food! It's the best working vacation ever.

Special thanks to HSGP! The Humanist Society of Greater Phoenix is one of Camp Quest Arizona's biggest supporters! On February 7, Richard Dewey, on behalf of HSGP, presented me with a check for Camp Quest Arizona in the amount of $1,200. The donation is earmarked to provide grants to campers who qualify financially. Our philosophy is that all kids who want to come to camp for a week of fun, friends, and freethought should be able to do so, regardless of ability to pay. HSGP's generous donation will more than cover two full camperships this summer. Thank you!

Individuals make donations as well, and we appreciate you so much! We will have one or two FUNdraisers this spring, such as the Pancake Breakfast. You have always been so generous at those events! Thank you! Donations help us cover costs like more and better supplies and equipment, the care and feeding of the all-volunteer staff, as well as for grants for campers.

More about Camp Quest Arizona: we are a non-profit sleep-away camp especially for kids from atheist, agnostic, humanist and other freethinking families. Our camp week happens on top of Mingus Mountain, above Prescott Valley. It is remote and rustic, yet only about 2 hours from Phoenix. We offer traditional camp activities such as archery, fishing, hiking, campfires, songs, games, arts, and crafts. We also have activities focused on critical thinking, ethics, scientific inquiry, philosophy, and comparative religion/cultures.

Teen campers aged 15-17 are automatically enrolled in our Leadership Track program. They have an enhanced experience with more responsibility, and work as an elite team (very much looked up to by the younger campers). They develop and run team games and the carnival, and help in many other ways during camp week. We have some activities tailored especially for these older kids. The program is demanding and super-fun, and lasting friendships are formed. This is the kind of program that is included on college applications and resumes. Our Leadership Track program is still available for 2016 to qualifying kids who apply.

How you can help Camp Quest Arizona flourish:

1. SEND YOUR KIDS/GRANDKIDS TO CAMP! Register here: campquestaz.org/registration
If the cost is prohibitive for you, click on the "financial aid" link. It's easy! You can also make monthly payments. The sooner you register, the longer you can spread out the payments.

2. MAKE A DONATION! Go here to donate online: campquestaz.org/donate-today/
If you prefer, you can give me a check when you see me at HSGP, or mail it to PO Box 47096, Phoenix, AZ 85068-7096.

3. VOLUNTEER! Join us at camp as a volunteer. Help supervise kids and assist with activities and programs, while enjoying the rustic life in the cooler piney wilds of Mingus Mountain. We need lots of volunteers—go here to apply NOW: . campquestaz.org/volunteer/

4. SHARE! Like 'Camp Quest Arizona' on Facebook. Spread the word. Campers call Camp Quest Arizona "The best week of the year". You help us continue to provide this unique and life-changing experience for Arizona kids, and we deeply appreciate your help!

Thank you!
HSGP Humanities Project Fundraiser
Books & Music Bookshelf
HSGP's Humanities Project has a Book & Music Bookshelf for your convenient shopping pleasure. Books, CDs and DVDs on the bookshelf are for sale at a great price. The deals are even better on the 2-for-a-dollar bottom shelf. The Bookshelf is located under the bulletin board near the entrance to the restrooms.
The prices on these items are so great that some folks are using it like a rental library: They buy a book for a super-cheap price, read it, and bring it back as a donation. The book goes up for sale again, and they "buy" another one! Cool!
Take a look at the Bookshelf next time you're at the Humanist Community Center and consider buying or donating to this fun new effort.
"Homo sapiens is the species that invents symbols in which to invest passion and authority, then forgets that symbols are inventions."
Attributed to Joyce Carol Oates.
"The good life is a process, not a state of being. It is a direction not a destination."
Attributed to Carl Rogers.
Quotes courtesy of http://www.brainyquote.com
If you shop at any of the Bashas' stores (Bashas', AJ's Fine Foods, Food City), your local Fry's Food Store, or your local Albertson's HSGP can receive a percentage of the money you spend. In addition, when you shop at Amazon.com using our HSGP link, we receive a percentage of the sale.
To activate any of these no-cost-to-you revenue streams for HSGP, go to the HSGP Supporting Businesses page Supporting Businesses and follow the instructions for the program you want to use.
If you shop at any of the local stores that participate in this program, please consider obtaining and using an HSGP community support card whenever you make purchases. When we support our local merchants, they support us!
Susan Sackett, Certified Humanist Celebrant, would like to remind you that she is available for all your life passage ceremonies, including weddings and commitment ceremonies, baby namings, coming-of-age celebrations, funerals/memorial services, and even divorce celebrations!
Special 10% discount for all HSGP members and their immediate families!
Humanist Celebrant
. Discounts for HSGP members! Contact her at
Susan Sackett
.