Unbroken by Laura Hillenbrand Presented by Book Club
Please join us for a discussion of Laura Hillenbrand\'s Unbroken:A World War II Story of Survival, Resilience, and Redemption.
from Amazon
In boyhood, Louis Zamperini was an incorrigible delinquent. As a teenager, he channeled his defiance into running, discovering a prodigious talent that had carried him to the Berlin Olympics. But when World War II began, the athlete became an airman, embarking on a journey that led to a doomed flight on a May afternoon in 1943. When his Army Air Forces bomber crashed into the Pacific Ocean, against all odds, Zamperini survived, adrift on a foundering life raft. Ahead of Zamperini lay thousands of miles of open ocean, leaping sharks, thirst and starvation, enemy aircraft, and, beyond, a trial even greater. Driven to the limits of endurance, Zamperini would answer desperation with ingenuity; suffering with hope, resolve, and humor; brutality with rebellion. His fate, whether triumph or tragedy, would be suspended on the fraying wire of his will.
HSGP will benefit if you purchase this book through the Amazon Smile program. Click on the image below.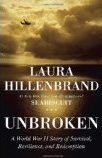 December 27th, 2014 10:00 AM through 12:00 PM