Flying Spaghetti Monster Dinner Presented by Flying Spaghetti Monster Dinner
Join us for the Fourth Annual Flying Spaghetti Monster Dinner
Break out your best pirate or any other costume, pirate-related or not. Time to honor His Noodliness with Pastafarian tradition, sauce be upon us!
6:00 pm
Happy Hour: Bring your own adult beverage to share (Alcohol, Soda, etc.). Lemonade, Iced Tea, Milk and Water provided. Appetizers and salads for noshing.
Dinner: Spaghetti, Meatballs, Sauces, Bread (Vegan and gluten-free options available)
7:00 pm
Special Benediction by Hal, our very own poet laureate to start our special dessert.
Laughter, Conversation, and Friendship, Children\'s activities and games throughout the evening
8:00 pm
Drawing for Special FSM Gift Basket and other prizes (raffle tickets on $1 each, 6 for $5)
Pirate wear, costumes and FSM Swag highly encouraged!
Suggested Donation
$10 - Adults
$8 - Full Time Students and Seniors
(Students eat free if they commit to 2 hours of helping with the event.)
$4 - Children 6 to 13
Free - Children under 6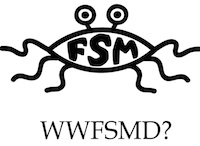 November 1st, 2014 5:00 PM through 7:00 PM